This is just want I always wanted…but maybe it's not what I truly want. Have you ever experienced that? You find exactly what you've always hoped for, your on-paper ideal, and then realized that maybe thinking you know what you want doesn't mean a thing?
I've spent the past several weeks exploring the same insidious thoughts, inside and out, and from every possible angle. Most of my posts are written in under an hour; this one has been written, deleted, edited, and rewritten about twenty times. Two months ago, I wrote about how I'd met someone who I really connected with and how blissfully exciting that was. One month later, I changed my mind.
I recently read an article in Real Simple magazine about a married woman with children who looks back on her life and realizes that over the course of the last ten years, she's let go of her dreams and identity. The things that once made her feel alive have faded from her day-to-day life. The woman who one prided herself on being independent and adventurous had disappeared. That thought terrifies me beyond words.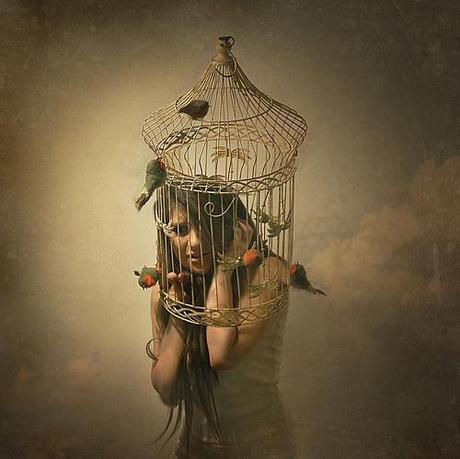 An ornate cage is just as limiting as a cardboard box
I tend to be guarded and slow to warm up. The castle of my consciousness only has one entrances open to the public, and most don't have the patience or tenacity to ever discover them. Those who meet me and are interested in getting to know me better are often intrigued by my sincerity, intelligence, and drive to realize my full potential; yet the dichotomy of the situation is this: that is the exact same reason things never work out. A few months ago, I read a post by Erik at Susserative Aspirations about his junior high crush, Emma, which hit me like a ton of bricks. He fell not for the young girl's beauty, but for her brilliance and her power to exist without someone at her side.
"The male hegemony is built on containing the will and love of women. It's built upon not risking the wings by which a woman will grow, the independence she will undertake should we let her become her most intelligent, powerful and intuitive self. We do this with any creature we don't understand and wish not to lose. And because we want to protect them from the world, and we do not want to lose them to the savagery of so many concrete hearts, we become it ourselves. By choosing hard edges over soft…because ultimately, we don't want to be alone. So we near subconciously drive that which we love into submission or worse, never let it flourish in the first place. Sometimes we are more forceful about it, and sometimes, we subjugate our own wishes simply because we fear the flighty ways of an independent heart choosing us only temporarily."
I've been called independent and flighty on multiple occasions, and I can't deny it. When I told my family and friends I was dating someone, I got a handful of "Congratulations," but the more common responses were "What?! You? No way!" or "I'm happy for you…we were starting to worry." Yeah…
I should probably pay more attention to other people's responses, rather than fighting to justify how a new situation is different from the past. Perhaps I need to truly examine what it is I absolutely need and refuse to settle for less, refuse to settle at all.
I need freedom. I need flexibility. In all honesty, there are days where I want to lock myself in a room and write from dusk until dawn, and then continue on through the next day. There are weeks where I'll turn off my phone, shut off my social media accounts, and fall off the radar. I take unplanned day trips, spend my money on books and classes, and pour my heart out to strangers as I seek out that high obtained from human connections. It seems that what I need is neither normal, nor acceptable.
I read another great post recently by Rue at Hooray Rue, aptly titled The dating profile I wish I could post and not seem completely insane. The fact that asking for a bit of independence and authenticity in a relationship can come across as "insane" and improbable is a bit disheartening. I want someone who is normal, but extraordinary. Is that too much to ask for?
"I am independent and I do not need to have my hand held 24/7 (both literally and figuratively)… I want to have adventures around the world with you… My job is really important to me and takes up A LOT of my time, so I can't see you all the time either…If you put your height as 5'8, can you actually be 5'8 (and not just on tip toes). Preferably with your own hair… It is perfectly acceptable for you to have your own interests away from me and for you to hang out with your friends, in fact, I encourage it. Please don't create drama; I just can't cope with it… I'm actually pretty funny during normal conversations. I don't really care if I look stupid in front of other people. After all this, I swear I'm really very normal, and that's all I want you to be too. Normal, but extraordinary."
At this point in my life, I need to invest time into myself, into figuring out what's next. Career, school, and hobbies are higher of my priority totem pole than trying to figure someone else out; or perhaps I simply don't have the patience of willingness to mold my life's plan around someone who may just be passing through. 
One my my closest friends has been with her boyfriend for four years and I really admire their relationship; however, their plans for the future diverge. I don't know how I would manage that uncertainty; yet, that is precisely what every relationship is built on – trust, hope, and an agreement to set aside the anxiety of the unknown and focus on the positives and the yet unrecognized potential.  
I'm admittedly a bit controlling. Not of others nor of situations, but rather of my own personal situation. I actively manage and work on a dozen small projects and ideas, I read incessantly, I take classes on obscure topics, I talk to strangers at the park. The chaos is intricately micromanaged, never to be understood by anyone outside myself. The equilibrium is carefully maintained so long as I'm in control. Figure out my system and you've got yourself a golden ticket; make an effort to discern the entanglement that is my life, and I will forcefully push you away. I realize I'm walking the fine line between sounding pretentious and ashamed; I assure you it's the latter.
At World Domination Summit, I talked to everyone and befriended several successful middle-aged women. "Are you attached?" After taking a moment to translate the Southern term into normal English and shaking my head "No," one of the women innocently commented, "There are several handsome young men here." I nodded gently and fell behind. That is not what I'm here for. Over the course of the weekend, in three different conversations, it was noted that most successful male bloggers are married, whereas most successful women bloggers are "unattached". I can't help but wonder why that is, or whether that can be extrapolated to the real world. Were those two days spent surrounded by free thinking feminists? Or does the concept of having to choose between family and career still permeate our culture? I don't have an answer, but it's something to ponder.
For me, that pondering has transpired into an entire series of thoughts. I realized this weekend that there are others, like myself, who are not too keen on giving up their own dreams to start a life with someone else. That was encouraging; however, it led me to wonder whether some people simply are not meant to settle down.
I feel a connection to people on the level of humanity; I always have. If a friend is emotionally anguished, I hurt; if a stranger is smiling, I'm able to internalize their joy. I value intimate one-on-one conversations and feel that they serve as a bridging of the undercurrents of emotion. An intensely felt knowing fluxes below the surface, on a level that perhaps Carl Jung or Joseph Campbell could better explain. I'm not sure how I feel about the theory of collective consciousness; but I believe that there is some fine thread that ties everything together, and I feel that connection everywhere I go and with everyone I meet, though the strength of those bonds is variable.
I don't think I could single out an individual and direct all of my love towards them; I don't think I could care more for a one exceptional individual than I do for the rest of humanity. Isn't that one of the primary demands of an intimate romantic relationship? I could never bring myself to sever those ties which bind me to the lakes of emotional energy that lurk beneath the surface of our day-to-day experiences and the clouds of thought which linger overhead. Connecting singularly seems absurd to me, and feels completely wrong. I'm not by any means suggesting that it is inherently wrong, rather that I place the same value on relationships with my family, friends, significant others, and strangers across the globe. Everyone deserves to be loved. Who am I to withhold that?
I'm at a place in my life where the though of being tied down on any level sounds atrocious. Throughout my life, I've generally not deviated too far from that place. Am I afraid of commitment, selfish and unwilling to compromise, or knowingly passing up great opportunities? No contrived answer is ever going to answer that question. A more accurate explanation would depict the ongoing conversation I actively choose to continue with myself. What are you passionate about? Where do your skills and talents lie? What are your dreams and goals? Once all those questions have been answered, or at least deeply explored, then comes the question in question: How can another person fit into that framework? How can you stay true to yourself, while yielding in ways that will allow you to grow both as an individual and as an intricate half of a partnership?
I've never been particularly interested in settling down, though it's admittedly hard to unwind my personal dreams from the ideals which society has been presenting me with incessantly for the past twenty-three years. Maybe I'll one day reach a point at which I can confidently say what it is I need, in terms of a relationship, or perhaps that day won't ever arrive. Either way, life will continue on. It really makes no difference what other people think. Why is such a simple and obvious idea such a challenge to internalize and hold on to? In this moment, I want to find a job I love, learn new skills, publish a book, pursue a PhD, have a positive impact on the world, and build up my net worth. Maybe tomorrow or ten years from now, a romantic relationship will be a priority. Right now, it's not.
I've reached a place of full acceptance, at a unshakable level. I used to feel bitter, misunderstood, and upset with everyone. I've realized as of late, we often don't have to go too far to uncover the love and appreciation we so desperately seek. I'm kind, intelligent, interesting, and not too hard on the eyes. Am I not exactly what most people claim to be looking for? Am I not worth a little extra effort and compromise? Taking a step back from the situation, I've come to realize that the problem is not some out-to-get-me world or individuals who aren't willing to put the time and effort into getting to know me. The issue is me. I'm so engulfed in trying to figure myself out that letting anyone else into my tiny work space is irritating. Trying to live up to others' expectations will only lead to disappointment on both ends. It take a bit of courage to step out of line and go your own way; but realize that is always an option.
Wouldn't it be nice if we were to start providing birds with a comfortable perches, food, affection, and the freedom to come and go as they please? Then fervently pray each day that they'll return home to us, eager to share stories of the day's adventures? Inhibiting someone from experiencing life on their own terms may work in some situations, but is not necessarily conductive to a healthy relationship. At least not for me, in the current moment.
Life is full of confounding variables and very few obvious answers; oftentimes the best path toward understanding what's right for you is to sit back and reflect on your own experiences and dissect your beliefs. In doing so, you are empowering yourself to not only survive, but thrive; you're building yourself a launchpad from which to take flight in the direction of your truest self.