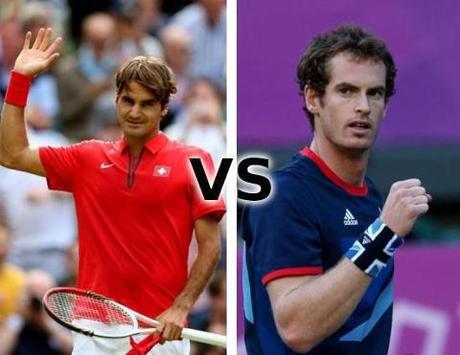 At LOVE tennis blog we could not let this historic occasion pass without getting our experts to give their opinions on the Mens Gold Medal Singles Match at the London 2012 Olympic Games. We got Chris M and Peter to give us the lowdown on without doubt the biggest tennis match in years.
Chris M: 
There is no doubt that Andy can claim gold in the Men's Tennis, and here are my 7 reasons why:
Defence: There are few better defenders around than Andy Murray. This ability to make his opponent play one more shot may make a difference and mean there is more chance of Federer making unforced errors.
Improving forehand: Ivan Lendl appears to have done a great job in making the Scot's forehand into an attacking weapon. If Federer unleashes his own strong forehand cross-court, Andy's running forehand, using the pace already on the ball, can be a crucial source of points.
Lessons learned: Andy will have learned valuable lessons from that encounter with Federer in the Wimbledon final. He will ensure a high-first serve percentage, and he'll see it as vitally important to consolidate any breaks earned. He will also be motivated by trying to avoid the anguish of another final loss to the world number one. Tactically he will have drawn up a game plan with Ivan Lendl – and who better than the meticulous Czech to garner advice from?
Fitness :Unlike the earlier rounds the final is five sets: In a five set match it is extremely difficult to overcome one of the greatest players of all time. Even when Andy won the first set in the Wimbledon final, there was still a long way to go. Federer will certainly have his 19-17 three set victory in his legs and the Scot's renowned Miami fitness regimes will give him the edge.
Confidence: Murray has been in a winning routine at the Olympics, both in the singles and mixed doubles. Success breeds success, and being in this habit of winning games, Andy may feel that every ball he hits will be a winner. Psychologically, this will be of huge benefit to him come Sunday.
Home support: This is not to be underestimated – we have already seen athletes in other sports draw inspiration from the tremendous support of the crowd to raise their performance levels. This will be like a David Cup crowd – and then some!
This is the Olympics: In a strange way, Andy might be more relaxed going into this than he would going into a grand slam final. He may not feel the pressure to perform, and view it as a great way to win a gold medal against one of the all-time greats, and join the pantheon of Olympic legends.
Peter:
for me its gotta be Roger Federer for the gold medal, its the last piece of the jigsaw. Here are my reasons why Roger Federer is going to win.
Winning: it becomes a habit for the great man and although Federer has failed to show us his Wimbledon form he has won a heck of a lot of matches on grass this year. Even when he was up against it in his quarter and semi final Roger found a way to win. Against a home town boy with massive support Federer will find a way.
Attack, Attack, Attack: Federer only knows how to attack, his offensive game and first strike tactics have brought him reward on the fast grass courts before. If Federer is able to take the bull by the horns he can keep Murray scurrying behind the baseline.
Serve: This is all down to the Annacone effect. Ofcourse Roger had a fantastic serve before Annacone took the reins however now Roger is the best exponent of clutch serving to get him out of trouble. We only have to look back to the 3rd set against Del Potro, the Swiss served 12 times to stay in the match, one slip, one double and he would have been toast. If he can serve well then it is half the battle.
Resilience: When Federer makes the game look so easy its hard to pick up on how resilient and how much fighting spirit he really has. But beneath that icey cool stare is the most determined focused individual that wants to win. How many times have we seen Federer go down early and look beaten yet come back and win?
The Golden Slam: Having won all the other slams multiple times, the only thing missing from Federer's resume is an Olympic Gold medal for singles. This is his only shot as he is unlikely to be in Rio in 4 years time. The thought of history must surely spur the Swiss on. He has one chance and he will take it.
Fairytale Ending: The 17th slam last month and the Gold Medal would cap a fairytale career for the Swiss, undoutbtedly the best player ever to lift a racket. As Ian Thorpe said of Michael Phelps, had Phelps not won Gold in his final race it wouldnt have been a fitting finale.  The Gold Medal round the Swiss neck….. I kinna like that idea. Murray also goes in the mixed doubles final and has another opportunity to secure that elusive gold medal with Laura Robson.