Pin It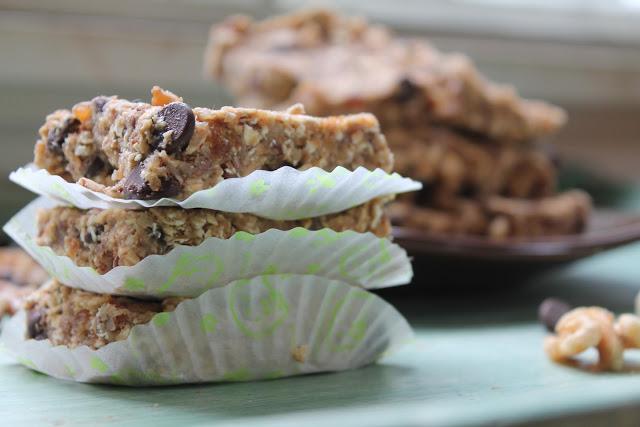 These (almost) raw breakfast bars are loaded with good stuff. Filled with protein and fiber and chocolate chips, it is the perfect way to start the day.
Oatmeal Chocolate Chip Breakfast Bars
yield: 12 bars
gluten-free, sugar-free, soy-free, (almost) raw
1 1/2 cups walnuts, soaked overnight, drained and rinsed
1 1/2 cups dates, pitted
1/2 tsp salt
2 cups oats
3 tbsp raisins
2 tbsp flax seeds
1/4 cup chocolate chips
1/4 cup pecans, chopped

Lightly spay an 8x8 baking dish and set aside.
Mix together dates, walnuts, and salt and in a food processor until fairly smooth (some texture is fine). Add 1/2 cup oats and blend until oats are broken up.
Remove dough from food processor and place in medium bowl. Add the rest of the oats and all remaining ingredients. Stir together until everything is well combined.
Press into the bottom of the baking dish. Let set up in refrigerator at least an hour before slicing. Store in refrigerator and enjoy as breakfast or midday snack throughout the week.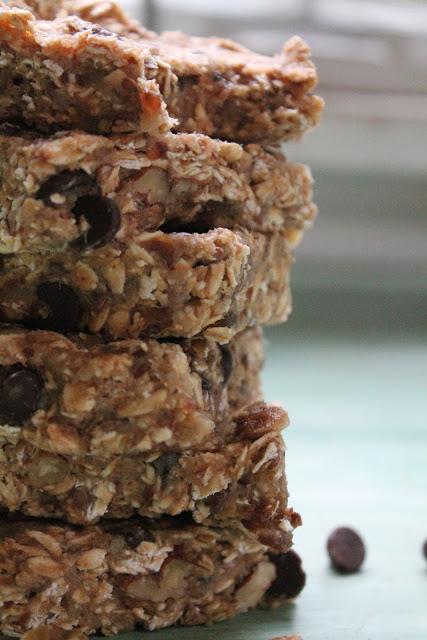 What's your favorite breakfast food? Related Posts: breakfast, gluten-free, oats, protein, raw, snacks, soy-free, sugar-free