I was so excited to get the PMD Personal Microderm ($175) to test out. I am a big believer in microdermabrasion treatments.  I first had microdermabrasion years ago, I think it was 2001.  I remember back then it was super expensive, and I shudder to think how much money I spent…but I definitely loved the results.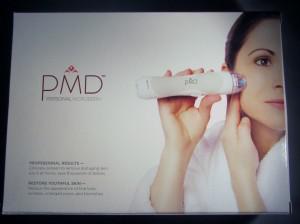 PMD Personal Microderm
The possibility of having my own microdermabrasion treatment in my own house was pretty thrilling, and I was hopeful that I would like the PMD. 
Here is what is included in the set:
PMD Personal Microderm device and discs
 The system comes with the PMD wand, 3 blue discs for sensitive skin and 2 green discs for regular skin.  There is a larger size disc for the body in each color.  It also has a charger and 2 clear tops, one for face and one for body treatments.
I was really happy to see that in addition to discs for your face, which is to be expected, there were also ones for the body.  My neck and decolletage are areas that really need microdermabrasion especially as I get older.  This system is just terrific for all of those areas, plus others I hadn't even thought of, like the elbows or knees.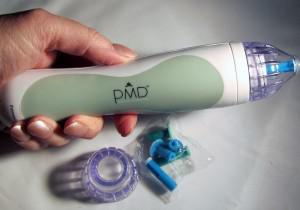 I will spare you the suspense and say up front that this system totally rocks.  Is it as effective as a series of salon treatments?  No, I think regular salon treatments go deeper and have more intense results.  But is this system worth the $175 investment?  Absolutely.  The convenience is fantastic, and the results are really, really good – far better than I ever dreamt they would be.  If you have blemishes, this is truly fantastic because it's gentle enough to use right over any breakouts, and boy does it help your skin clear up fast.  Here's how you use it:
Start with clean, dry skin.  The small discs are for the face, larger discs are for the body.  Blue discs are for more sensitive skin and green discs are for thicker skinned areas.  There is an easy to use on/off switch on the wand.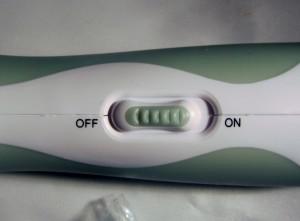 Pull your skin tight, then sweep the top of the wand over your skin in an upward motion.  The combination of the cup and the disc make a vacuum on the skin, so it kind of sucks the skin close.  The disc basically sands your skin, exfoliating off any dead, dry skin and cleaning blackheads and blemishes.  Keep that wand moving!!!  You don't want to linger over any area, and you don't want to do more than two passes over an area.  If you do that, you run the risk of irritating the skin.  Afterward, use a primer and a moisturizer.  I find that one treatment per week is all I need to keep my skin clear and bright.  Each disc lasts for three or four treatments, replacement packs with four face and two body discs run $14.95.  If you are looking for microdermabrasion that is quick, convenient, and affordable, you absolutely need to check this out.  You can purchase this system online here, as well as replacement discs and other products such as their skin care line.  Do your skin a favor and take a look!!  – Lisa
*pr sample