The North Korean government's official propaganda arm has reportedly joined the Chinese social media website, Sina Weibo. According to the Shanghaist, which refers to Weibo as a Twitter clone,
On March 7, a pro-DPRK account by the name of "Today Korea" (今日朝鲜) created a huge splash on Weibo with the first tweet saying, "@TodayKorea officially starts its account today. Sorry, but we don't follow anyone."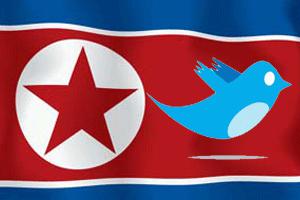 Hey Everyone! Follow Us!
Since the North Korean's "don't follow anyone" the Shanghaist and other media outlets have been unable to verify the authenticity of the account.
If the Weibo account is real, it wouldn't be the regime's first foray into the world of social media. In 2010, the North Korean government opened the Twitter account @Uriminzok – translated in Korean as "Our People". As of this story, the account has 11,328 followers and has sent out nearly 2,500 tweets.
North Korea has also been busy making videos over at You Tube under the account name uriminzokkir. This account has also done relatively well with nearly 3,000 subscribers and  almost 2 million video views.
The North's rise in popularity online has come to the dismay of South Korean officials. Shortly after the North opened it's official twitter account,  South Korean officials decided to ban citizens of its country from accessing the account. The South appears to be serious about the ban. Earlier in the year, 23-year-old South Korean, Park Jung-geun was arrested and charged under the Natinal Security Law with "aiding the enemy" for retweeting an @Uriminzok posting containing a North Korean propaganda painting with a bottle of Johnny Walker photo shopped into it. Pure genius if you ask me, but apparently the South Korean government and I don't have the same tastes in modern art.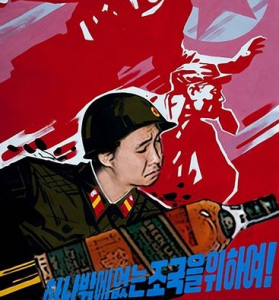 The photoshop job that landed Park Jung-geun in prison.
Back over at Weibo, the North Korean government is making progress with their new social media account. While nobody seems to be certain whether North Korea's Weibo account is legitimate or not, it has caught Chinese netizens attention. According to Tea Leaf Nation, as of March 10th, the purported North Korean account @todaykorea has over 70,000 followers.
Tea Leaf Nation reports that the North's description of itself on Weibo reads as follows:
Get all the news about North Korea. If anyone dares to insult North Korea's dignity in the slightest, they do not belong between heaven and earth!
Unfortunately for those on Weibo, the North doesn't seem to want to be very social with its followers. In their first message they reportedly said,
We formally open our Weibo account. Sorry, we follow no one!
According to the Financial Times, some Chinese Weibo users have lashed out at the North via Weibo:
One Chinese user reacted by saying: "By all means, do not be together with us!" Others decried him as an "evil dictator", and yet another commentator mocked: "I hear that the North Koreans suffer from hunger. Is that true?"
Perhaps it's a morbid curiosity for their troubled ally, or even a nostalgic reminiscence for the days of Mao that would attract so many Chinese netizens to a North Korean social media propaganda site. But one thing is for certain, Chinese netizens are visiting the site and voicing their opinions about the regime, it's policies and their own government's relationship with North Korea. They are letting their "ally" know what they think. Regardless of what's being said and whether the North is actually listening, something beautiful is happening – a dialog is being started. People in China are talking about North Korea, and even if it's only a one-sided conversation and North Korean netizens can't take part, it's being done openly and in a public sphere; it's almost what you would call democratic. It's a grand thing and probably comes as a surprise to the anti-social social networkers up in North Korea, who join social networks and only pay attention to themselves.