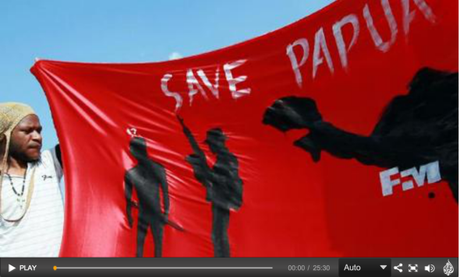 A new documentary chronicling West Papua's long struggle for independence has just been released by international news channel Al Jazeera.
Click on the image above to view the doco. The doco tells us that the rise of the West Papuan civic non-violent independence movement has gained  international exposure for the West Papuan independence cause, and this has provoked both a violent response from Indonesian security forces within Papua and increased attempts by the Indonesian government to undermine international opposition to their brutal occupation. Sadly, our own government here in Vanuatu has been eager to help the Indonesian government silence the West Papua independence movement. 
For the indigenous people of West Papua, the stakes could not be any higher: human rights groups conservatively estimate that more than 100,000 Papuans have been killed by Indonesian security forces in the last 50 years. 
"A remarkable story of a people committed to doing whatever it takes to gain control of their own destiny", says Al Jazeera's description.