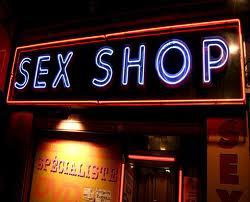 One thing you learn at college after your sixth year of taking classes and your fifth time switching your major is that your mom doesn't want to pay for you to drink beer and play in weekend whiffle ball tournaments anymore. She sat me down one summer morning and told me over waffles that she loved me but that it was time to find a career path.  I thought it was a peculiar way for a mother to show love to her son; nevertheless, I relented and put a resume together and within a few weeks I had landed a part time job at a used CD store as a sales clerk making minimum wage with the possibility of earning a 2% bonus if I met some sort of sales quota which I believe could have earned me an extra $6 per month had I ever taken the initiative to explore that possibility.
The store didn't just sell used music.  It was one of those college town stores where all the workers except me had dreadlocks and pierced noses and wore hemp sweaters or panchos and bathed as often as cattle.  Besides new and used CD's we sold a potpourri of worthless crap, including t-shirts, posters, jewelry, incense, candles and gag gifts.  Oh yeah, and porn.  And drug paraphernalia.  In our secret back room. Did I mention the porn?
Perhaps you have visited a store like this before.  Perhaps you have not. Basically, for those of you who have not, it worked like this:  once your age had been verified, we buzzed you through a door that led to a room with shelves and wall pegs filled with X-rated movies, dildos, vibrators, blow-up dolls, accessories and just about any sex toy you could imagine and then some.
Also in the back room was a display case of bongs in various shapes and colors.  Neither we nor the customer were allowed to call them bongs or anything that involved illegal terminology whatsoever, such as marajuana or dope, etc.  We were reminded constantly that if we violated these rules that the store was at risk of being fined and even shut down.  We were selling "tobacco" pipes, and in fact, you couldn't even say the word "glass" because that implied using the bongs for smoking crack cocaine.  What this meant was that we were happy to openly discuss the 14-inch, supercharged vibrating anal probes we sold, but if you said the word "glass" I was allowed to grab you by your collar, escort you out of the back room immediately and ban you forever.
When I first started working there, I felt awkward and embarrassed as people perused our wall of porn, and so did the people who were looking. It was like being on a first date, neither one of us quite sure what to say.  Fortunately for me, the customer was far more vulnerable than I was.  The moment you picked out something to buy, it automatically became part of your identity and that object or video exposed your innermost thoughts and desires.
After a couple of months working there, I became indifferent because I saw the same thing every day.  Some college boy would come in and look around for ten minutes, sheepishly grinning at me every so often, and then he would eventually and hurriedly grab a pocket pussy and hold it out to me saying, "It's not for me, it's for a joke…for my buddy's bachelor party," even though I knew that fifteen minutes later he would be locked in his room making love to latex.
Despite the oddity of this job, I got used to most of the screw balls and stoners who came in to purchase their underground product of choice, but I was never prepared for the guy who came in one Tuesday afternoon and fucked my world up.  He was a middle-aged guy, nicely dressed in slacks and a business shirt.  The sort of guy who comes in to buy a little something to bring home to the wifey to spice up their sex life. It wasn't uncommon to see a husband or a couple come in and pick out a vibrator or even a movie.
Seeing as it was still morning on a weekday, there was nobody else in the store, so I buzzed him in and sat down at my customary stool behind the "tobacco pipe" display case. Normally I would pretend to clean the case or adjust and rearrange the pipes and tobacco on display to make it easier for the customers to look around without feeling like they were being watched and judged, but before I could even slide the glass door open, this nicely dressed man loosened his belt, reached down the back of his pants and pulled out a giant butt plug. "Do you have any more of these in this size?" he asked.  If you think I would make up something this disturbing and disgusting, you don't know me very well (ok, maybe you know me a little, but this isn't one of those times).
Any normal person would have been furious and yelled at this perverted degenerate to get the hell out of the store or perhaps stomp over to the nearest phone to call the cops.  What I did was stand there awkwardly for a moment before asking him if that was the 10 or 12 inch model.
"I don't know," he said, rather annoyed.  "Look at it!"
He held it out to me as if it were a rare, sanctified artifact that had been unearthed from Egypt, and I was half-expecting him to blurt out "BEHOLD!"  Even as a young, scared kid I knew somewhere in the back of my mind that he didn't really expect me to determine its size.  After all, this wasn't a shoe store.  I didn't have a little device with a sliding metal cursor to measure its length.  We didn't store our dildos and toys in boxes in the back, organized by size and stacked in neat, economical rows.  This man had an agenda, and it wasn't to buy something sexy for his wife.  I, in no way, wanted to see the endgame to that agenda, so I simply pretended that this was totally normal, that men like him came in everyday presenting their butt plugs like defective hot dogs.
"Uummm…let's see," I said, opening a drawer in the display case which held nothing more than extra packs of tobacco in them. "What color would you like?"
"What?  Whatever.  I don't care."
"Is that latex or rubber?" I asked, still shuffling through bags of tobacco as if I were looking through our giant inventory of butt plugs.
"I don't know," he snapped.  "Latex, I think."
"Did you see our special on flavored condoms?  Buy four get the fifth one free."
"No, I don't need any condoms." He was getting flustered now, I assume from my method of trying to get through this thing the only way I knew how, which was to distract him and me from what was really going on, and what was really going on was that this guy was getting off on his public display and my squirming discomfort.  Personally, I would have rather rammed an ice pick down the shaft of my penis than participate in public humiliation of this magnitude, but that's just me.  I really wanted him to put the damn thing away, but certainly not back in its sheath where it came from.
"How much were you looking to spend?" I asked.
"I don't care," he yelled.  "Just…LOOK AT IT!"
It was at this exact moment when I realized that people who say human beings are just a different version of the same thing don't know what the fuck they are talking about.  This man wasn't a version of anything I had ever come into contact with. It wasn't a gender thing with him either.  He didn't care if I was a man, woman or giraffe.  He simply needed a witness in order to get that adrenaline flowing, but instead here I was asking him if he wanted to save a buck on flavored condoms.  I didn't mean to, but by trying to avoid the horrific awkwardness of the situation, I was fucking up his shock value.
"We have flavored lube too, if you'd like. I could give you a deal."  He just stared at me with unblinking eyes, his lips locked together in a tight, bloodless line while still holding the plug out in front of him.  I knew he didn't really want another one of the same size.  What would he do with two?  Still, he wasn't leaving, so what was he hoping for?  Did he want me to jump up and eagerly perform lewd acts with him right there in the store?  Was he taking a mental picture of this moment so he could recall it from his memory files for later enjoyment?  Or was he planning an assault?  I felt a sinking sense of dread as I pictured the front page headlines in tomorrow morning's paper:  College Student Bludgeoned to Death by the Buttplug Bandit.
Of all the subjects I had studied and switched my major to, at that moment I wished I had stuck it out in psychology so I could fuck with this guy's mind like Hannibal Lecter and get myself out of this situation.
"I think we have a shipment of vibrating ones coming in tomorrow if you want to come back then," I said.  I was running out of stall tactics, and I was afraid if I stood up he might interpret that as a signal for him to engage me and then he might start trying to kiss me or caress me or something that causes you to need therapy the rest of your life.  So I stayed seated where I was and just kept looking through the same ten baggies of tobacco in my 8 x 12-inch drawer, hoping he wouldn't notice that the only way we would store butt plugs in something so small would be if it was some sort of Narnia drawer that opened up into a world of snowy porn.
Just when I thought I might have to make a run for it, someone from the front of the store yelled, "Is anyone here?  I need to buy this CD?"
This jarred my creepy friend back from his perverted world and he quickly shoved his toy into his pants pocket and hurried out of the store.  And just like that it was over.
After the incident, I was embarrassed of what others might think so I never told anyone.  I've never devoted much time to guilt, but that's exactly how I felt and it wasn't fair.  I hadn't done anything wrong, yet I felt like I was a willing participant in this man's dirty little scandal.  Was this what rape victim's went through but on a much more severe level?  What was the lesson I was supposed to learn from the man who went around terrifying college boys with his greasy toy?
Perhaps I'll never know, but until I do figure it out, be very cautious around me when adjusting your belt.  I get very jumpy around anyone who I think might loosen their pants in a moments notice. I guess in a way that makes me damaged goods.
Cheers, until next time.
The RB