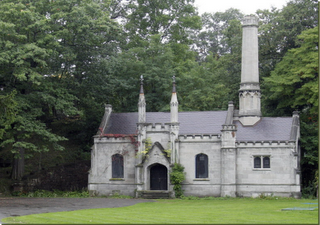 Mt. Hope Gothic Revival Chapel

Mt. Hope Cemetery is one of my very favorite historical places to visit in Rochester, and is a really significant example of a transition in nineteenth-century American funerary and bereavement practices. I'm constantly referencing Mt. Hope in other blog posts, discussing its architecture, landscape design, funerary iconography, famous residents, etc., but I realized that I've never done a post specifically about it! So in this blog, I plan to discuss Mt. Hope as it is situated within its greater historical context.
Basic facts about Mt. Hope Cemetery:-Founded: 1838-Landscape Architect: Frederick Law Olmstead -Size: approximately 196 acres -# of interments: approximately 350,000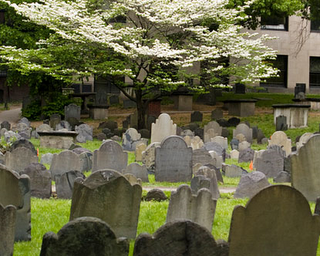 Boston Cemetery - example of overcrowding
Mt. Hope represents the adoption of the Rural Cemetery Movement in America during the late nineteenth-century. In response to older styles of graveyards that sat beside churches (that were often overcrowded, unkempt, disease-ridden and subject to body-snatching), graveyards were moved to the rural outskirts of towns and cities, and placed into semi-natural landscapes (such as forests, hills, fields, etc.), often with some man-made alterations. These new style graveyards were referred to as rural cemeteries. An article on the cemetery as a cultural institution stated, "[they]… were certainly some improvement over the standard soppy churchyard, where the mourners sink ankle deep in a rank of offensive mould, mixed with broken bones and fragments of coffins… people would not have to worry about the remote graves of their loved ones and friends being subject to the depredations of suppliers to the medical profession or other forms of desecration because the new cemetery was to be effectively fenced and subject to constant supervision of a salaried staff consisting of supervisor, his secretary, a gatekeeper and a gardener."[1]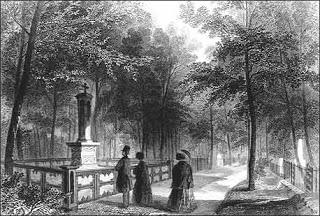 Nineteenth-Century Illustration
The newly enforced safety precautions allowed families to take solace in the fact that the remains of their loved ones (and the expensive monuments they erected), were protected. As the previous quote mentioned, bodies were often looted from urban cemeteries to be used illegally as cadavers in medical facilities (as the legal sanctioning of cadavers would not come into effect until the early 19th century.) The distancing of cemeteries away from highly populated urban areas was in itself a deterrent to robbers, much to the appreciation of the families of individuals at risk of desecration and dissection.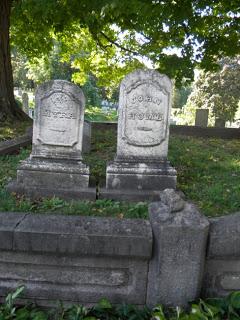 The gravestone iconography accompanying with these early cemeteries also presents a reflective visual into the ideologies of the early American mindscape. In their work on mortuary iconography, Frederick Gorman and Michael DiBlasi of Boston University hypothesize that "…expectations about the patterning of gravestone iconography are assumed to be the material correlate of mortuary ideas…"[1] If this is indeed the case, it would seem that an examination of the designs chosen to be placed on headstones should speak of the psychological states of the societies creating them. Of the various iconographic motifs that appear within early American cemeteries, some of the most popular are the "…bird-like death's head, angel, anchor, skeleton, wreath, torch, hourglass, cross, father time, shroud, masonic emblem, cherub, plain inscription, urn and willow, portrait, sunflower rosette, skull and crossbones…"[2]Many of these motifs were images that were borrowed from European graveyard inscriptions, and transferred into the American cemetery iconography as a result of migrations of Europeans to America in the 17th and 18thcentury.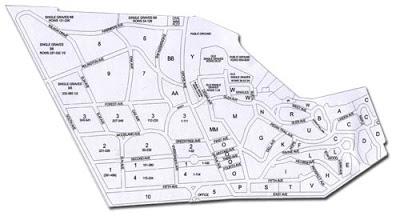 Map of Mt. Hope
While these new cemeteries were literally the final resting places for remains, they served a function different from any American graveyards to date: these were places where family and friends of the deceased could go for a leisurely walk, a picnic or a lovely carriage ride, all amidst beautifully crafted semi-natural vistas. This was an entirely new behavior and marked a changed in American sentimentality, as the old style graveyards were almost entirely avoided, and the remains of the deceased often neglected or ignored.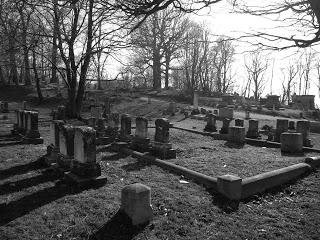 Raised Family Plots 
 In these new rural cemeteries, families created elaborate works of sculpture and masonry for their loved ones, often creating whole-family plots surrounded by wrought iron fences or raised on concrete and earthen terraces. Families would often spend the afternoon at the cemetery for a picnic, a practice which people still do. As a child, my mother and her parents would have lunch at her grandmother's plot every Sunday in Mt. Hope Cemetery. This particular monument was actually bench-like in its design, which indicates that it was created with the hope that people would stop by and enjoy a few moments relaxation upon it. Cemeteries became places that people desired to go, and even attracted the attention of travelers, a kind of necro-tourism. Thomas Bender stated that "A visit to the local cemetery was considered de rigueur for the tourist, and the popular press carried numerous articles on these romantic burial grounds."[1]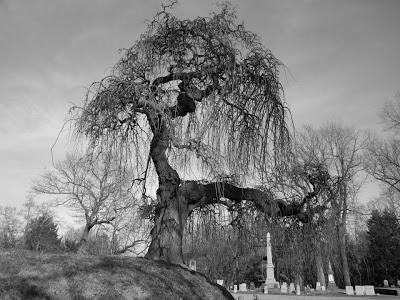 Mt. Hope Cemetery in Rochester NY is a very locally accessible example of a picturesque rural cemetery. It is also full of carriage paths that wind through a landscape full of hills (both natural and manmade), overgrown trees, neoclassical temples, and gothic chapels. This cemetery walks the visitor through the historical residents of Rochester, all the while creating beautifully crafted vistas emblematic of the picturesque. One can clearly differentiate the creations of the landscaper's picturesque designs, in contrast to more modern sections of the cemetery, which are merely concerned with organization and spatial conservation. Mt. Hope was designed by Frederick Law Olmstead in 1838, and constitutes "The first municipal Victorian cemetery in America and is listed in the State and National Registers of Historic Places."[1] Olmstead was also the designer for Central Park in New York City, (1857) the function and aesthetics of this being quite comparable to Mount Hope.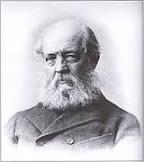 Frederick Law Olmstead
In regards to his designs, and the ever pervasive contrast between city and country, Olmstead stated that "…no broad question of country life in comparison with city life is involved; it is confessedly a question of delicate adjustment between the natural and the artificial."[2] This desire to have the best of both worlds seems to have been evident both in Olmstead's designs, as well as the desires of the American public, who craved both a busy city life and the pleasures of country experiences. Mt. Hope is also readable in terms of the transition from city to country, and the creation of a natural microchasm. The differentiation between the urbanization of the surrounding city and the interior naturalism is visibly evident in the aerial views of the location. The atmosphere of the cemetery is immediately different from that of the bustling city around it, as if it was created to be a different world in itself.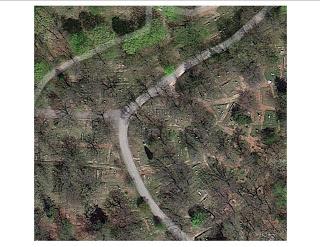 19th Century Section of Mt. Hope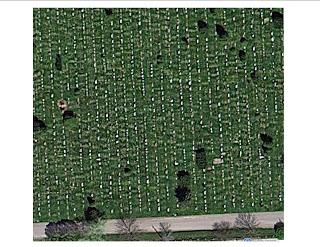 Modern Section of Mt. Hope
This image is an aerial view of the old section of the cemetery. Note, the curving paths, abundance of trees, multitudes of raised family plots, and lack of any particular grid-pattern or spatial organization. This section looks more like a park than a cemetery. 


Here is an aerial view of the  newer portion of Mt. Hope. As you can see, there is a considerable difference in its design- instead of the natural, spacious paths and  separated plots surrounded by trees, the new section is all about usage of space and organization. Much like the older style graveyards, the headstones are orderly placed into narrow rows, without any natural vistas.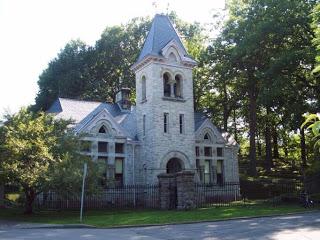 Victorian Gothic Gatehouse
The architecture of Mt. Hope is characteristic of a rural cemetery, and is quite picturesque in nature. The "High Victorian Gothic stone gatehouse [was] built in 1874."[1] The image of the gothic temple (which occurs frequently in rural cemeteries), is said to represent "virtuous primitivism,"[2]and a hearkening to established forms of medieval European architecture. "This was the original entrance to Mount Hope, and in the early days, it was not only a cemetery but a popular city park. Rochesterians frequented the area for picnics and carriage rides, particularly on Sundays."[3] The cemetery also boasts an impressive mausoleum in the Egyptian revival style, (indicative of the growing 19th century interest in the neoclassical,) as well as the 1862 Gothic Revival Chapel, faced with a circular carriage path and Florentine fountain complex.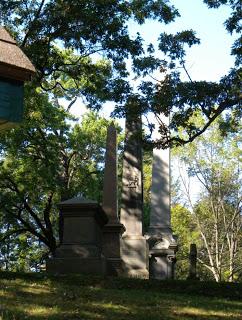 Egyptian Obelisks

In terms of the Egyptian sculptural and architectural influence on rural cemeteries, this feature is characterized most often by the presence of obelisks, a type of grave marker that has become one of the most pervasive images within contemporary American cemeteries. This change in aesthetics, (as well as the Egyptian influence which was especially popular in Mt. Auburn), likely occurred as a result of the growing interest in Egyptian and classical antiquities following Napoleon's late 18thcentury campaign in Egypt, especially after Vivont Denon's Voyage dans la basse et la haut Egypte in 1802. The argument has also been made that as a young country without its own repertoire of nationalist monuments, American artists and sculptors drew heavily from pre-established artistic trends, such as the pervasive model of the strong obelisk. Egyptian relics and imagery were flooding American and Europe, and the image of the obelisk was likely seen as hearkening to an age of great appreciation for the deceased, a marker of "…glory, wisdom, the Sun, democracy, and eternal duration,"[1] as well as military success (particularly within an early American context). Obelisks were frequently positioned on the sites of notable American battles after the Revolutionary War, and remained an artistic tradition that was eventually translated to funerary sculpture. The presence of such sculptures in Mt. Auburn Cemetery and Mt. Hope Cemetery are highly pervasive, almost every direction of vantage there are multiple obelisks to be observed. Even today, the obelisk is a very popular grave monument, chosen likely for its tradition within American funerary iconography, rather than it's deeply entrenched art historical and architectural significance.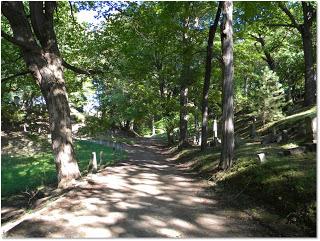 Mt. Hope makes for an excellent place to go for a walk any time of year - this is exactly what it was designed for. Many of Rochester's most famous residents are interred here, just a few of these including: 
-Susan B. Anthony
-Frederick Douglass
-Reverend Thomas James
-Henry Lewis Morgan
-Margaret Strong
- And many more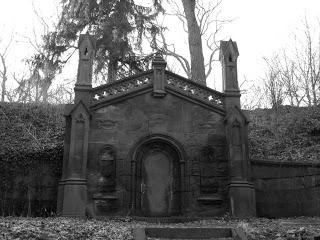 Tomb of Anthropologist Henry Lewis Morgan

Further Reading:-Mt. Hope Cemetery Wiki-City of Rochester Mt. Hope page-Friends of Mt. Hope Cemetery website
Follow @Paige_Autumn[All photographsproperty of Paige Doerner Photography] 
---

[1] John Zukowsky, "Monumental American Obelisks: Centennial Vistas", (Art Bulletin. State University of New York, Binghamton.) Pp. 574. 
---

[1] Reisem, Richard O., "Federal Grant Will Restore Mount Hope Cemetery Entrance," (2010)  Pp. 1. [2] Darnall, Margaretta J., "The American Cemetery as Picturesque Landscape." (Winterthur Portfolio, Vol. 18. No. 4. University of Chicago Press. 1983) Pp. 257.[3] Reisem, Richard O., "Federal Grant Will Restore Mount Hope Cemetery Entrance," (2010) Pp. 1.
---

[1] Reisem, Richard O., "Federal Grant Will Restore Mount Hope Cemetery Entrance", (Epitaph: The Friends of Mount Hope Cemetery, Vol. 30, No. 2, 2010)  Pp. 1. [2] French, Stanley, The Cemetery as Cultural Institution," (1974) Pp. 205.
---

[1] Bender, Thomas, "The Rural Cemetery Movement," (1974) Pp. 196.
---

[1] Frederick J. E. Gorman, Michael DiBlasi, "Gravestone Iconography and Mortuary Ideology", (American Society for Ethnohistory, Vol. 28. No. 1. Duke University Press) Pp. 79[2] Gorman, Frederick J. E., DiBlasi, Michael, "Gravestone Iconography and Mortuary Ideology" pp. 84. 
---

[1] French, Stanley, The Cemetery as Cultural Institution, (1974) Pp. 44.