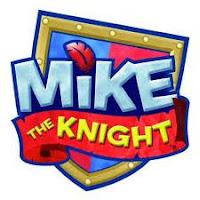 If you have little ones in the house you're sure to know the stories of Mike The Knight! The gorgeous new cartoon from HIT entertainment.

 

Determined to do it right Mike The Knight is a story of a young knight who looks after the Kingdom of Glen dragon while his father the King is away exploring. With the help of his sister Eve a young wizard in training and his two pet dragons Mike learns through adventure and fun responsibility. He has his own personal battle cry of "be a Knight and do it right!"
We were sent a lovely Tshirt from the new Mike the Knight range at Tesco and immediately Jack saw it we had a big grin and a demand to wear it! Its short sleeved as you can see and 100% cotton and lovely quality – incredibly soft! It also fits my giant perfectly although we have a 5-6 and he is 4. Due to the rain he's been wearing it over a plain long sleeve and it looks incredibly funky. Perfect for any knights in training! It was great apart from the labels at the back. They had to be cut out as very stiff and itchy however the quality's great. We've climbed trees and skidded around in the mud and it still holds it shape and looks fresh. I think this will very quickly become a firm favorite not just with my eldest! My youngest has been demanding his own now!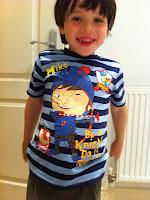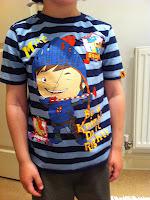 " Bringing the excitement and enchantment of medieval times into life this t-shirt is a must for budding knights in training. Finished in an all over stripe the t-shirt is detailed by Mike The Knight artwork across the chest and his best friends Squirt and Sparkle. Be a Knight, Do it right!"
Tune in to watch our brave knight-in-training and his
best friends on their adventures to serve and protect
the kingdom of Glendragon! Huzzah!
Only on CBeebies, Weekdays at 4.05pm*
For CBeebies broadcast information visit:
http://www.bbc.co.uk/cbeebies/