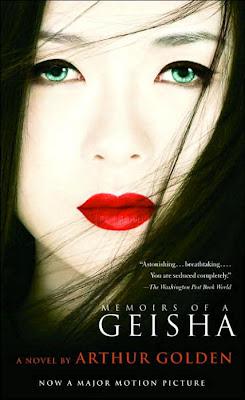 Memoirs of a Geisha by Arthur Golden is a book about Geisha ( Japanese women entertainer ) who sing, dance , talk keep men company in order to entertain them.
The book is about Chiyo (Who is known as Sayuri when she becomes Geisha ) who is sold to a Geisha house in Gion after their mother's  death , she does odd jobs there like cleaning and house chores .Later on she is enrolled in  geisha school where she learns singing , dancing and more .An elder Geisha  Hatsumomo is jealous of Sayuri and so her hope of becoming a Geisha comes to a stop until she meets a elder Geisha Mameha who eventually trains her to become Geisha and a successful one at that . Sayuri's life changes after second world war when the man she has always loved becomes her Danna ( A wealthy man, sometimes married, who had the means to support the very large expenses related to a geisha's traditional training and other costs.).
This novel is an amazing read that brings to life, vivid and colorful characters. Being narrated in the first person, the reader feels a sense of reality to the story. Golden's ability to create clear imagery makes the novel all the more spectacular. The novel uses many different jokes and situations that will make the reader laugh and cry. It also broadens the view of society on geisha and ancient tradition. Being informative, hilarious, and inspirational, Memoirs of a Geisha is

a well written book and It's one of my favorite.