Yesterday was one of the most exciting days of the year in Boston: Marathon Monday! Marathon Monday is always run on Patriot's Day, which is a state holiday and everyone comes out to watch the marathoners! 
 I had somethings to take care of downtown, near the finish line, on Sunday. It was fun to get to see the finish line, with every other tourist in Boston.  It was cool to think that less than 24 hours from then the top finishers would be racing across the line!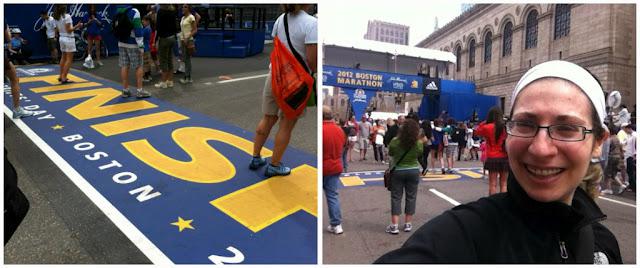 Of course, it was going to be insanely warm yesterday, record heat. So hot that they were telling runners it was ok to defer racing until next year. By mid-day it was 86 degrees (it's April...in Boston).
Anyway, back to the race! As I was coming back from the gym I arrived at the race course a few minutes before the wheelchair racers were supposed to arrive. It was so amazing to see these men come whizzing through. They actually broke records, the heat apparently is better for their muscles!

 After that I knew I had some time before the Elite Women and Men ran through (I live at mile 24 of 26.2). So I ran home and got my big camera and a big bottle of water and headed back to the course. By then people were coming out to support the runners!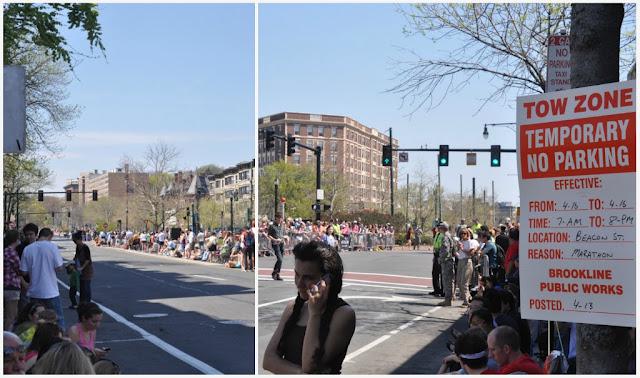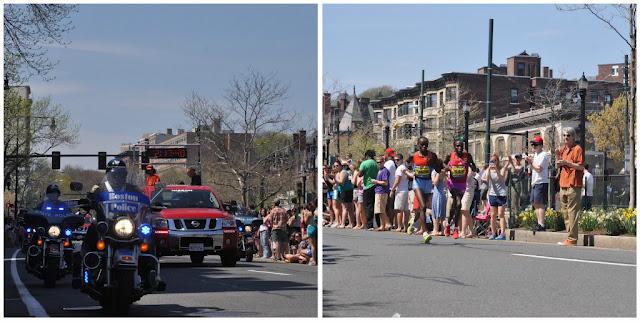 Then we heard the cheers down the road and knew the elite women were about to arrive. Look at the pace time! 2:17:40! These women are amazing! They weren't breaking records, but they were doing an amazing job considering the heat!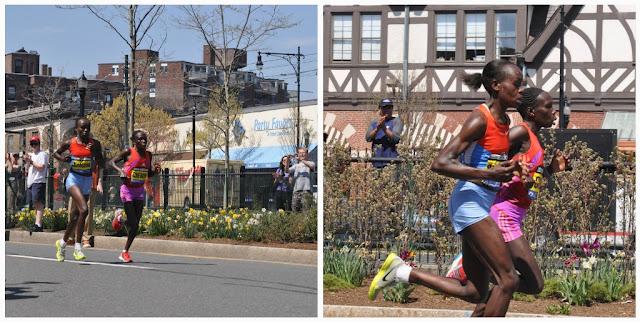 The women on the right, in the pink shorts, ended up winning the women's race. She finished in 2:31:50. Yup, 14 minutes later she crossed the finish line, 2.2 miles down the road. Amazing.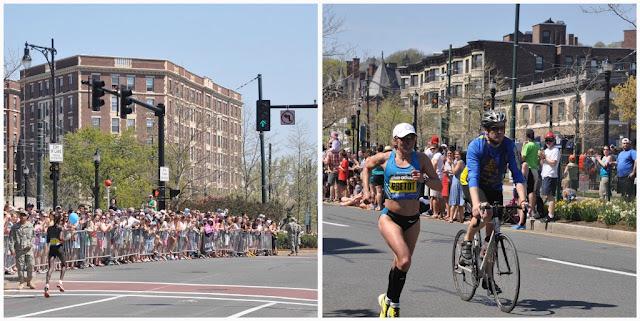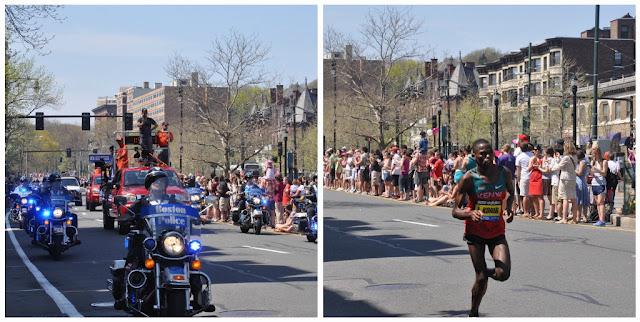 Then just a few minutes later the elite men came through. The leader, the man on the right above, made it 24 miles in under two hours. He ended up winning it all in 2:12:40! The heat did get to one elite male runner, the man they thought would win it all, he had to bow out due to heat related issues.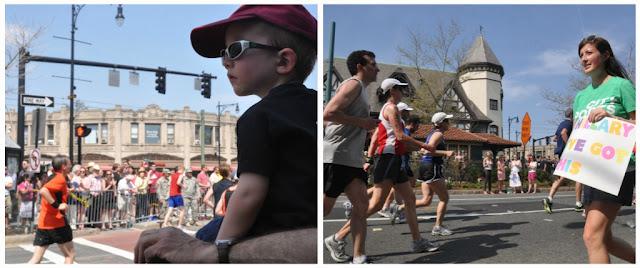 It is so fun to be out with everyone! The spirit in the crowd is so great. You just call out runner's bib numbers or their name if they are wearing it. To see them smile or give a thumbs up, when they must be so hot and so tired at mile 24 is so great.


 Even after running for close to 3 or 4 hours most people were still doing just that: running. It was amazing to see some walking and to call out "you can do it 2310" and to see them smile and start jogging again!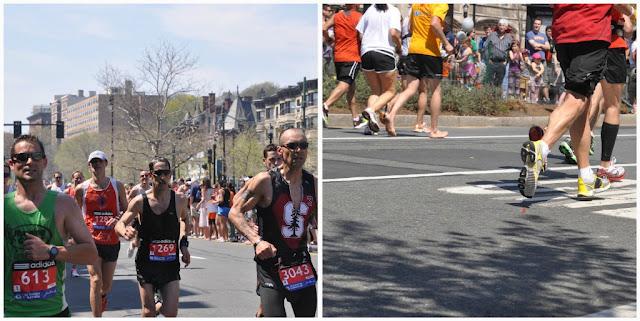 You also see people of all shapes, sizes, ages, and the like. You even see people who are running barefoot by mile 24. Can you say post-marathon-tetanus shot?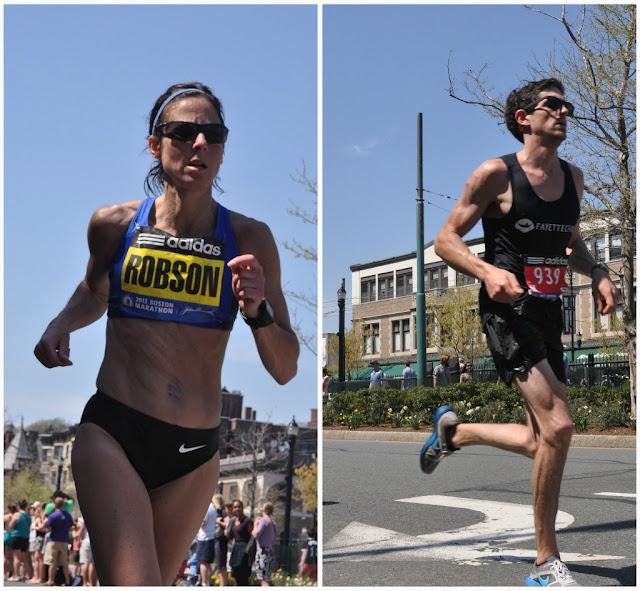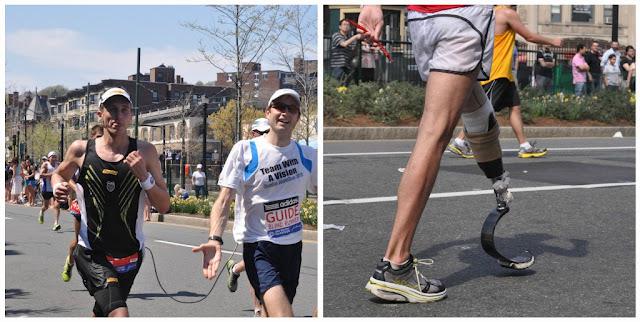 Then there are the amazing people who make you go, "oy, and I complain about working out when I have the sniffles." Blind runners, running with guides and runners with prosthetics. If they can do it, maybe I should try too!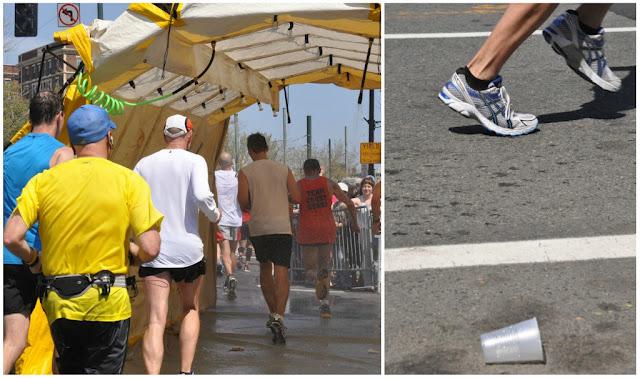 There was also no shortage of methods to keep the runners safe. The police were making, yes making, the runners run through the cooling tent which was hooked up to a fire hydrant and then being cooled in some fancy looking machine. By the time I left the course at 3:30 (6 hours after the elite women started) the road was littered with cups and water bottles. The only time there is a good excuse to litter, I suppose.

And of course there were the hilarious costumes. How they ran in these, let alone running in them in the heat is beyond me! There also was a bumble-bee, a banana, and a few men in kilts!
Congrats to all those who ran the marathon, the heat was extreme and your determination was amazing!