A lot many people I know in India has a personal favorite mango story. This is only natural in a country with perhaps the largest variety of mango cultivation. My own personal favorite story of this genre is 'Naulakha Bag of Nahan' that describes how an anecdotal mango orchard comprising almost a million mango trees came to be about in Shivalik foothills.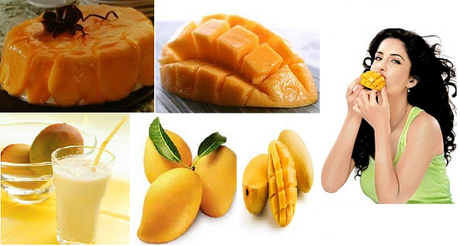 The Joy Of Mangoes
I also have fond memories of surviving for days on mangoes alone and many a foodies will tell you as to how they demolished a bucket load of mangoes all by themselves. There are also many a child hood fables of emperor 'Akbar 'and his favorite courtier 'Birbal' centered around mango eating pleasures. This is natural in a country like India which along with Pakistan grows the largest variety and perhaps the best quality of mangoes in the world.
A Gourmet's Delight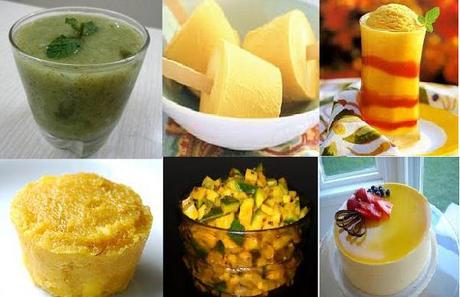 Mango Flavors
While mangoes may be available elsewhere in the world, they just don't taste the same. Perhaps the fruit is nature's reward for the incredible summer heat of Indian subcontinent. Mangoes also inspire a great many of the culinarily inclined in India with adaptations like 'Mango Panna', 'Mango Pickle', 'Mango Ice Cream', 'Mango Kulfi',  'Mango Mousse' and 'Mango Halwa', where as humble raw mango powder 'Amchur' has been used to add tanginess to Indian staples like 'Daal' since time immemorial. In fact around mango season you will find many a fine eatery offering mango specialties in India. The fruit also inspires nationalistic passions with India and Pakistan often competing in international markets as producers and exporters of the better mangoes.

Variety of Mangoes at festivals
Since last 24 years Delhi Tourism hosts every year a mango festival at one of the Delhi Haats. This year the competition is being held from 6th to 8th of July at 'Delhi Haat- Pitampura'. Here you will get a chance to taste more than 1100 varieties of mangoes and some rare species of the sumptuous fruit. Some of the traditional and exceptional mango varieties are Langda, Dusheri, Alphonso, Fazli, Bombay Green, Chausa, Sindhuri, and many more hybrid species of the fruit. Delhi Tourism festival has been my fovourite joint of bonding over mangoes with childhood friends who were my accomplice in steals mangoes from the orchards.
However Delhi is not the only mango festival city my another favorite mango fest is of Trivendrum
Mango festival at Trivendrum

Mango Festival at Trivandrum
This 10-day mango festival  is held at the Kanakkakunnu Palace at Thiruvanantpuram in May. The festival showcased all endemic and exotic varieties of mangoes of the region from the large Javaanpasand, to the small Chakkarakutty. Ahmedabad has its Mango festival in late June and even the dusty mango country of Malihabad near Lucknow saw ambassadors of as many as 15 countries trooping lured by the juicy mangoes in a bid by the Government to promote mango exports from the country.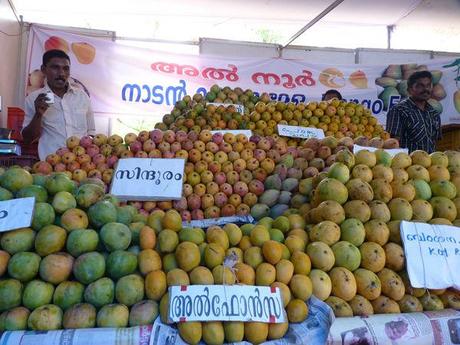 Mangoes at Trivandrum
Culturally mangoes in India have always been considered a fine gift and in the colonial times there was a great tradition of Indian grandees sending mango baskets to their colonial masters.  The tradition survives to this date with people sending mangoes from their gardens to people they would like to please.  Possibly it stemmed from the fact that joy of eating mangoes will rub off on the relationship. "People who eat mangoes together bond together".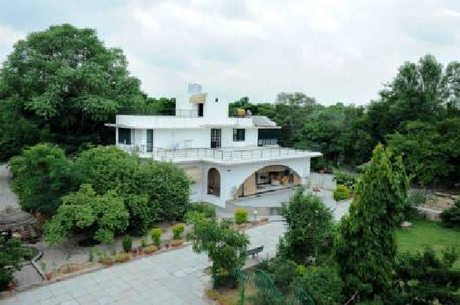 Mango Orchard at 9 Trees ,Jaipur
'The Other Home' offers many a vacation ideas at pleasure spots situated in lush mango orchards such as
9 Trees in Jaipur. So if you are anywhere near India around mango season of almost since March till August, do enjoy a mango under a tree in an orchard, in a glass on the roadside juice corner or in a classic Indian speciality in a Homestay.
If you want to be notified next time, subscribe to the RSS feed or say hello via Twitter @theotherhome. You can plan your dream holiday with us, visit The Other Home.