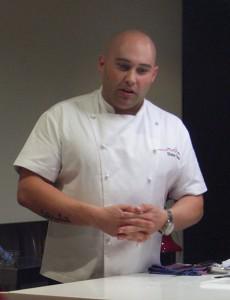 Pure serendipity saw me at the LG Kitchen at South Melbourne Market for the second week in a row. But I had booked this particular visit some time back.
The Spouse and I went along this week see Maha's Shane Delia run through some Turkish, Greek and Middle Eastern dishes to share.
I first met Shane six years ago when he was doing a cooking demo at a Victoria Producers' Market near Melbourne Museum during the Commonwealth Games. At the time he was head chef at Chateau Yering. Since then we've enjoyed several meals at Maha and it was time to see him shaking the pans again, this time making traditionally inspired food but with a modern twist.
It's one thing to sit down at the restaurant and feast the eyes and then the senses on a dish but we were keen to see what happens to the myriad ingredients along the way.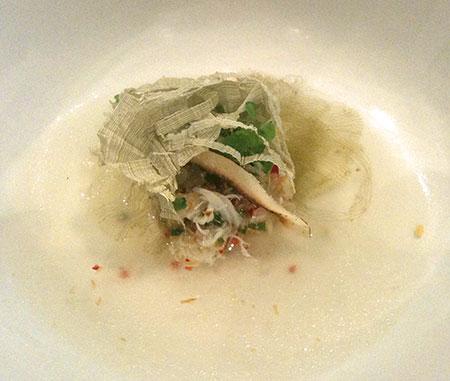 The first dish was cold soup but not just a routine one.  There were finely chopped raw scallops and cooked crab meat in a bowl interspersed with caviar-like pearls of lime, shaved roasted fresh coconut slices and shaved hazelnut,  and a delicate fabric-like garnish made of white kombu. The plates were brought to the table and then a coconut water and orange blossom soup was poured gently round the seafood.
Here we had a mix of the molecular and the readily identifiable. The flavours were subtle but delicious with nothing overshadowing the delicate seafood.
The lime pearls were made of lime syrup with agar and gelatine. This was dropped into chilled oil where they set and were then retrieved and rinsed in ice water, the oil separating from the pearls and rising to the top. The pretty garnish was then stored for use. Definitely something to try at home.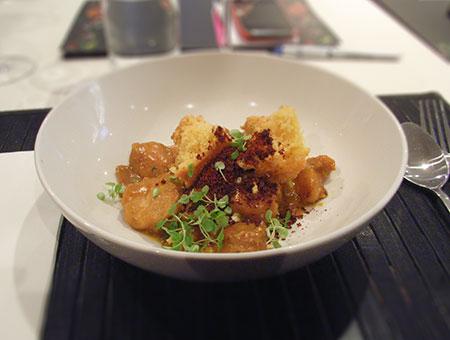 The main dish was a chicken tagine with Iranian figs, sujuk soil, corn bread and broken egg.
The "soil" was made from slices of sujuk – a spicy Middle Eastern sausage – that had been put in a dehydrator for 24 hours then blitzed in a Thermomix for a few seconds with paprika. Voila – edible soil.
Chicken thighs were used for the well spiced tagine which was garnished with small broken pieces of corn bread, a scattering of the soil and some runny broken egg. Certainly not a "heavy" dish, and packed with flavor.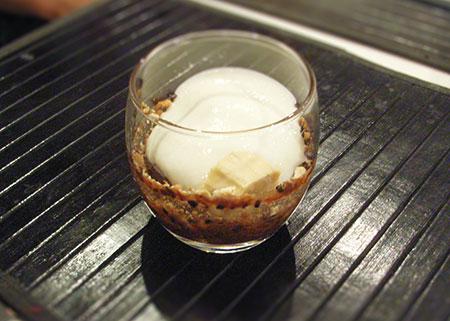 Dessert was a luscious concoction of rounds of creamy peanut butter parfait rolled in baklava crumbs (made from roasted cocoa nibs and candied pistachios, walnuts and almonds), bitter chocolate ice cream and salted caramel.  While the ice cream required a few ingredients not in the average home pantry, bought ice cream would make this dish achievable without too much angst.
Shane Delia gave us an interesting commentary on recipe development. He might think up a dish, sketch how the finished article could appear and then start cooking and testing.  Something as simple as an attractive plate might start his thought processes.
And, lest we mere home cooks might despair, he said about only about five per cent of these ideas achieve menu status. The acid test?
"Can you do it for 150 people, day in day out?"
–ooOOOoo–
Shane Delia will be hosting a Problogger event at Maha on July 17 at 6pm, along with Problogger Darren Rowse plus three great speakers who will be discussing their approach to food and wine writing. He'll be cooking up an exclusive three course Maha feast (some new dishes!) for everyone and there will be some great give aways for the best questions to the panel of speakers. He has offered my readers a discount of $10 off the normal ticket price for the event. All you need to do is use the promo code FOODIES when you register and purchase your ticket online.