TAKEAWAY:  There is only one Boeing 747-8 in service and Lufthansa has put it to work on the Washington Dulles-Frankfurt route.  I had a chance to sample it: luxury meets functionalism meets comfort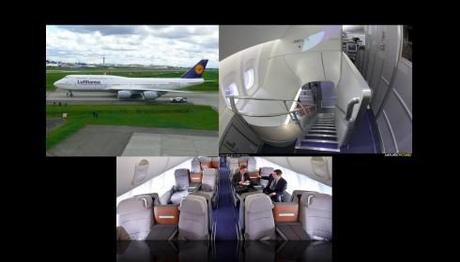 It was my first flight this weekend on Lufthansa's new aircraft, the Boeing 747-8, the latest in the family of these legendary jumbos. If you fly as much as I do—-over a million miles a year—-airlines, aircraft, airport lounges and in cabin service become important .
In fact,  those things affect, to some degree, how we perform.
Lufthansa has received its first of 20 of the new Boeing 747-8 aircraft now on order ,  and has assigned the inaugural route from Washington Dulles to Frankfurt.  I flew to Washington expressly to sample this new giant of the skies, and what a sumptuous piece of aircraft it is. A flying mansion comes to mind,not that previous versions of the 747 failed to impress: who can forget the first piano bar in the upper deck of a 747 (was it American or Pan Am? Not sure), or the mere magic of the jet"s second level ,complete with circular stairs that made you feel higher above the clouds .
The 747 series has aged well and this new Lufthansa 747-8 is perfection, as if those engineers and designers at Lufthansa and Boeing had decided to recapture the spirit of that era when flying had the allure of glamour.
A tour of the new 747-8
Taking a tour of the new plane with the attentive Lufthansa purser I could not help but remember my first fight on a 747, during the 70s, on the
long gone Pan American Airways, from Miami to Los Angeles, mesmerized by the contour of the seats, the entertainment system and the overall quiet and pleasant stay on board, all of which were industry groundbreaking at the time. Many other 747 journeys followed on the also extinct TWA, and on United, doing those late nights flights from Miami to Buenos Aires.
The 747 became like a second home for me. It still is. This new Boeing 747-8 is as if the house has been remodeled, the walls repaired, a room added and, most importantly, a comfy bed added.
More than this new aircraft offers details in its design that will please all, starting with the staircase to the upper deck——which Lufthansa uses as part of its business class cabin, since First class is, as n the early models, downstairs, towards the nose of the plane.
This first class cabin is followed by business class in two compartments that make it cozy and personal, en economy class, with wider seats than in earlier models.
If the earlier models of the Boeing 747 were slightly more robotic and skeletal, the new Lufthansa Boeing 747-8 has the relaxed charm of metal impressing with its form and beauty .
Staircase to the stars
Back to the staircase, it resembles the stairs you would have at home, then when you reach the top, it's a sort of penthouse up there, two windows not over any seats, just as observation area, a place to stop, and, as I told the flight attendant, have a mini vacation while pondering over the scenery outside.  Nice touch, Boeing. As  it happened, when I stopped to look outside these windows, we had New York City below .
There are also sculpted ceilings and dynamic lighting that does not offend—-just right.
I was flying business class on this flight and it is perfection at the highest level.  
Cozy, but not encapsulated.  Ample seats, spacious bin next to your seat for carry on luggage, huge overhead space, wide screen for entertainment and plenty of space at your feet.  But, the show stopper for this new Lufthansa business class ( and a long time coming) a full flat seat that converts to a bed.  Along with the white and blue blankets and the tri-color pillows, the dreams are sweet and guarantee a fresh arrival in Frankfurt.
Lufthansa business class flyers will also give a standing ovation to the elimination of that middle seat .  It is an ample 2-2-2 configuration now. Bravo, Lufthansa. This was a long time coming.  This new jumbo made it worth waiting for.
The Boeing 747-8 facts
-The new 747-8 is 5.60 than its immediate predecessor, making it the longest passenger airplane in the world.
-The Lufthansa Boeing 747-8 seats 362 passengers in three classes, that is 51% more seats than its predecessor, the 747-400. In addition, 26% more cargo capacity.
-For the ecologically miinded, the new 747-8 has the best environmental performance of any 747 to date: 16% reduction in carbon emissions, 30% smaller noise footprint.
-According to Lufthansa information, this new jumbo performs better than its predecessor models in terms of fuel efficiency, thanks to iota innovative wings and brand new General Electric engines.
And an interesting, but important, fact:
This new Boeing 747-8 jumbo has improved evacuation slides that extend of necessary, something no flyer wants to try or to think about, but which I was pleased to hear when the purser explained it to me.  This is the part of this great new aircraft that we do not need to sample.
One thing does not change
Regardless of the aircraft, Lufthansa offers impeccable, reliable in cabin service in any class, one reason that it has been the airline taking me around the globe for over 25 years.
When people ask me about the tools of my trade, I always include Lufthansa as an important one.
With this new addition of the Boeing 747-8 to their fleet, in addition to my already very favorite A380, it is just a matter of which city to fly from on the way to that city where the next job assignment awaits.
In most cases, as in 98% of the time, Lufthansa has a flight going there.
For more about the new jumbo:
http://747-8.lufthansa.com/
http://presse.lufthansa.com/en/media-library/movie-library
TheMarioBlog 1053