Look by 
Ritika
Hi everybody,hope you all are doing well. My first attempt at the eye makeup tutorial helped me a lot to take another step for the same. So, here I tried to do an eye makeup look using different shades of blue.
Let's begin,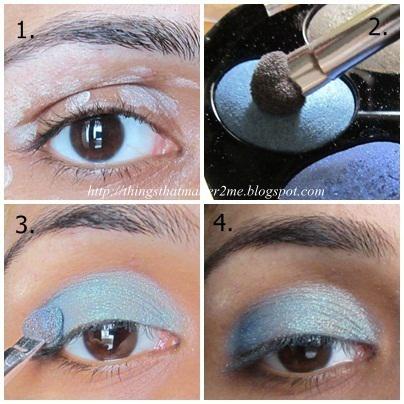 1) First, prep and prime your eyes.
2) Next, take a turquoise blue shade on a sponge eyeshadow brush.
3) Apply the shade all over the eye lid uptill the crease.
4) The resultant look!!!!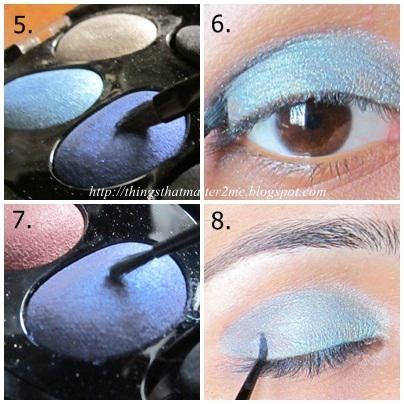 5) Now, take a dark blue shade on other brush to fill the crease.
6) Move the brush(with dark blue shade) inside the crease(in forwards and backward motion.).
7) Take a bluish-purple eyeshade on a thin tip brush.
8) Use this shade in a manner that it blends both the turquoise and the dark blue colour(for this way, keep the thin tip brush below the crease and blend the shades,it will result in blending all the three shades together).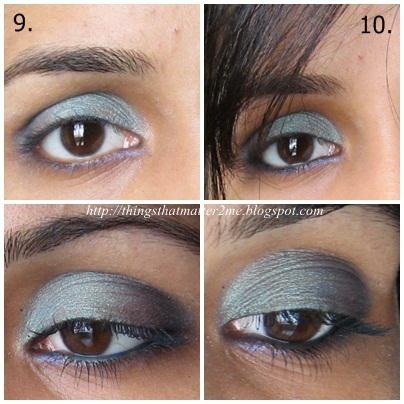 9) Now, use the same purple shade to lne the lower lashline as shown above.
10) Apply a turquoise coloured eyeliner in the lower waterline & black in upper waterline.
Apply your favorite mascara(here I used blue mascara..) and you are done!!!!!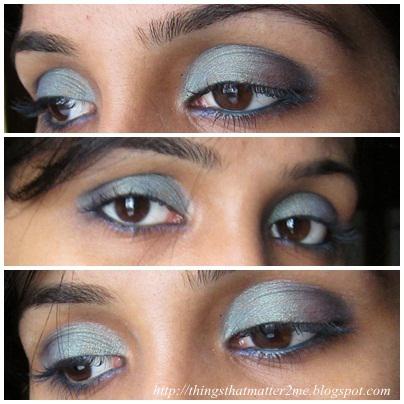 In this look, the blending of all the three shades using one particular shade is the most crucial step and looks very beautiful too. Along with that using a coloured liner adds dimension.
Pair it with a soft matte pink blush and mauve or light pink lipstick to be wowed!!!!!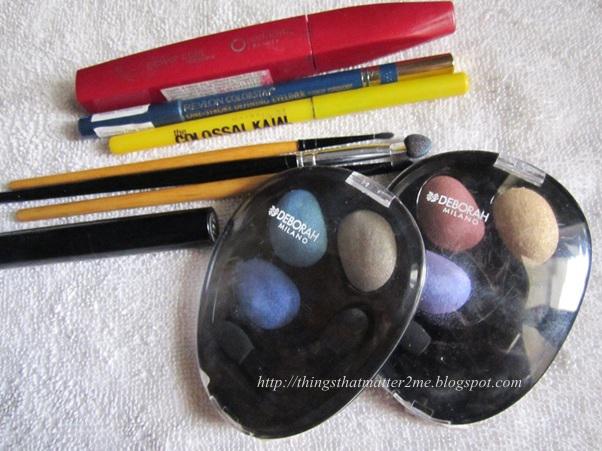 Products used:
Avon ideal shade concealer in light wheat.

Deborah Milano eyeshadow trio in 06 & 08.

Local eyeshadow brushes.

Maybelline colossal kajal.

Revlon colorstay eyeliner in totally turquoise.

Oriflame beauty power curl mascara in

 

Blue.
Hope, you all liked it and would try it too.If anybody wants to have a particular eyemakeup look using a particular set of eyeshades then please comment below…I would be more than happy to do it!!
ETM Edit* Blue suits you a lot Ritika. <3 Loved it on your gorgeous eyes. For my readers, 
Ritika is a makeup enthusiast and a fellow blogger. To know more just head on to her page "Beautimakeupworld" 

and have a look at her amazing collection of makeup and lipstick reviews. :)