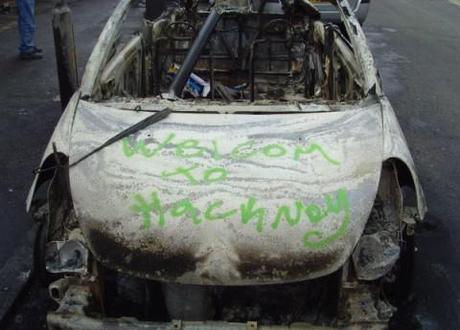 Welcome to Hackney. Photo credit: Johnny McDevitt (via TwitPic)
In recent days, the police have come in for stinging criticism from for their seeming inability to cope with the riots, which spread quickly across the capital last night. In a speech this morning, Prime Minister David Cameron moved to calm fears by saying there will be 16,000 police out on the London streets tonight, as opposed to last night's reported number of 6000.
Despite the beefed-up policing plans, few predict a quiet night. Intercepted warnings suggest riot meet-ups are being pre-arranged via BlackBerry's encrypted messenger service and other such channels.
"Only in the UK could rioters in £100 trainers organising things on their £300 smartphones claim to be in poverty!" tweeted Paul S. Armstrong, co-director, the Association of British Muslims.