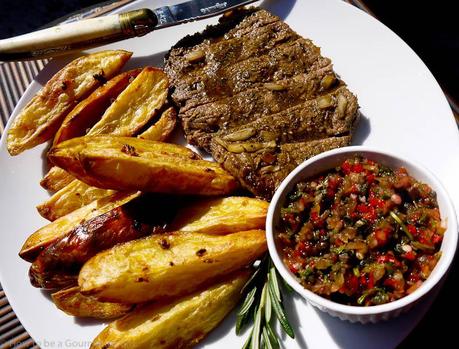 London Porter Steak with Garlic and Rosemary Wedges and Aji Sauce
What springs to my mind when you think of London? Big Ben, the famous "Mind the Gap" phrase or the iconic red buses? How about food? Well in terms of restaurants, London can rival any city when it comes to top food destinations but how about the more traditional fare? Can I tempt you with jellied eels? No? They are not my cup of tea either. Pie and Mash? When I first came to London my friends dragged me to a traditional Pie and Mash shop in the East End. Etched in my memory was heavy pastry, unseasoned mash and an insipid liquor (English Parsley sauce). They also insisted I eat the pie with a spoon! I'm not entirely sure what this adds to this experience – but perhaps someone can enlighten me? You get where I'm going with this..it hardly conjures up a gastronomic feast….does it?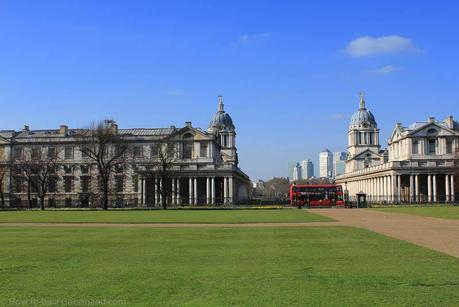 The iconic London bus
When I first moved to London from Scotland, my first job was working as a Retail Analyst for Fullers, the family run London Brewery based in Chiswick, West London. I was responsible for producing the accounts for the Managed and Tenanted Inns. One of the perks of the jobs was an allocation to their wine and beer store. What a result, I had the winning ticket! The environment itself was really unusual in that most of the offices felt like being in someone's house. The family would bring their dogs to work and on occasion they would walk around in their hunting gear i.e.traditional tweed Plus 4′s and waistcoasts (all that was missing was the deerstalker

). They were utterly charming and I will always think of them fondly as they gave me my first opportunity in London.  I left a year later to work in Canary Wharf and live in South East London. Notably Greenwich. Allow me to give you a wee tour of the neighbourhood.
Greenwich Park before Olympics came to town
Unless you have been living under a rock for the past few months, you will know that London hosted the very successful Olympic and Paralympic Games during August and September of this year. Greenwich hosted the Equestrian events for both games. Greenwich has been my home in London for nearly 1o years and it is a wonderful place to live. I am truly blessed. Not a lot of people appreciate that London is actually filled with green spaces. My favorite park is Regent's Park but Greenwich Park comes a very close second. A 10 minute drive away can bring me to these wonderful surroundings.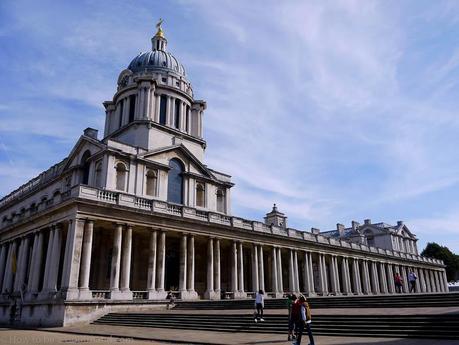 Chapel at Old Royal Navy College, Greenwich
Greenwich is rich in historic monuments and architecture. There are so many beautiful buildings to admire from the Painted Hall to the Chapel dedicated to St. Peter and St. Paul within the grounds of the Old Royal Navy College. This is the reason Greenwich plays host to period dramas and films. Indeed, the last movie I recall being filmed here starred Johnny Depp. Greenwich University can be found nearby and on a sunny day you can take a picnic and sit on the lawn and listen to the classical rehearsals of the music students. All terribly civilised!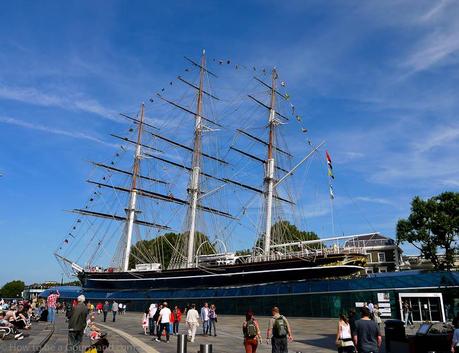 Cutty Sark post makeover
A few minutes down the road, you can marvel at the world's last Tea Clipper; the legendary Cutty Sark. I'm pleased to say it has been restored to it's former glory following fire damage in 2007. While you are in the centre, a trip to Greenwich Market should not be missed. The market has such a buzzing atmosphere and sells an eclectic range of antiques, prints, handmade crafts and has a wide choice of market stalls selling mouthwatering feasts from gourmet sausages to Ethiopian delicacies.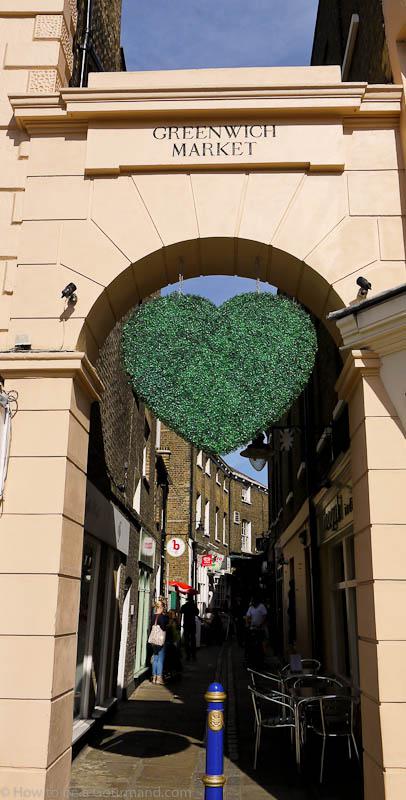 Access to Greenwich Market
If you fancy stretching your legs for a while, take a walk within the grounds of the park where you will find the The Royal Observatory which  is the home of Greenwich Mean Time and the Prime Meridian of the World. The park has areas sectioned off where you can meander and absorb the beautiful flora and fauna on view. One such area is The Ranger's House and Rose Garden where you can see how the experts showcase their finest blooms. At the top of the park, you will find the Deer Enclosure which houses a few rather special but timid creatures. The top of Greenwich Park may be familiar to those of you following the London Marathon as it marks the beginning of the race.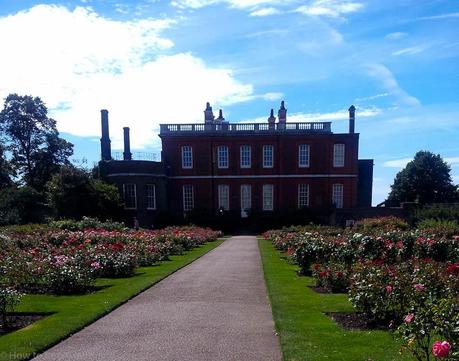 Rangers House and Rose Garden in Greenwich Park
Coming back down from the park, we find ourselves in front of The Old Brewery within the grounds of the Old Royal Navy College. You may wonder why I am talking about breweries again but there is a method to my madness! The Old Brewery is a bar, restaurant and experimental workshop for making Greenwich Meantime Craft Beers and is dedicated to the 18th century period, when London was the envy of the world in terms of commercial, industrial and social importance.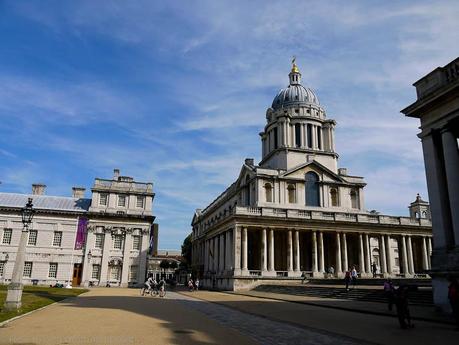 Viewpoint from The Old Brewery, Greenwich
I am entering the Best of British Blog Challenge hosted by Fiona Maclean over at London Unattached and The Face of New World Appliances. This month is based on London and I wanted to make sure I used a local London product for this particular recipe. What can be more local than using a craft beer sourced from the local brewery? For the recipe, allow me to introduce this bad boy: Meantime London Porter.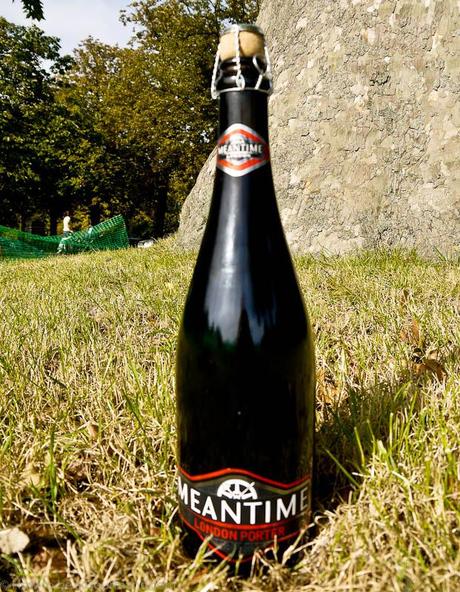 Star of the show, Meantime London Porter
The Meantime Brewery describes London Porter as the great London beer style of the 18th and 19th centuries when London was revered as both the brewing capital and trading hub of the world. It was named after the legends of porters in her docks, streets and markets who drank this powerful beer to satisfy their thirst.
The beer pairs well with mature cheese, beef,and lamb. And holy moly, I was in need of a succulent steak absorbing this rich flavor. Throw in some garlic and rosemary potato wedges and you have my version of steak and chips!
To top it off, I wanted an additional zing to the meal so I set about preparing my Aji sauce. Derived from Latin America, this spicy sauce will put a spring in your step.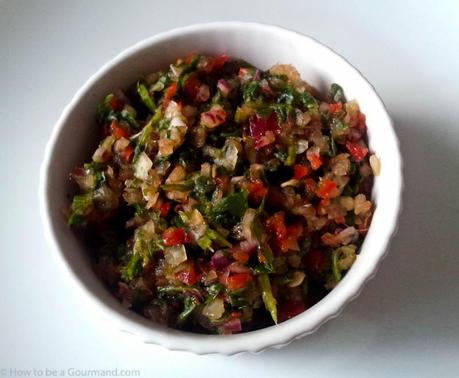 Aji Sauce
Print London Porter Steak with Garlic and Rosemary Wedges and Aji Sauce
Prep Time: 3 hours, 15 minutes
Cook Time: 35 minutes
Total Time: 3 hours, 50 minutes
Serving Size: Serves 2 for Lunch or Dinner
Steak is one of my guilty pleasures and this meal has the feel good factor.
Ingredients
2 x 200g sirloin steaks
3-4 Maris Piper potatoes, scrubbed and quartered lengthways
1 garlic clove, peeled and pressed
3 tbsp and 1 tbsp of olive oil
2 sprigs of fresh Rosemary
sea salt
pepper
Marinade
250 ml of Meantime London Porter Beer
1 small onion, peeled and coarsley chopped
50ml of Worcestershire sauce
2 tsp of cumin
1 tbsp of dried thyme
2 tbsp of olive oil
sea salt
ground pepper
Aji Sauce
25g of fresh coriander, roughly chopped including stems
1 red onion coarsley chopped
1/2 small onion coarsley chopped
1 medium jalapeño red chilli (with seeds) coarsley chopped
The juice of 1 lime
sea salt
Instructions
Use a mallet to tenderise the sirloin steaks. Then score the steaks very lightly in a diagonal direction.
Place the steaks in a dish and sprinkle on both sides with thyme and cumin, a generous amount of salt and freshly ground pepper.
Drizzle olive oil over both sides of steaks, rubbing oil and spices into meat.
Add the onion, London Porter beer, and Worcestershire sauce, turning steaks several times to coat both sides.
Cover and chill at least 3 hours, turning occasionally. Alternatively, this can be done overnight.
Place the potato wedges into a pan of boiling salted water for approximately 10 minutes. Drain wedges and put to one side.
Pre-heat the oven to 200°C.
Place the olive oil and garlic clove into a ramekin dish and mix together. Using a brush coat each wedge in the mixture until all of the oil is used up. Sprinkle a genourous amount of sea salt and fresh rosemary over the wedges before putting them in the oven to cook for 25 minutes or until a golden-brown color is achieved.
Place the coriander, chilli, onion and red onion in processor.
Puree until a paste forms, scraping down sides of bowl with a spatula several times.
Add the lime juice and process until mixture is blended but some texture still remains.
Transfer to small bowl.
Stir in some sea salt to taste,
Cover and refrigerate.This can be made 1 day ahead.
Put the hob on a medium-high heat. Place some olive oil in a pan and wait until the pan is sufficiently hot to add the steak. You are looking for a sizzle the second the steak hits the pan.
I like my steak medium so I cook it for 2 minutes each side.
Transfer steaks to cutting board and let rest for 3 minutes covering with foil to retain heat.
Thinly slice steaks across grain.
Serve with the wedges and Aji sauce and season to taste.
Notes
To save time prepare the marinade and Aji Sauce the night before.
Schema/Recipe SEO Data Markup by
ZipList Recipe Plugin
2.0
http://howtobeagourmand.com/london-porter-steak-with-garlic-and-rosemary-wedges-and-aji-sauce/
Unless otherwise stated, text and photographs © 2011 How to be Gourmand. All Rights Reserved. Kindly request permission from the author to copy or reproduce elements of this blog.
This recipe has been adapted from Esquire.

What would your marinade for steak be ? Do let me know in the comments below!
Like How to be a Gourmand on Facebook.