Just last week, I ran my second 10km run that flagged off at Dataran Merdeka KL. Completed in about 1:13. Later that, drove straight to Ipoh, drank coffee ice, ate dry curry mee and attended a Guitar Camp, a gift from my good friend. (O, I don't play guitar)
Few days later, went to Legoland in Johor Bahru, sat on the big dragon roller coaster . Guess what? I screamed and laughed out so damn loud! WheeeEEEEe!! OMG. Just so much fun! When I was at the edge of the roller coaster drop, nothing else in the world matters anymore, but to.... Wait for it.... Wait for it..... mmmmmmm..aRRRRGHHHHHHHH!!!!! Pure adrenaline. Fun! 
And a day later, flew to Penang to attend a neuro case. Was freezing in the OT since 9am - 530pm. Case done, walked to Gurney Drive, contented with Penang Char Keow Teow, caught the next flight back home, KL. 
Few days after that, teamed up with my siblings and dad, we surprised mom with a bouquet of sunflowers on her birthday dinner at a Japanese restaurant in Ipoh. Even though all 6 children weren't there with her on her birthday, we made her day. 
All these happened in a just over a week, traveled 1720km.
I'm grateful for the energy I still have. 
Life is short, must have fun! 
Life is short, so be happy! 
Life is short, drink coffee! 
And life is just too short to not cherish the people we love while they are still here...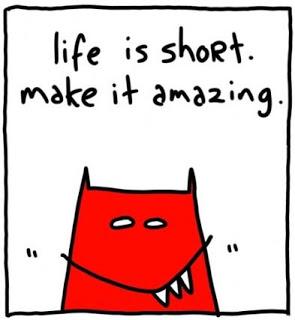 ps: Life is too short to take things for granted. Be thankful you're still breathing because someone out there just took their last breath.