Today I am going to tell you about one of my very best secret weapons.  It's extremely effective, super inexpensive, and can potentially be life changing.  I am talking about Drysol, the absolute end to sweaty, smelly armpits.
I inherited a fabulous tendency to sweat VERY heavily under my arms.  It never mattered what kind of antiperspirants I used, I would sweat through it in about ten minutes.  I ruined countless blouses, shirts, sweaters…it was absolutely the most embarrassing thing EVER.   One day I mentioned it to my dermatologist, and he magically cured me from all underarm issues with the stroke of a pen.  He wrote me a prescription for Drysol, and I haven't had any underarm sweat – or smell – since.  And that was ten years ago.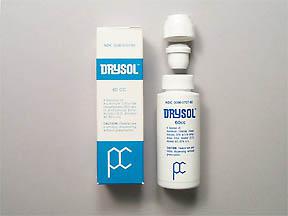 Here's what it looks like.  Drysol is actually Aluminum Chloride.  The packaging is similar to a regular antiperspirants, and you 'dab' it on instead of rolling it on.  Also, you apply it at night.  My big caution is DON'T use this right after you shave – it will sting like putting salt in a wound.  At first, you apply this each night until you notice all perspiration is gone.  After that, you only need to apply once or twice a week.   If you forget to apply it, the perspiration and smell will come back.
The only negative side effect is the stinging I mentioned if you have recently shaved.  Otherwise, it's totally safe and easy to use.  And the price is amazing.  With a prescription, it costs me about $5 for a year's supply.  It looks like you can also buy it online without a prescription.  It even comes in a lower strength for other areas of the body like the toes, back, and face.  I found it at http://www.buydrysol.com/ , although I have to caution that I've never bought it from there so I can't vouch for the site.
Sweaty, smelly armpits may not be the nicest topic of conversation…but I had to share, since Drysol has been such a terrific 'secret weapon' in my beauty arsenal for years.  – Lisa