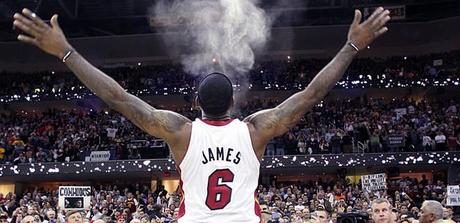 Photo: nba.com
- Adam Parker


Yep, he's done it again, folks. This time, in Miami.
LeBron James is once again the NBA's Most Valuable Player.
This is LeBron's third MVP award in the last four seasons (2011 award was won by Chicago Bulls' point guard Derrick Rose) and it now cements the 27-year-old James' name alongside some of the all-time greats.
Only seven other players -- Kareem Abdul Jabbar, Moses Malone , Bill Russell, Wilt Chamberlain, Larry Bird, Magic Johnson and "His Airness" Michael Jordan -- have at least three MVP trophies.
A source close to James confirmed to ESPN.com's Brian Windhorst that the Heat star won the award.
James was announced Saturday as this year's winner of the league's highest individual honor, and he will be formally presented with the trophy by commissioner David Stern before Sunday's Game 1 Easter Conference Semifinals matchup against the Indiana Pacers.
Talk about adding more fuel to an already unfathomably large fire.
Though I imagine James enjoys adding yet another feather to his already illustrious cap, I think, at this point, he'd gladly trade his individual honors for a title.
James said last week that while another MVP award "would be amazing and would be humbling," it's not what drives him. In his ninth season since bursting onto the NBA scene as a rookie in 2003, James still has not gotten over that last remaining hurtle.
King James still has not won an NBA title, and it's clear that, although he wanted to reclaim the MVP trophy, winning that elusive championship sits at the top of his basketball priorities list.
"What I'm all about is team and ever since I was a kid, I was always taught it's team first," James told the AP on Friday. "My first time playing basketball, we went undefeated and won a championship and Frank Walker Sr. gave everyone on the team a MVP trophy. Right then and there, I knew that this is what I wanted to do. I wanted to see my teammates reap the benefits as well."
James averaged 27.1 points, 7.9 rebounds and 6.2 assists -- putting him in elite company with guys who put up numbers like this in at least two different seasons like the "Walking Triple-Double" Oscar Robertson (five times), John Havlicek (twice) and Bird (twice).
Add in James' crazy 53 percent shooting from the field and his 1.9 steals per game into the mix, and only the Greatest Of All Time -- Michael Jeffrey Jordan -- had a season with numbers exceeding what James did this season -- in 1988-89, when Jordan averaged 32.5 points, eight rebounds, eight assists and 2.9 steals on a ridiculous 54 percent shooting.
So LBJ gets some more hardware to add to his already overflowing trophy case. Congrats.
But something tells me LeBron won't be truly happy until he's hoisting that Larry O'Brien Trophy with the rest of his Heat teammates.