I had made myself a promise that nothing from Nordstrom's Anniversary Sale in the cosmetic department would make it home with me. I had spent so much in California that I just couldn't justify it. But then I found out that Le Metier de Beaute' had a special anniversary set of 4 nail polishes for $25. Considering that one polish is normally$10 to $15 it was a bargain I couldn't resist. I've previously reviewed Le Metier's nail polishes since I have the 4 from the Le Cirque collection and the polishes are wonderful. The anniversary collection is called Rock 'N Romance and there are 4 jewel toned polishes.
Midnight Rendevous is a midnight blue, Heat of the Night is a very deep black cherry, True Romance is metallic nude and Chrome Passion is a chocolate with charcoal underones. I couldn't resist. My manicure is brand new so I only have them swatched on a nail wheel but you'll soon be seeing my nails in many reviews and I'll be sporting these 4 beauties. Each and every one of these is stunning and will be well loved by me. Since Le Metier de Beaute' creates their polishes without DBP, formaldehyde and toluene you know they are as good for your nails as they make them look. These will be available starting July 15th unless you are a Nordstrom card holder and can get them now from your favorite MA.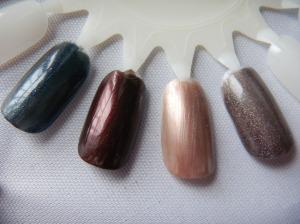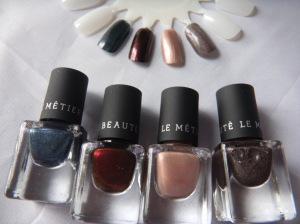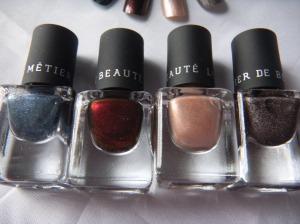 Speaking of other Le Metier items I've been unable to resist, there's the amazing Ecumes d'Or lip kaleidoscope created by Dustin Lujan from Bergdorf Goodman (212-872-8612). I called and ordered this from Dustin and he was as nice and helpful as anyone I've ever dealt with over the phone. He explained to me why each shade was in the kaleidoscope as well as how to use it. Wearing a Le Metier de Beaute' lip kaleidoscope is a delight. The colors work together in the amazing Couches de Colour way creating a new shade that is just luscious looking. Depending on how you layer the colors you can create different shades too. My lips always look fuller and sexier when wearing this.