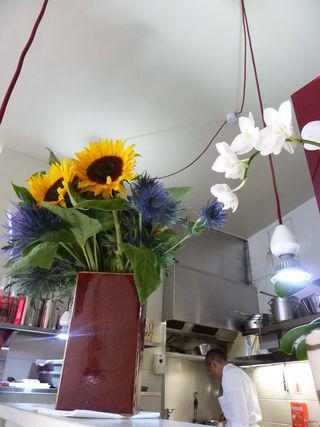 The Table d'Aki's chef - Akihiro Horikoshi certainly has a way with fish that was realized in all its finesse today.  The 16 places were quickly filled with a combination of American, Japanese and French customers in just about equal proportions and they had no room for two walk-ins - so one must reserve, which is easier now than several weeks ago when he was a one-man band.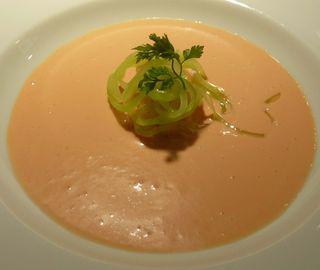 The carte today at lunch was much the same as my last meal - a 1-2-1 type - with one exception.  The entry of the day was a slightly warm langoustine on the bed of slightly warmed gaspacho which was divinity itself (12 E).  (It was so good that it looked like someone in back of me had one portion for a starter and a second for her main.)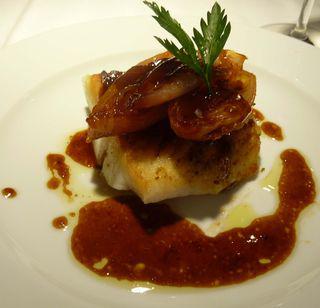 Last time he offered a meat and a fish plat but today it was two fish ones and he'll get no argument from me on that decision.  Colette and I split 50/50 the cod on a bed on smashed potatoes and parsley with Hollandaise sauce (18 E) and a piece of turbot with caramelized big shallots (30 E) - both light but filling and most tasty.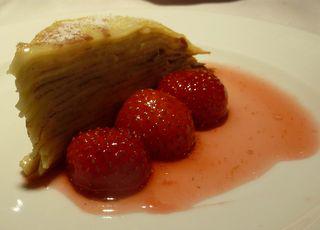 Their dessert today consisted of 14 thin crepe slices (Colette counted them) with some whole and juice of strawberries (8 E); very darn good.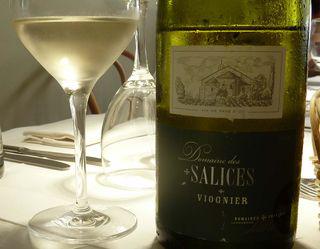 With quite acceptable bread, no bottled water but a bottle of Viognier and two coffees, our bill came to 102 E.