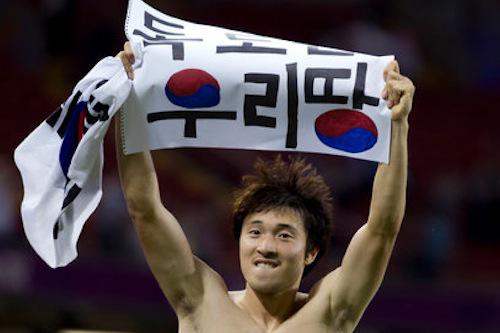 Dokdo is our territory.
I have a sneaky suspicion that it is no coincidence that the only person in the London Olympics to be banned from a medals ceremony because of a political message was in fact Korean.  Whether or not the legitimacy of the message on his fan-made sign was solid or not, whether Korea truly have history on their side and are the rightful owners of Dokdo/Takeshima really is beside the point, it was in bad taste to bring it up at the games.
I am actually less concerned with the IOC laws he broke.  Sometimes rules can and should be broken; for example, think back to the 1936 Berlin Olympics.  There were no political statements made, but perhaps there should have been against Hitler's Nazi party.  If someone had broken the rules in that instance they would have surely stood the test of time as something of a hero.  In an example where there was probably a legitimate protest, Tommie Smith and John Carlos – both representing the USA – stood on the podium for the 200 metres award ceremony at the 1968 Olympics in Mexico City and gave the 'Black Power' salute protesting against the unjust treatment of black people in his country past and present.  Maybe there is an argument that the protest was at the wrong time and place, and at the time they were roundly booed at the stadium by the crowd.  This, however, was a race issue, one of extreme importance at that time and an issue of severe inequality in the world.
When it comes to Dokdo/Takeshima, the issue is national and political and had no place in the games.  Don't get me wrong, I have great sympathy for Korea, and I think that as a gesture of goodwill and a show of a genuine attempt to say sorry for their crimes of the past, the Japanese should probably concede Dokdo to the Koreans.  That is just my opinion, however, and the debate is not as cut and dry as racial prejudice, particularly as there are a fair amount of natural resources involved in the ownership of the land.  Money, greed, patriotism, and history are always a dangerous combination.
When the news stories about Park Jong Woo's protest started to surface, I was not in the least surprised that Korea were making the headlines for the sake of a message of patriotic support, in entirely the wrong situation.  Patriotism is a virtue that probably receives far too much good press around the world and most countries have a liking for it.  But I believe there are too many people in South Korea afflicted with it and it does nothing to help their cause in arguments such as this, in fact I think it is working against them.
Foreign teachers living in Korea are more than familiar with the all of the Dokdo/Takeshima business and I reckon most are sick and tired of it or just don't care.  For the ones that are sick of it, there is a good chance that they poke a bit of fun at the Koreans for it or may even be supporting Japan in the argument just out of spite.  The reason is that most non-Koreans will roll their eyes and wear a wry grin when they hear about Dokdo, read a Korean news article, or see a piece of propaganda aimed at convincing us that it is theirs.  It's not being horrible, but the argument is not of our concern and is not an example of a major world problem or great injustice to get us all riled up about.  There are more important examples of injustice and mistreatment of people going on in the world right now.
The sad fact for Koreans or Japanese that are interested in convincing the rest of the world about who rightfully owns the land is that the rest of the world doesn't really care, and in fact we think it is all rather petty and silly (whether we all should be interested is debatable, but it is the reality that most of us are completely indifferent).  The more one country protests and claims is it rightfully theirs the more we are likely to get tired of their arguments and just switch off.
Personally, if there is one thing I am a little tired of hearing and seeing while living in Korea, it is this too strong a love for their country.  Maybe you could say this is a little hypocritical coming from an Englishman whose nation is more than a smidgeon famous for becoming teary-eyed when they think of their history, queen, and their green and pleasant lands.  The difference is that we Brits although proud of our country are more than willing to give it a darn good bashing when it deserves it, perhaps even too much so. Korea feels like far more one-way traffic and they would improve how they are seen in the eyes of others, and improve their own situation, if they could look at issues involving their country with a more critical eye.
Anyway, the story made news all over the world, so maybe the Park Jong Woo's possible sacrifice of his bronze medal was worth it for his country in raising their profile.  It has not received much support from other countries, though, and you can see some of the reaction from Brits on the Yahoo UK website here.
Editor's Note: To learn more about Christopher, be sure to check out his site and drop him a line @ smudgem, where he regularly blogs about day to day life and happenings on the Peninsula.