Photo Post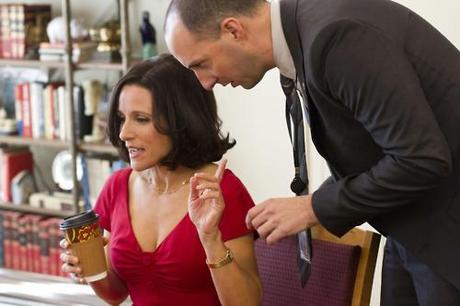 It's very rare that I find myself wishing that I could tune into a television show at any time of the day. Like, you want to watch Game of Thrones for an hour or two on a Sunday night, but after a while, you get kind of laden down by the earth tones and the crisp pronunciation and the facial deformities and the long, noble monologues.
But "Veep" is one of those shows, like "Arrested Development," that I wish had its own channel. Every evening, around 6pm, just as I've reached my work tolerance limit, I think to myself, "I wish I could see what Selena Meyer is up to right now." And end up feeling crushed because she is not a real person, and I only have a window into her world for 30 minutes every Sunday night. That's really not enough time for me to get bored of her.
Now, Veep has, at least in my little myopic kingdom, fallen somewhat under the radar. There's Game of Thrones right before it, which everyone seems to watch, and then Girls right after, which no one really watches, but everyone likes to write about on the Internet.
But Veep is better than both of them. In case you haven't watched it—or were dissuaded from watching it by this sleeper of a New Yorker profile on the creator, Armando Iannucci—it's about Selena Meyer, the Vice President of the United States, played all nuanced and brilliant by Julia Louis Dreyfus. It catalogs her daily life, which basically consists of dodging faux pas in the media, and sucking up to the President, who never calls.
The rest of her staff includes Buster from Arrested Development, who plays the ultimate sycophant, Anna Chlumsky, whom you might recall from "My Girl," a press secretary named Mike, a sociopath named Dan, and a White House liaison named Jonah, who has all of the characteristics of the most annoying person you know, wrapped into one person.
I can't even begin to do it justice by describing it, but give it a try if you haven't already. It's well worth it.