It took 15 months of driving but the attempt to break the Guinness World Record for the longest ever taxi journey has finally been broken. Over 43,000 miles, 8,000 litres of diesel, 50 countries, four continents and 15 months later the dedicated driving enthusiasts have made a safe return to Blighty.
Image courtesy of It's on the Meter
After meeting at university, Paul Archer, Johno Ellison, and Leigh Purnell appropriately hatched their plan to circumnavigate the in the back of a black cab. Foregoing the would-be £80,000 fare, the trio have instead managed to raise over £20,000 for the British Red Cross.

The cab, nicknamed 'Hard-hearted Hannah', left in February 2011 and the team traveled into the Arctic Circle, back down through Europe, across the Middle East, up through the Himalayas to China, down South-East Asia and Australia to Sydney. Picking up notoriety and additional sponsorship along the way meant Hannah was able to complete her round-the world journey with the classic American road-trip, head back through Europe and return triumphantly in May 2012 to Covent Garden where it all began. Into The Wild caught up with expeditionist Paul Archer on crazy experiences, traveling tips, and what's next.
Into The Wild: Looking at your website and pictures it looks like you've had an amazing journey! How did you think up the idea of traveling to Sydney, and then around the world, by black cab?
Paul Archer (PA): We came up with the idea in the back of a black cab after a drunken night out. We decided to break the World Record for the longest ever taxi journey so there was only one vehicle we could use!
Into The Wild: Wow! So pretty random, completing the journey must seem like a dream come true. What's the story behind the name Hard-hearted Hannah?
PA: Hannah is from the song Hard-hearted Hannah by Ella Fitzgerald. She's a gal who likes to see men suffer and that's certainly true!
Into The Wild: How long did you estimate the journey would take compared to the time it actually took?
PA: We planned on six or seven months but with delays at borders, break-downs, visa issues etc. it took us 10 months to reach Oz. We then extended our journey time to 15 months to circumnavigate the world thanks to a new sponsor.
Into The Wild: That's quite an incredible journey, you must have picked-up some handy traveling tips along the way. Can you give us your top 5 traveler need-to-knows?
PA: Stay chilled out; you'll find a solution to any problem. Take time apart from your travel companions to keep yourselves sane. If you feel like you're not having fun, step back and remember what you're doing. If you still think you're not having much fun, ask yourself if what you're doing is better than being sat on a commuter train to sit in an office... Make friends, drink beer, eat the local food. They've been cooking that dish for hundreds of years: it's less likely to give you the shits than an undercooked burger in a hotel or hostel!
Image courtesy of It's on the Meter
Into The Wild: Budgeting is important for any traveler. Did you manage to keep within your budget and what tips would you give someone looking to travel on the cheap?
PA: That was a challenge. We would eat cheap, cook our own food over a fire or make sandwiches in the back of the cab. If you buy for 3 people together it's much cheaper than buying three lunches separately! Accommodation is also expensive so we would camp anywhere we could find, stay with friends, sleep in the car or couch surf.
Into The Wild: What was the biggest problem you encountered on the road? You seem to have faced a lot, from driving down the wrong side of the road, to armed escorts , to cooling problems...
PA: They're all problems, none larger than the others. Breaking down was just really annoying, we would fix things but it always happened at the worst time. We almost had to stop the trip because Pakistan wouldn't grant half the team their visas. We managed to get it done after 6 months of trying but it meant flying from Iran to Dubai and encountering even more problems... Pakistan was definitely the most difficult country to get through, it was very dangerous, we had to have armed escorts and nobody let foreigners stay.
Into The Wild: From an armed escort in Pakistan you seem to almost shoot yourselves in America, whilst Hannah looks worse for wear after 'the lamppost incident', what was your most dangerous encounter on the road?
PA: Probably letting Leigh get his hands on a gun in America! That or once the escorts left us in Pakistan in a place called Molten. Let's just say it was very nerve-wracking. The lamppost incident occurred when I was driving, very hungover, in China in a tiny town about 100km from Mongolia. We had 5 in the car and no visibility out the back window so I checked my wing mirrors – the car park was empty – reversed a few feet and smashed down a lamppost! Fortunately nobody saw.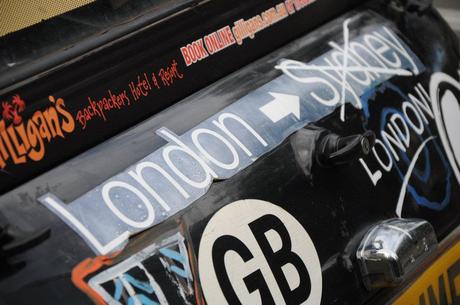 Image courtesy of It's on the Meter
Into The Wild: A journey like yours was not going to be without its issues but it obviously all worked out in the end, as you say a traveler will find a solution to any problem. You seemed to have faced a range of extreme weather conditions, from snow-drifts to intense heat, how did this effect your accommodation plans?
PA: We didn't camp if it was too cold, we would just find somewhere to bed-down through couch surfing or something. The heat also was very challenging from Turkey all the way to Oz. Good weather in the Arctic Circle meant we could see the Northern Lights though which was a once in a lifetime opportunity.
Into The Wild: The whole trip sounds like a once in a lifetime opportunity! What was your favorite experience from the road?
PA: Driving to Everest basecamp.
Into The Wild: You've traveled the globe now, what sightseeing attraction would you recommend as a must-see?
PA: Without a doubt the Iranian mosques. They were incredible and possibly better than the Taj Mahal or Persepolis ruins in south Iran. The Temple of Angkor Wat in Cambodia is also unrivalled.
Into The Wild: What surprised you most about your experience? What exceeded your expectations?
PA: The reaction from people. So many people have offered us incredible support, from food and accommodation to just kind words. We couldn't have done it without them.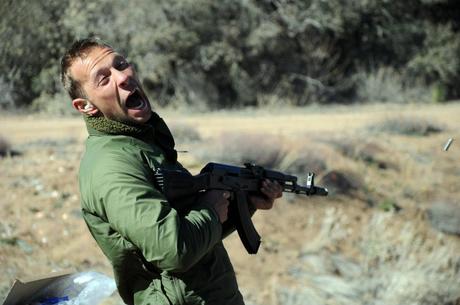 Image courtesy of It's on the Meter
Into The Wild: Travelling is definitely all about give and take with people on the road, would you agree and how did this feature in your experience?
PA: Absolutely. We felt bad that we did so much taking with little to give other than ourselves and our stories. Sometimes if you've been driving for 13 hours on terrible roads all you want to do is sleep, but if we were staying with people we always tried to make the effort to chat, getting to know them and telling them about some of the things on the trip. We used our Facebook page to say thanks to people and promote them if they were doing anything cool. We also used to stock up on gifts (litres of wine in France, vodka in Russia etc.) to give to people, especially our couchsurfing hosts.
Into The Wild: You started off with a team of three yet your photos seem to illustrate an experience coloured by people, how did you find meeting people on the road?
PA: We had over 100 passengers, everyone from hitchhikers, couch-surfers, friends, girlfriends, guides, armed guards, soldiers... people are what make traveling fun. We've never been shy about making friends, the taxi does help though. People were always taking pictures and rubbernecking when we drove by.
Into The Wild: You talk about giving drinks as gifts and you've obviously tried a lot of varied cuisines over your travels, what were the best tastes you experienced?
PA: 20p beer from Georgia was unbeatable. We probably found the best food in Thailand, though Australia has amazing meat on the barbie and I'm a huge fan of Mediterranean food so Turkish baklava or Israeli hummus is always nice. Iraqi doner kebabs are the best too. Food is really important; we used to just eat whatever the locals would sell at the road side. It's cheap and in my experience often better than the best restaurants.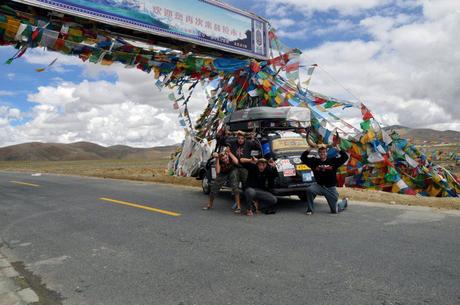 Image courtesy of It's on the Meter
Into The Wild: You initially decided to drive to Sydney, yet you chose to drive all the way back! What made you decide to do this?
PA: We were challenged by www.gettaxi.co.uk to go the whole way around the world. They guaranteed to fund it and we couldn't say no. They run a taxi app that lets you flag taxis from your Smartphone.
Into The Wild: You also picked up a second taxi, a New York cab, what's the story there?
PA: A buddy of ours from Texas who we met in Pakistan asked if he could come. We told him yes if he got an NYC taxi, so he did and came coast to coast with Hannah in the USA. America was much easier than the rest of the trip and a whole lot of fun. We completely re-built Hannah in San Francisco before we set off (new gear box, new everything including stickers), it took us nine days of solid work (we slept on the workshop floor and did all the work ourselves) but then it was just drive, party, sightsee, drive, party, sightsee with almost no breakdowns, no borders and very little hassle. Incredible.
Into The Wild: How did it feel to leave? How did it feel to return?
PA: Leaving was a blur of 22 hour days rebuilding the car, nerves and a few tears. Getting back was amazing. After 15 months on the road, all we could think about was our own beds, home-cooked food and not moving every day.  
Into The Wild: So, the big question, what's next?
PA: We are writing a book at the moment and have been asked to be involved with a couple of projects. We're currently developing our next project called MissChief: it's basically a road trip scavenger hunt from London to Moscow, where people drive their own cars and have seven days to complete as many tasks and have as much fun as possible. It's definitely happening next summer but we may have a taster going to somewhere else beforehand…Check out www.misschiefevents.com for more information.
You can follow Paul Archer on twitter @paul_k_archer.
By Maria Sowter