Below you'll find details on how you can win a FREE copy of this book.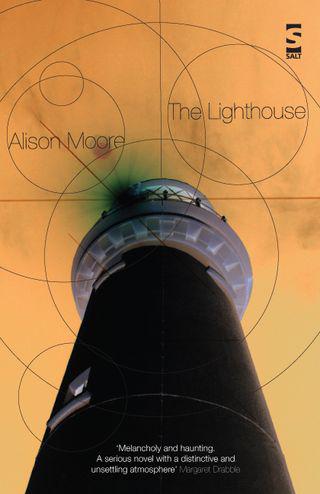 The Lighthouse by Alison Moore. Salt Publishing. August 15, 2012
(Amazon Digital Services, Inc.)
"Melancholy and haunting. The sense of loneliness and discomfort and rejection is compelling, the low key prose carefully handled. It's a serious novel with a distinctive and unsettling atmosphere."

- Margaret Drabble

 

First time novelist Alison Moore received an honor few writers experience, when the Man Booker Award chose her novel, The Lighthouse, from hundreds of others, as a standout work. A first-time novelist, fresh out of the gate! A dream come true.

And what a book it is. I purchased it in the Kindle edition and have been reading away at great speed, this novel having my name printed all over it as the sort of book I can never put down. It's mysterious, sort of gothic, filled with enigmatic characters and a sense of darkness I find irresistible. Brilliant stuff.

It's about a recently separated man name Futh, who decides to spend time decompressing from the heavy situation with his failing marriage by taking a holiday in Germany, walking along the Rhine. After his first night, spent at a small family hotel called Hellhaus, he encounters the friendly landlady and a bartender who is strangely hostile, for reasons Futh can't comprehend.

On his walk he thinks back to a past trip to Germany he took with his father. And it's there I'll stop so I don't leak too much vital information.

 

The book isn't widely available here in the States, yet, though it can be had via a few sellers at Amazon. It is, however, for sale in the Kindle edition for $ 9.99.

Those who comment on this post, leaving me an email address I can use to send you an Amazon gift card, will get the chance to win $ 9.99 in Amazon credit with which to purchase this book. Comments received without a viable email address will not be included in the raffle, which will be conducted Friday, September 28,  sometime after 12:01 a.m. Central Standard Time here in Chicago.

I will post the winner here on the blog, then email you your Amazon gift card. Easy peasey!

 

Why am I using my own money to buy you a copy of this book? Because it's wonderful, that's why. I hope you'll read it, love it as I am, and pass along your love via a review at Amazon, on Goodreads and wherever else you can. If you have a book blog, please post about it there, as well. Let's help her gain more deserved visibility here in the States!

In the meantime, I hope you'll enjoy my interview with the wonderful, kind and generous Alison Moore, Man Booker contender 2012.

 

 

 1. First, I have to ask, what was your reaction to finding out you'd been nominated for the Booker Prize? What strengths in 'The Lighthouse' do you feel impressed the judges?


Reaching the longlist was exciting enough; being shortlisted feels quite unreal. I'm caught up in an incredible whirlwind and just going with it! The nomination has already led to reviews, sales and opportunities I could never have dreamt of before. One thing the judges were looking for is novels which can take a second reading, revealing more each time. I've often been told that my stories reward multiple readings so there's a bit of serendipity going on there.
 

2.  Margaret Drabble described your book as "melancholy and haunting." Is this the sort of literature you personally prefer reading or were you reaching beyond your experience? Any particular influences you can point to which inspired your work?
That could describe a good number of the novels I read. A few of my favorite writers are Ian McEwan, Graham Swift, Flannery O'Connor and Raymond Carver, all of whom write with a touch of darkness. Perhaps everything I read influences my writing to some extent.
 

3.  How long did it take to write 'The Lighthouse'? Did it undergo many revisions?
I wrote the first draft in six months and straight afterwards took another six months to write the second draft. I wasn't writing full time and was also writing short stories, but that gives an idea. I'd say there was one further distinct revision and after that just an awful lot of tweaking.
 

4.   Say you were granted one question from one great writer you've admired - living or dead. What would you ask, and of whom (s/he must answer honestly...)?

I'd like to talk to Margaret Mitchell about why she didn't write another novel after Gone With the Wind.
5.   Is there a certain place, time or state of mind you require in order to write? Do you write longhand or typed? What about revisions?
No, I'll write whenever and wherever I can. Some good ideas can come through in the shower in the morning or when I'm falling asleep at night. I type, unless I'm away from my laptop and then I'll make notes on whatever's to hand. I tend to do revisions on screen as well.
 

6.   Do you come from a family that appreciated reading and great literature? Were you an avid reader as a child?
Very much. There were a lot of books in our house, and much use made of the local library and the mobile library. I remember sitting on my dad's knee while he read to us from Anne of Green Gables and What Katy Did (great title - I remember being desperate to know what Katy did). I loved reading as a child. On my first day of school, I suddenly felt safe when I saw all the books.
 

7.   Are you a bibliophile? Do you own an outrageous number of books or does being a writer curtail the need to possess so many? If so, are you the sort to keep them neatly shelved?

Hundreds of books, yes - the ones I've read are all shelved and unhealthily neatly. Even looking at the spines is very pleasurable - I can see three Carol Shields novels which I read one after the other on holiday in the south of France, and five Maya Angelou autobiographies which were my breastfeeding reading, etc. The books I've yet to read are in piles elsewhere.
 

8.   Kindles, Nooks and other e-readers... Blessing, curse or something else? Do you own an electronic reading device?

Any which way of reading a story is fine by me. I'm still in the habit of wanting to hold a book, but my husband is a great user of his Kindle.
 

9.   Do you ever freeze when you see the blank screen/page staring back at you?

When I stop writing for the day, I like to take away some little question for myself, something to think about so that hopefully what occurs to me in the meantime is where I'll pick up the next day. Or I'll read something over and that will warm me up. I only begin to write a new story if I have something in mind, so I suppose I avoid putting myself in the position of having to stare at a blank screen.
 

10.   Lastly, what's your next project? Any teasers you'd like to dangle to drive your readers mad?
The next thing is a collection of my short stories which will be published by Salt next year. And after that, a second novel, whose protagonist is currently standing around in the middle of the fourth chapter, foot tapping, waiting for me!


Thank you, Alison Moore, and best of luck to you!