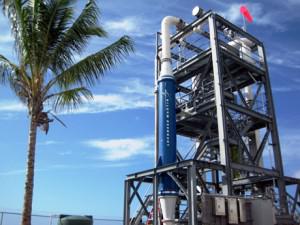 Lockheed Martin OTEC facility
This week I will take a look at OTEC and the companies involved in this emerging green technology.
OTEC is based on a fairly straightforward concept that takes advantage of the temperature changes in the ocean between the warm surface water and the cooler deep water.  Most OTEC facilities are located in the tropics as this is where the temperature difference between the surface waters and deep waters is the greatest.  The typical OTEC facility uses the difference in the ocean's temperature to generate energy by vaporizing and then condensing a low temperature liquid.  Using a series of heat exchangers the fluid is first heated by the warm ocean water and put under pressure and then is used to drive a turbine and generate energy.  A second heat exchanger uses the cold water from deep in the ocean to convert the gas to liquid and start the process over again.  There are several types of OTEC plants with the main difference being some use a secondary liquid while others heat and cool the seawater directly.   If you want to know more about OTEC there is lots of good information at Wikipedia.org.
One of the major advantages of OTEC facilities is that they can operate continuously, 24 hours a day, 365 days a year, providing a source of energy from which to generate electrical power.  Other renewable energy sources such as wind, solar, and wave action fluctuate daily and even hourly  thus requiring storage of this energy during peak hours for later consumption, unlike the energy source used in an OTEC plant that is based on a stable source of energy.  Another major advantage is that OTEC relies on a source of energy that is not controlled by other nations, which is the case for most traditional energy sources. Finally OTEC is a relatively low impact, low risk method of producing electricity.
There are without a doubt some serious challenges that must be overcome before OTEC can become commercially viable. The main challenge of OTEC is to generate significant amounts of power efficiently from the relatively small temperature differences in the sea water.  This is a major concern as the current conversion efficiency rate is very low.  Another significant issue is the current relatively high cost to produce electric power via OTEC as compared to traditional energy sources. Other challenges include the fact that: 1) OTEC requires a substantial initial capital investment, 2) sea-based facilities are subject to extreme stress during storms and prolonged periods of heavy seas while land-based facilities must deal with the problems of heavy surf, and 3) microbial fouling is a problem as raw seawater must pass through the heat exchanger and over time renders it less effective. Given these challenges OTEC is currently best suited for island communities such as Hawaii, Okinawa or in the Caribbean where the cost of electricity is high and few other energy options exist.  As such this is where most of the OTEC work is currently being done.
Several companies are leading the commercial OTEC charge. Lockheed Martin (LMT), one of the world's largest defense contractors, has been working with the U.S. Navy since 2009 on a joint OTEC project in Hawaii. Ocean Thermal Energy Corporation is also very active in the field and is currently engaged in a project that will lead to the construction, ownership and operation of the world's first two commercial OTEC plants in the Bahamas.  Makai Ocean Engineering is working with Lockheed Martin and the U.S. Navy on the commercial development of plants for island communities like Hawaii and Guam. They have experience in heat exchanger design and testing, plant layout, cold water pipe handling and deployment, and pilot plant design.  In addition, Xenesys Inc. is also a major player in this field. While OTEC faces several significant challenges, in the right location and with the right cost structure, this technology has the potential to provide cheap and reliable energy to island communities and nations in the future.
Disclaimer: This article is intended to be informative and should not be construed as personalized investment personalized advice. You are responsible for your own investment decisions.
Disclosure: The author has a position in Lockheed Martin.
Image Source: Lockheed Martin