Perhaps you remember Hannah Nunn, whose paper cut lights I've featured on more than one occasion. She brings together makers of beautiful objects via her lighting and craft boutique Radiance in Hebdon Bridge, England.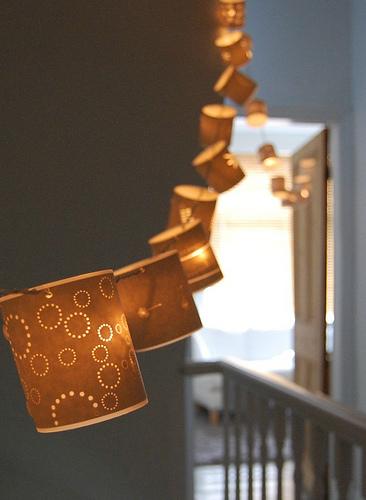 Hannah Nunn
Fairy Lights
A string of glowing paper cut lanterns
5 M long, each lantern 7 cm high
Photographer: Hannah Nunn
Reading Hannah's new book, illuminate: contemporary craft lighting, is a most enjoyable form of armchair traveling. She introduces the reader to more than forty artisans who create handmade lights around the world. Yes, Hannah has a knack for bringing people together, and like her shop, this book is a perfect medium for her talent.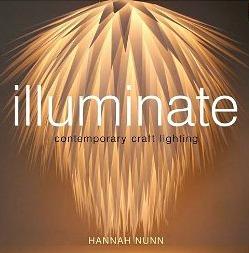 Cover light: Zipper 8 Lighting
Photographer: Allison Patrick
 
Of course there is a chapter on paper lighting, but the book includes much more... you'll learn about contemporary textile, ceramic, glass, print, wood, and metal lighting. There is also a chapter on recycled lights in which paper most definitely plays a role.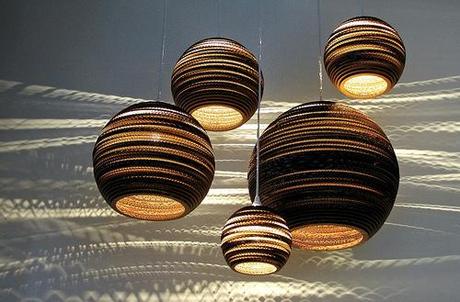 Graypants
Scrap Lights, Jupiter with Moons
S

pherical series of repurposed cardboard pendants
R

ange from 8" diameter to 17.5" diameter
Photographer: Jonathan Junker
I was sent a review copy and my first spin through had me ogling the gorgeous photographs. I also found myself stopping over and over again to read Hannah's words about the individual makers.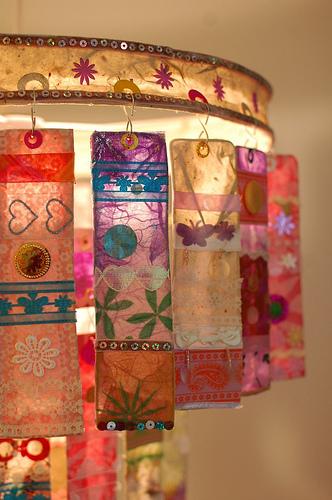 Louise Traill
Chandelier detail
A detail of a three tier paper chandelier
61 cm high x 40 cm d

iameter
Photographer: Hannah Nunn
She writes in an engaging, conversational style that makes illuminate the type of book you can dip into at any time. Not a project-based, how-to tome, Hannah relates the stories that tell why these creative individuals do what they do.
Andrew Ooi
Mokume Walnut Light
Mokume paper with a walnut base
12 x 12 x 14"
Photographer: Yumiko Miyamoto
Her enthusiam for lighting is contagious; if you leave the book out for guests to enjoy, I predict they'll be drawn to it like moths to a flame.
Celine Wright
Point de Suspension
Japanese paper with a whitemarble pebble
50 x 40 x 250 cm
Photographer: Virginie Perocheau
Bloomsbury has offered to send a copy to
two readers worldwide
. Just leave a comment as your entry - easy-peasy.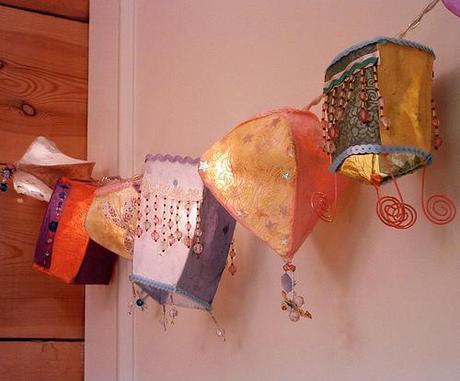 Louise Traill
Heirloom Lights
A string of handmade paper lanterns
Each lantern is approximately 12 cm high
Photographer: Hannah Nunn
The giveaway will end on Tuesday, February 5th. Winners will be selected by a random number generator and announced on this post + the All Things Paper Facebook page as soon as they have been contacted. Good luck!