Not content with offering the impressive One X model as their premium Android smartphone HTC are looking to take the market by storm with yet another handset that raises the bar higher than the excellent standards already set by the One X. The new HTC One X+ has now been released in the UK.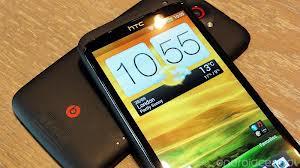 Despite only having been available for a short period of time the new HTC One X+ has already struck a chord with consumers with many retailers already reporting shortages of this excellent device. The more style conscious consumers will be delighted with the attractive Black and Red finishes that are available, both of which are appealing in their own way. One unusual aspect about this new phone is the fact that it does not come supplied with a charger. This is in a bid from HTC to make the handset more environmentally friendly and the company say that their are already plenty of unused charging cables in circulation. Of course an additional cable can be purchased if necessary.
HTC obviously have the best selling Samsung Galaxy S3 in their sights with this new model as the phone offers specification that can rival just about any Android phone available, including the S3. There are few handsets around more powerful than the new One X+ as it incorporates an Nvidia Tegra 3 AP37 chipset. Part of this architecture includes a powerful processor chip clocked at a whopping 1.7Ghz and sporting quad cores for super fast multi tasking speeds. HTC have also worked hard to improve battery life on this new model and a 2100mAh battery is provided that is said to boost talktime by up to 50 per cent. Battery life is not the only improvement as storage capacity has also been increased to a massive 64GB.
HTC seems keen to boost their sales over the next few months. Hot on the heels of their new pair of Windows phones they have released the HTC One X+, a premium Android device capable of giving some of the leading handsets a run for their money.