Last November, I wrote a 51,628 word novel in 28 days. Since then, I've met up with a diverse group of other local NaNoWriMo participants a few times. In January, I attended a workshop on How to Write Fictional Dialogue, led by Tom Leveen. A few weeks ago, I attended yet another workshop led by Janette Rallison, detailing how to utilize Characterization and Point-of-View in your story.
Characterization is defined as the creation and convincing representation of fictitious characters; character traits can be conveyed though description or through a character's actions, words, or thoughts. Its purpose, first and foremost, is to create a compelling and likable character. It also serves to make your protagonist unique and memorable, because people tend to remember characters more often than the plot. As you begin to brainstorm your character traits and story line, it's important to decide whether you'd like your story to be driven by plot or by character development. For now, we'll be focusing on the latter.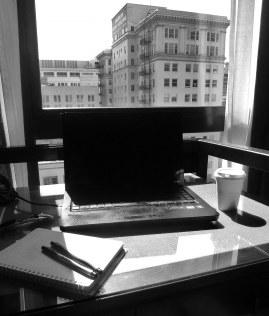 Tools for success.
As you build your character, define their biggest strength, most debilitating weakness (which is often a strength taken too far), and their deepest yearning. Once you know your character well, you will be able to accurately convey him or her to your reader. One of the best ways to familiarize yourself with your protagonist is through brainstorming. Write down your character's life story in a biography and refer to this back-story throughout the novel using memories, phobias, and weaknesses. Remember that your reader does not know your character yet, so it's important to be thorough. Use vivid descriptions and explain how their physical traits have affected their life (Are they nerdy, athletic, or gorgeous?) Present their social and economic background (Are they religious or penny-pinching?) Through words and actions, show the character's psychological background and personality type. Interview your character in order to understand their approach to life and their values. Another helpful technique is to write a journal entry in the character's voice and from his point of point-of-view. Present different dimensions and roles to add more depth to your protagonist.
If you have a fictional work in mind, take a moment to think about the defining traits of your main character and write them down; look for these characteristics throughout your manuscript. Makes sure that your list contains both positive and negative traits, and don't worry if some attributes seem contradictory (A timid person could have a burst of courage, etc.)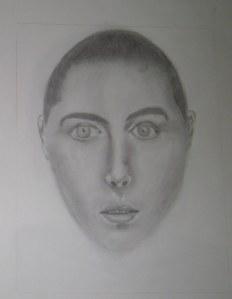 Develop your character.
Creating a story in which your character has mutually exclusive goals leads to inner conflict (e.g. Katniss having to choose between Peeta and Gale in The Hunger Games). This tactic builds reader anticipation and engagement. Character growth is of utmost importance because observing changes in the protagonist adds depth and dimension to your story. In relation to that, it's important to neither make your character perfect, nor a complete idiot. Leave room for improvement, but don't let your character do things that no one would do in real life.
One of the most important aspects of a successful novel is a likable and heroic protagonist. Give your character a heroic attribute and implement that quality into that novel (even in a small way) at least six times before the climactic sequence. Make your reader aware of why you character is a hero, and hint at how they may utilize their heroic trait later in the book.
According to James Frey, there are several characteristics which every hero should have:
Heroes have courage, or find it over the course of the novel
A hero is clever and resourceful
The hero has a special talent
Heroes live by their own rules
Heroes are good at what they do for a living
The hero takes the lead in a cause or action at some point in the story
The hero has been wounded - physically, emotionally, or in some other way
The hero is motivated at some point by idealism
The hero is attractive
Revealing your character's innermost thoughts can help your portray aspects of their personality which would otherwise be difficult to share. Internal thought can help characterize, reveal motivation, increase tension, and provide the character with a unique "voice." Internal thought is considered to be the most important part of writing, trumping dialogue, action, and description. A helpful tactic for figuring out how much internal thought to use is to go through a favorite novel and highlight internal though, dialogue, action, and description in different colors to visually see the proportions of each.
In a nutshell, characterization is the most important element of you novel. Develop a protagonist who is likable, relatable, and authentic. Know your character inside and out, and share all of your knowledge with your reader through vivid description, appropriate actions, representative dialogue, and insightful internal thoughts. And, most importantly, have fun with the process!