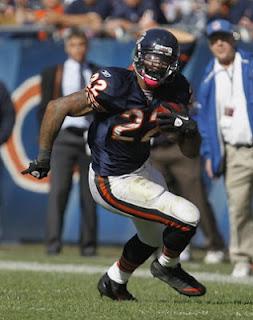 Photo: Associated Press
- Troy Ballard
Robbed.
That's the only word in the dictionary (outside of several expletives) that best describes both Ray Rice and Matt Forte's new contracts.
For the team and the fan bases respectively, these deals are the best news since the last time either the Ravens or the Bears won a Super Bowl. We're talking about the resigning of two players that are absolutely paramount to the success of the teams, and with both locked in long-term, the future suddenly turned much brighter.
However, for Rice and Forte, these deals are nothing close to what either must have 
envisioned when the idea of a holdout was on the table.
These new contracts, Rice's which is five-years and $40 million, and Forte's which is four-years and $32 million, are a total disrespect to the talent and value of both players.
Most NFL fans will play the disgruntled martyr card and beat a dead horse with, '
poor guy! It must be tough living off of a few million instead of a bunch of million!'
Listen, I'm not going to get into a debate about how much players should be paid — that's for another time at another junction — meaning that the best way to gauge these contracts fairly is off of what other top running backs in the game are making.
That being said, here's a quick contract breakdown of other top backs in the NFL:
Adrian Peterson - Minnesota Vikings - $96 million over seven-years - $32 million 
guaranteed
LeSean McCoy - Philadelphia Eagles - $45.615 million over six-years - $20.765 million 
guaranteed
Chris Johnson - Tennessee Titans - $55.26 million over six-years - $30 million 
guaranteed
Marshawn Lynch - Seattle Seahawks - $31 million over four-years - $17 million guaranteed
Maurice Jones-Drew - Jacksonville Jaguars - $30.95 million over five-years - $17.5 million 
guaranteed
Ray Rice - Baltimore Ravens - $40 million over five-years - $24 million 
guaranteed
Matt Forte - Chicago Bears - $32 million over four-years - $17 million guaranteed
Comparatively
, Rice and Forte's deals are right in the middle. The numbers match up well with other backs, and the deals would be dandy and perfect — except both are elite players in the NFL.
I don't want to get too far ahead of myself, but in certain circles, Rice and Forte are considered
the
top running backs in the NFL. If we are basing it even off of that these two are above-average and in the 'great' category, they are still being severely underpaid.
We can all agree on one thing — Rice is equally as talented as McCoy and Forte is eons ahead of Lynch. That's simple comparions. But when looking at the contracts, the numbers don't reflect that for either player.
To put some logic behind the words, let's start with Rice. Not only did Ray-Ray lead the NFL last season in yards from scrimmage, but he also is now a two-time Pro-Bowler and has pushed Baltimore's offense to all new heights.
By new heights, I am referring to providing everything. Take one look at Ravens' game film from last season, and it becomes abundantly clear that Rice is the entire offense. No matter what the play call, he is heavily involved and doing something productive.
That would explain his
scrimmage king
title, and also his outstanding all-around numbers. That sort of effort is something that is a rarity in the NFL, and to have a player of that value, who is still growing, is unheard of. Baltimore picked up a steal of a deal, and Rice got the shaft. It's that simple.
The same basic outline goes for Forte and the Bears.
However, in his case, things are slightly different. Swayed so much in the fact that last season, Forte accounted for 42% of Chicago's total offensive production. That's including the four-games he missed at the end of the season with a knee injury.
That's nearly half of the Bears entire offense.
Forte is the only one. He's it. Without him in the fold there is no telling where Chicago would be and the Bears had the audacity to low-ball him with that offer. We're talking about the best workhorse back in the NFL, that goes out game after game and grinds, and Chi-Town had the moxy to drop that sort of weak contract on him.
I think it's safe to assume that had the unbelievably unfair and bias franchise tag not been involved for both of these players, neither would have signed these new contracts. The money simply isn't there, especially for two top talents in the NFL at one of the toughest positions in the game.
Again — robbery. The only word for it.
Be sure to follow Beard and Stache on Twitter 

@BeardAndStache

, and also Troy 

@TroyBallards

, like our Facebook page 

HERE

!