The Blackberry Curve 9320 Pink edition was launched a couple of weeks ago as a Vodafone exclusive handset and up until today has only been available with contract deals, however now those who prefer not to pay monthly and prefer a different network can get their hands on this latest pink Blackberry phone on Pay As You Go deals as well.
This Pink edition joins a growing range of color schemes for the Blackberry Curve 9320, other include a white, violet/purple, blue and red variant as well as the original black model, all of these different color schemes offer the same great features and design only swapping the colouring of their external cases.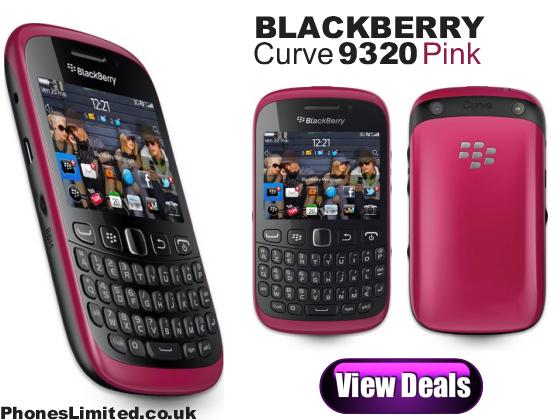 Pink Blackberry Curve 9320 Deals
Blackberry Curve 9320 Pink pay as you go deals have been released with an initial purchase price of £119.95, this is £10 more than the original black model and £5 more than the white version but cheaper than the blue, red and violet models.
Packing a 2.44 inch display alongside a full qwerty keyboard that Blackberry users love, the Curve 9320 also offers a 3.2 mega pixel camera, the BB 7.1 operating system, FM radio, expandable memory and great social networking applications, connections are made using Wi-Fi, GPS and fast 3.5G networks which is all run by a 806MHz processor.
These great features have been packed into a sleek, pink casing measuring just 109 x 60 x 12.7mm with a weight of only 103g making this an extremely light and pocket friendly Blackberry smart phone.
There are only currently 3 different Pink Blackberry smart phones available which are all a part of the Curve range, the other 2 are the Blackberry Curve 9300 Pink (which was the model before) and the Blackberry Curve 9360 Pink which is slightly more expensive with better features.