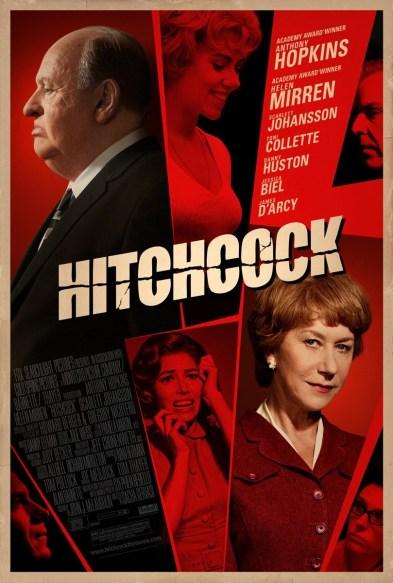 The long wait is over after months of photos and trailers I have just returned from viewing Hitchcock (2012) which is based on the book that looks at the making of Psycho (1960).
Again I must consider the reviews I have read before and in part I do agree, more could be explored, so much more that is just touched on. For me Alfred Hitchcock's (Anthony Hopkins) collaboration with Bernard Herrmann (Paul Schackman). I didn't even see Saul Bass (Wallace Langham) who seemed to pass me by without even noticing him.
It was clear as the director Sacha Gervasi has stated that he was focusing on the relationship between Hitchcock and Alma Reville (Helen Mirren) which is fair enough. But with a subject and film that is synonymous with the master of suspense I wanted more as we touched on the main cast members, from when we first see Anthony Perkins (James D'Arcy) who reveals there is more to him than meets the eye. Of course also his hidden homosexuality is another layer that was only touched on. The lack of lust between Hitchcock and Janet Leigh (Scarlett Johansson) I suppose The Girl (2012) covered that aspect of his life in far greater detail. We only touch on the blonde subject with Vera Miles (Jessica Biel) who hurt Hitchcock by falling pregnant before Vertigo (1958) went into production. And I'm glad she did, I can not imagine her in the role that was so well played by Kim Novak. Whilst she went on to play opposite James Stewart the next year The F.B.I. Story (1959) which wasn't an effective on-screen pairing. And again once more with the iconic shower scene which even in colour  and uncut in this new form is still shocking.
Staying on the topic of The Girl  where  Toby Jones played the auteur there was a more power presence, whereas Hopkins portrayal made up for that in his physical presence.
Now turning to the meat of the film, the relationship we see a flip side to what occurred in The Girl in terms of Alma be suggested to be having an affair with someone, namely the writer Whitfield Cook (Danny Huston) who wanted more than he could really handle, as he began to rewrite a script with her. Whilst Hitchcock himself struggled with the powers that be (Paramount and M.P.P.C.) who were against the making of what would turn out to be his most successful film  of his career, which is hard to pass up for a film. We see the clever film maker pull out all the stops to get this landmark film made. Even at the cost of his mental health, having vision of the real life killer that the film is based upon. This is a great cinematic touch which allows us to see into his psyche as he becomes consumed by the making of the film, the real life crime that was the stuff of his wildest dreams.
Rich in detail for the time, a well researched film that comments on the careers and lives of the actors that were involved, to add more depth to this world that was the making of Psycho. Visually the film is spot on, immersing you in the time of the early sixties, riding on the success of North by Northwest (1959) that saw him reaching his peak, its how he fought to stay on top, to stay relevant, alive and creative.