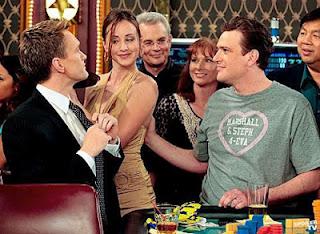 Original Air Date
: 30 April 2012
Storyline: Ted still isn't ready to see Robin. Barney persuades him to try online dating, even down to picking the women Ted should date. But when Ted goes on these dates, he sees only one thing: Robin. He has to figure out if that actually means that he is still in love with her despite needing to get over her. Meanwhile, Barney himself has gotten to the point of being jealous of all the men Quinn meets professionally. Although it is still five weeks until Lily's due date, Marshall is treating the time like the baby has already arrived, which is driving Lily crazy and making both a little sleep deprived. Lily has her own plan of getting Marshall back into the here and now.
Trivia: On the last scene of this episode Marshall is seen smoking a cigarette, as Lily is in labor. In Season's 5 "Last Cigarette Ever" there is a reference which states that Marshall's real last cigarette ever was the day his son was born.
The Profile of the Girl Ted Likes on Lovefinder.com reads: 
SCREEN NAME: CoinAndCrosswordLover 
AGE: 29 
HEIGHT: 5'8 
BODY TYPE: think Jessica Rabbit 
OCCUPATION: Hot Lady Architect 
LOOKING FOR: a life partner,a best friend,a soul mate...all that crap 
ABOUT ME: I'm just a girl with a masters degree in nerdy stuff like poetry or something searching for the one. I'm old fashioned about romance but by no means a prude. In fact I was a competitive gymnast so I can bend like spaghetti in the sack, which probably doesn't matter to you, but it really should, Ted. I share my Soho flat and all my secrets with my dog, Pablo (named after my favorite poet: The Neruda!). I love pre-war architecture. Well I love all architecture! Though not anything from Sven! Barf, Right?! There's nothing hotter than a guy who's down with crosswords. Get it.. Down? Oh and I love Puns 
FAVORITE BOOKS: Love in the Time of Cholera (Spanish version, claro!), and anything by Pablo Neruda. 
FAVORITE MOVIES: Nothing beats Ghostbusters but a close second would be Die Hard... or A Moeda Collector... or really anything from the guy who played Argyle on Die Hard's catalog. 
HOBBIES: Doing the New York times crossword. cooking, pun and games (wink!), oh and I love to travel! I just spent a weekend in Cleveland at the rock and roll hall of fame and I didn't hate it! 
WHAT I'M LOOKING FOR: The One! Just a down to earth guy who knows a bunch of stupid facts about turn of the century coinage and junk like that. I don't mind if he has baggage, like if he was once left at the altar of beaten up by a goat. Also I'm a sucker for an out-of-date plaid shirt. At the end of the day, all I really want is a guy to correct me on things like grammar and punctuation and where apostrophe's go. Because That's really Hot. Ted! 
Best quote:
Ted

: Wayne had no manners. Wayne, manners, Wayne Manor. Home of Bruce Wayne, better known as Batman. Mentor to d**k Grayson his orphan ward who, at night, would don the colorful vestments of The Boy Wonder, A.K.A. Robin!


Robin

: Holy long walk for a short drink of water Ted!
The Pick-up Method:
Not the mother:
The "legen... wait for it... dary":
The Five:
The Suit-Up:
The Challenge:
The Rule:
The Ted Mosby:
The Statistic:
The "You've been lawyered":
The True Story:
The Review:
HIMYM 7x21: Now We're Even
Back to Season 7
HIMYM 7x23: The Magician's Code: Part 1