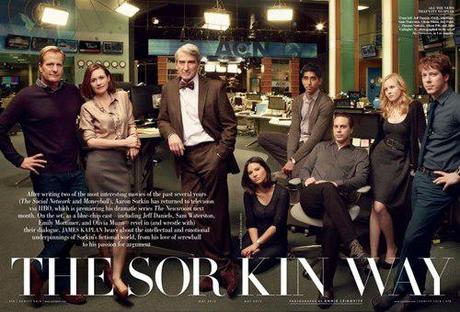 HBO's newest dramedy The Newsroom opens with an incredible bang reminiscent of many a Bill Maher soliloquy from Real Time.  An alleged party-less news anchor comes unhinged on stage about all that's wrong with America, sticking it to the smug crowd of college students, and patriotic viewers everywhere. It was glorious. But I declared my love too soon perhaps, as for all its quick dialogue, it slowly started to spin out of control into melodrama. The sweeping music and sidelong glances. What?! Is this HBO or ABC? Aaron Sorkin has long been considered the most sought after screenwriter in Hollywood. But his transition from prime time slots on network television to HBO and Showtime, the glittering sisters on the hill, feels rocky.
Jeff Daniels plays Will McAvoy, a truth-telling, nightly news anchor without a soul. Emily Mortimer plays Mackenzie MacHale (really?), his undying ex-flame, who sweeps through the newsroom and back into McAvoy's life. She's a sought after executive producer and journalist, fresh from the wars in Iraq and Afghanistan. Cue the battle scars to arrive on the scene later. Her character is slightly shrill, unprofessional and rogue. There's a scene in the second episode where she pulls a news anchor she's just met off the set to ask her to report five minutes of prime time economics and money outlook news on her show. Because she has nice legs. Which, apparently, according to Sorkin, makes it ok since the dialog is between two attractive women. But it's a real cheap shot at contemporary sexism. Not that I care - I'd prefer to look at someone built more like a giraffe than an elephant like everyone else, but I'm just saying. She proceeds to press the fact that Will never cheated on her (as if this random co-worker cares) while simultaneously asking to be friends. This shit just doesn't happen, people. Especially among the media set. The dialog between Will and Mackenzie as they go through their past romantic history is a hot mess—network shows do love better.
John Gallagher Jr. has certainly come of age since he won the Tony for screaming and jumping up and down on stage in the youthful glow of Spring Awakening. I mean, he beat the venerable Raul Esparza's Bobby from Company that year. Which made me hate him. But he's the best part of the Newsroom, I'm sure of it. And I'm seriously hoping that after the first episode boyfriend switch - his character does not start dating Alison Pill's character. Because it's not really her fault, but that is one shitty role. The nervously neurotic young assistant, who yells at everyone?! You don't say. Her character is bitchy, needy and in need of a wardrobe shift. It doesn't have to be glamorous like Diane Sawyer - but there's no need to come to a nationally broadcast nightly newsroom looking like a third grade teacher from Ohio. With two kids. Her character just brings nothing to the table.
This show could be brilliant - it has real value in dissecting the behind the scenes of government and corporate interests, what makes or breaks a news cast and the people that broadcast it. I'm giving it a season to see how it all shakes out. Until then, I'll laugh when appropriate and cringe during the awkward moments between the inevitable cheesy parts. Where is Tony Soprano when you need him?