Happy Friday Everyone! I am so excited to introduce you to our guest blogger for they day, Lo from Classy and Fab girl! I just love her style and I know you will too. Check out her tips below on how to transition your wardrobe from Winter to Spring!
One of the most challenging fashion tasks is transitioning your wardrobe between seasons. Although I will buy several new items, I try to use what I already have in my closet and pair different items together for different looks. Here I show you how to transition your winter wardrobe to spring style. 
The look below allows you to use your black skinny jeans you had for winter and pair them with spring wedges instead of boots. The scarf is a winter essential but looks cute for spring thrown over an embellished tank top. Lastly, don't forget to look for items in your closet that are spring colors. This includes pastels, bright pops of pink, and even champagne colored pieces.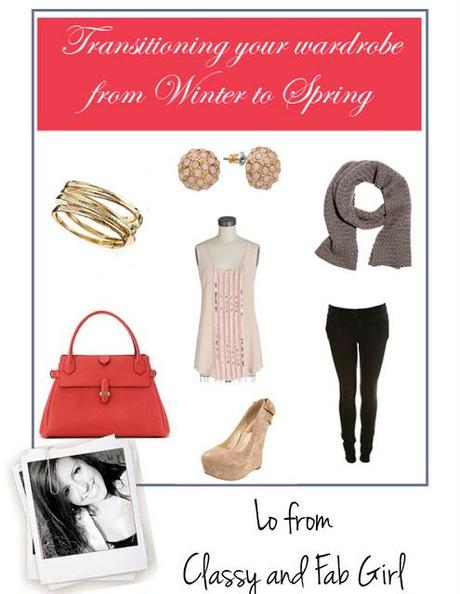 Kendra Scott Hammered Golden Bangle SetBasket Weave Cashmere ScarfSmall Camille Leather ToteSilk Bib Racerback Tank TopBlack Super Skinny JeansLuichiny Spring Fever in Camel
Don't forget the best accessory to any style is confidence. How you wear an outfit says alot about you and how you feel about yourself. So this spring be sure to keep your head held high and smile!


Love, Lo


For more from Lo and the Classy and Fab Girl, check out her site here!
What are your tricks for transitioning your closet to the Spring?