A bug has been discovered on Android 4.2 (Jelly Bean), which omits the month of December from the Contacts app. Google promises that the issue will fixed "soon".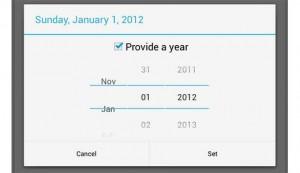 The bug can be found when selecting the date selector found in the 'People' app. If you try and look into the month of December, you can't. This is a problem if you were born in the month of December and if you have a lot of contacts that use Android. This means that you can't receive or send birthday texts during the holiday season.
On Google+, the search giant says, "Rest assured, this will be fixed soon." Although it doesn't mention when it will be fixing the problem, this suggests that Google will be rolling out a software update soon.
According to Google, the update will fix the issue for "those of you with December birthdays and anniversaries won't be forgotten by your friends and family". We're expecting the update to roll out before December comes. Well, this is what the statement suggests anyway.
The December bug is only one of the issues affecting the latest version of Android. According to Android Police, the list of bugs includes battery issues, flickering auto-brightness, and problems with Bluetooth, which is annoying if you have the Google Nexus 4, the Google Nexus 7, or the Google Nexus 10.
True, Jelly Bean is plagued with a lot of issues. However, this hasn't stopped devices running the latest version of Android selling like hotcakes. Both the Google Nexus 4 and the Google Nexus 10 were sold out the moment they went live on Google Play. Why? They offer all the latest goodies the software has to offer at a bargain price. The Nexus 4 rivals the Samsung Galaxy S3 at a much lower price tag.
Are you annoyed with the bugs that plague Android 4.2, or are you just happy to own a device that runs the software? Let us know through a comment on our Facebook page.