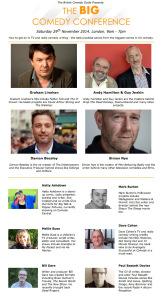 If you use the exclusive code at the bottom of this posting, you can get a £20 discount off the price of attending the second annual Big Comedy Conference which the British Comedy Guide is holding in London on Saturday 29th November (9.00am to 7.00pm)
This year, it is focussing quite a lot, but not exclusively, on sitcom writing.
Panelists include Dave Cohen, Bill Dare, Andy Hamilton, Graham Linehan, Simon Nye and David Quantick.
Sessions include:
- Writing for writer-performers
- Jokes without words – silent comedy
- How to make a living at comedy
- How to write for Newsjack
- One-to-one sessions to discuss your scripts
To read more details and to book the cut-price tickets, CLICK HERE.
To get the £20 discount, you just type in the code
JF20
during the checkout.
No, I do not make any money out of this.
And NB NB NB NB
This offer and this code expire this coming Monday 17th November.