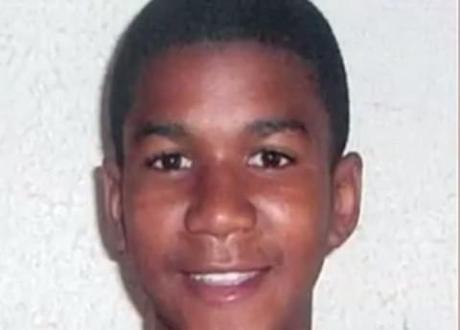 Trayvon Martin, slain Florida teenager.
Six weeks after he shot and killed an unarmed black teenager and walked free, George Zimmerman is in jail.
Zimmerman, 28, turned himself in on Wednesday night, after Florida state special prosecutor Angela Corey announced that the state is bringing second-degree murder charges against the neighbourhood watch coordinator.
Zimmerman admitted to shooting and killing 17-year-old Trayvon Martin on the night of 26 February in a gated community in Sandford, Fla., but claimed that he shot the teen in self-defence. The case has drawn attention to the simmering racial tension that periodically boils over in America.
Supporters of the slain teen are jubilant, many feeling that the weeks of agitating for Zimmerman's arrest are finally bringing a measure of justice. At a press conference following the announcement of the charges, Sybrina Fulton, Martin's mother, thanked God, adding tearfully, "All we wanted was an arrest."
Zimmerman's legal team dropped him on Wednesday morning, claiming that they lost contact with him shortly before he launched a website seeking donations to pay for his defence on Tuesday. His new lawyers say that Zimmerman will plead not guilty. If convicted, Zimmerman faces 25 years to life in prison.
Local news on Zimmerman's arrest:

The facts. At the moment, the only thing that is clear is that Zimmerman shot and killed Martin on 26 February, but was released by police after the incident without arrest. Zimmerman claims that he killed Martin in self-defence; supporters of Martin point to the fact that the teenager was armed with nothing more deadly than sweets he had just bought at a local convenience store and a cellphone.
The media maelstrom. Once the story broke, however, news media scrambled to assemble a narrative. What emerged was a story of a man largely described as white killing an unarmed black teenager for the crime of walking around wearing a hooded sweatshirt and looking like he was "up to no good", and then being released by an institutionally racist police station. Other bristled at the simplistic reduction of the case, while still others tried to portray Martin as a "thug" in an effort to justify Zimmerman's self-defence claim. More on "racist smear campaigns" and America's racial divide.
Sybrina Fulton on Zimmerman's arrest:

Zimmerman already convicted in trial by media – no hope of a fair jury. The nationwide outcry around the Martin case is certainly part of what motivated the state of Florida to bring charges against Zimmerman. But now that he's been arrested, is there any hope that he could receive a fair trial? Paul Roy, writing at Yahoo!, noted that with prominent black American leaders calling for his head, it "[s]ure sounds like he has already been convicted." Roy continued, "With so much publicity about this case, the chances are pretty slim an impartial jury will be found." And with the possibility of violence erupting in Sandford and beyond if Zimmerman is found innocent, Roy theorized, the state will be hard-pressed to find a juror who "would want the burden of finding Zimmerman innocent".
Conservatives claim race-baiting in Trayvon Martin case: Where are the prominent black leaders when it's black-on-black crime? asks Heather MacDonald at National Review Online.
Did Martin get a fair trial? Trayvon Martin didn't receive a fair trial before he was executed on the spot by George Zimmerman, Pamela Merrit pointed out at The Guardian's Comment is Free. In the 1950s American South, Jim Crow laws protected white men from trial in cases like this. "In 2012, we have stand your ground and a general acceptance that young black men bring violence upon themselves to shield justice from light and provide cover for those who meet out vigilante justice," she wrote. "When people ask whether Zimmerman will receive a fair trial, I respond by asking why the Trayvon Martins of the world are deemed unworthy of American justice, seen fit to be shot dead and judged to be in need of killing by laws drafted to appease the mob rather than honor justice."
Zimmerman is no Wyatt Earp: "The old gunslingers responded to real threats. Zimmerman responded to unanchored fears about big black men wearing hoodies. Racism was not part of the code of the West. They believed in fair play," wrote Donald Jones at The Miami Herald.
Faith restored in the American justice system. As uncertainty over whether Zimmerman would be charged with a crime, Jonathan Capehart, columnist for The Washington Post, found himself losing faith in the American criminal justice system. "I wondered if someone could take the life of another — an unarmed child — and not be judged in a court of law." he wrote. "At 6:05, my faith was restored."
Zimmerman's new lawyer speaks:

More on Trayvon Martin

America's racial divide after Trayvon Martin
George Zimmerman launches website
Rep. dons hoodie for Trayvon
Trayvon Martin: Controversy grows
Trayvon Martin: Calls for justice