There's a new king in town. For the first time, the Samsung Galaxy S3 has outsold the seemingly unbeatable Apple iPhone.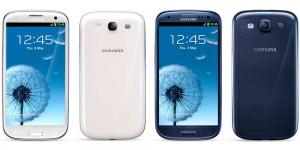 These new figures come to us courtesy of Strategy Analytics. Their new figures show that the top-selling smartphone for Q3 2012 is the Galaxy S3, with Samsung shifting 18 million units. The Korean tech giant has currently sold 30 million units of its popular flagship. Apple, on the other hand, only shifted 16.2 million iPhones.
Are we surprised the Korean tech giant's flagship outsold the iPhone? Not really. It sports a 4.8-inch HD display and a quad-core processor, which puts a lot of rival manufacturer's flagships to shame. Due to its popularity and performance, it was awarded the CNET UK Editor's Choice Award.
Although this gives reason for Samsung to celebrate, the 3rd quarter of the year was the period Apple fans held off buying an iPhone 4S, waiting for the iPhone 5. The current iPhone landed in September, which means it only had the last month of the quarter to recover from the lack of sales of the previous model.
When the iPhone 5 went on sale, millions of Apple fans queued for hours in front of Apple Stores just to get their hands on the new kit. As a result, the Cupertino firm sold a whopping 6 million units of the new iPhone towards the end of Q3 2012. This suggests that Apple's iPhone 5 will retake the title of the hottest-selling smartphone for Q4 2012. However, with the release of new colours, Android 4.1 (Jelly Bean), and a 4G version (Samsung Galaxy S3 LTE), we're sure the S3 will continue to fly off shelves faster than most handsets.
With the success of the S3 and the iPhone, this only means that others are struggling. According to Canalys, Nokia's Lumia line and RIM's Blackberry handsets have been outsold by minor smartphone players like Lenovo. HTC is also struggling.
Do you think the Samsung Galaxy S3 will continue to dominate the smartphone market, or do you think the iPhone 5 will reclaim this title? Share your thoughts through a comment on our Facebook page.