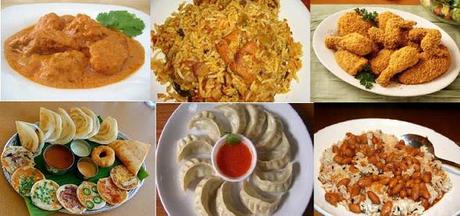 This is a post for foodies as we are about to discuss the most popular food items across India. And to make it even better, we mention similar preparations too!
Butter Chicken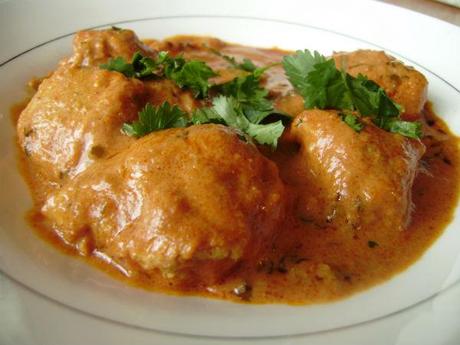 Butter Chicken
A juicy preparation of Chicken, which is a hot favorite for non vegeterians all across the country, especially North Indians. Added with dollops of butter and cream, this is straight out of the royal kitchen of the Mughals. The spicy cuisine offers other attractive variations such as Kadhai Chicken and Jahangiri Chicken. Mutton Rogan Josh is a red coloured spicy prperation from Kashmir that is served all across the country. Paired best with Tandoori Roti or Naan.
Reshmi Kabab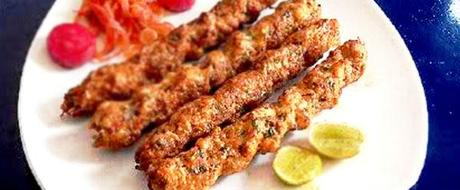 Reshmi Kabab
Call it a starter or a side dish, kababs are an inseperable part of a Mughlai meal. Chicken Reshmi kababs are most popular, closely followed by Tandoori Chicken, Mutton Shammi and  Sheek kababs. The deeply marinated meat is roasted in an oven and served hot with onion rings and the tangy green chutney made out of pudina leaves. Roasted paneer and potatoes are popular vegetarian kababs.
Biriyani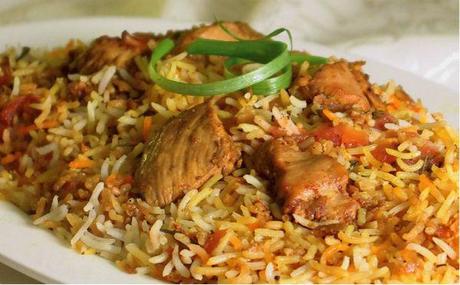 Chicken Biryani
A preparation of rice made with sumptuous helpings of meat, mutton or chicken in a closed vessel over fire would bring saliva to any non vegetarian's mouth. There are different styles unique to each region. The ones from Lucknow and Hyderabad are famous and owe their secrets to the Nizams. The vegetarian version is slowly gaining popularity.
Fish Curry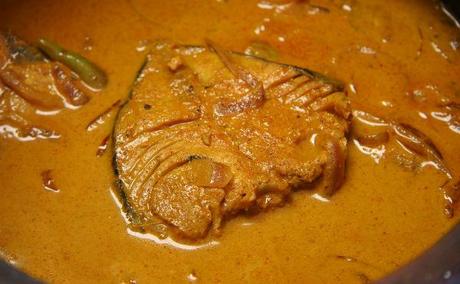 Fish Curry
People from coastal parts of the country, especially the Bengalis, would swear by their fish curry and rice.  For those who can manage to maneuver through fish bones, it is a must to try the mustard preparation of Hilsa in Bengal, Prawns in Odisha, Crabs in Chennai and Sea Fish in Goa.
Dosa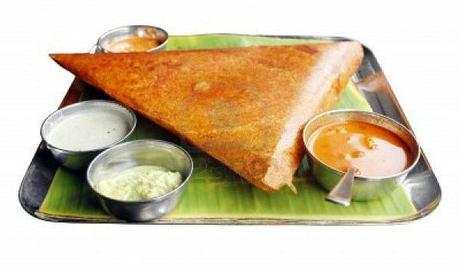 Masala Dosa
Now, now, don't think India is all about non vegetarian food. There's a lot for vegetarians too. Try the Dosa, a food that originated from South India, but is available all over the country, albeit with some local transformations. It is made out of rice powder (can you believe it?) and looks like a paper thin cake. Coupled with mashed potato and sambar, this is a delicacy that is light and tasty. The number of variations of this simple dish can sweep you off your feet: Rawa Dosa, Mysore Masala Dosa, Paper Dosa, etc. Idli, Vada and Uttapams are also part of this cuisine.
Rajma and Chhole

Rajma and Chole
Pulses are popular all across the country.  But North Indians are completely crazy about Rajma and Chhole (chick peas). You can recognize a fellow from this region if you overhear him seeking Rajma and Rice in the most unlikely of places. Lobia, a close cousin of rajma, is also fairly popular.
Daal Baati Churma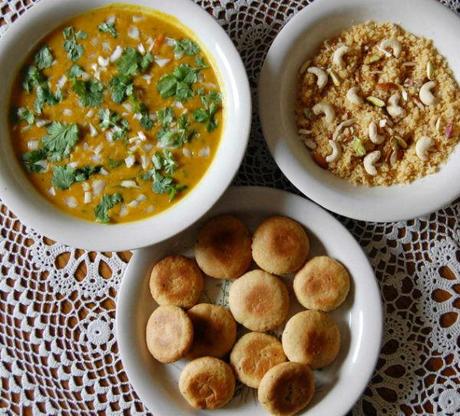 Daal Batti Churma
As we discuss pulses and lentils, let us also mention the famous Daal Baati Churma from Rajasthan. There is a slight tinge of sugar in almost all preparations from this region, and this is no exception. The use of besan (gram flour) is abundant, and forms the base of the famous Gatte ki sabzi.  Besan, mixed with curd forms Kadhi, which is liked by all across the country.
Nav Ratan Korma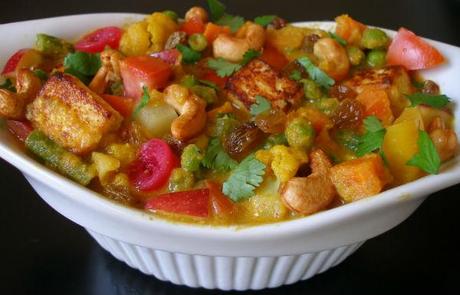 Navaratan Korma
The spice lovers of India simply adore their Nav Ratan Korma, or a preparation made from nine exquisite ingredients that include cashew and nuts. Paneer, or cottage cheese, made with peas (Matar Paneer), spinach (Palak Paneer) capsicum and onions (Kadhai Paneer) make various dishes.  Other popular dishes include roasted brinjal (Baingan ka Bharta), Ladies finger (Bhindi) and Cauliflower (Gobhi).
Momos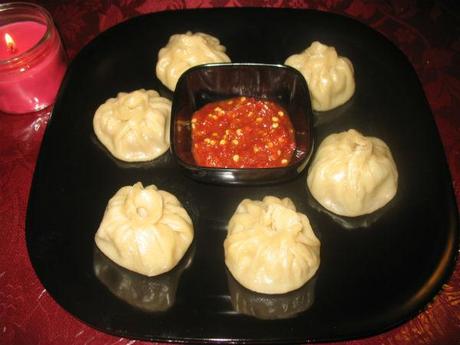 All in One Favorites - Momos
A food that originates from the China-Tibet region, the land of thukpas and noodles. In India, momos were initially available in Sikkim and the North Eastern States. Gradually, this delicacy has percolated to the rest of the country and local innovations have adapted them as per the taste of the consumers. For example, in North India, momos are also served fried, with red chilli sauces. It is perhaps the most popular snack of today's times: quick, tasty and healthy, as it is usually steamed. The inner filling varies: chicken for non vegeterians, cabbage and paneer for vegeterians. Lamb and spinach momos can also be found.
Sweets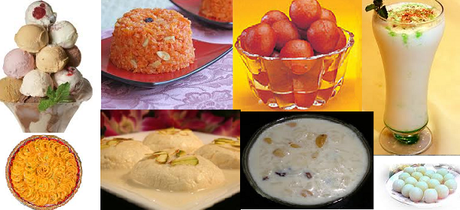 Indian Sweet Dishes
Its not only with the Bengalis and Gujratis, but no Indian meal is complete without a desert. Gulab jamuns, gajar ki halwa and kheers are the most popular, along with a glass of lassi or if not anything, a scoop of icecream. Sweets form the largest sector of milk produce.
We know this had to be wrapped up too soon. That does not mean we have forgotten the yummy aloo paranthas, pickles, undios, theplas and khakras from Gujarat, specialities from North East, the spicy Chettinand cuisine and many more. Here's remembering all the finger-licking delicacies of our country!!
Indian food is popular all over the world. It reflects the flavor of all cultures and states. One can enjoy the best food all over India staying in the best accommodations such as Homestays and Vacation rentals. The Other Home ensures you to provide the best property at its best all over the India giving you the best experience.
If you want to be notified next time, subscribe to the RSS feed or say hello via Twitter @theotherhome. You can plan your dream holiday with us, visit The Other Home.