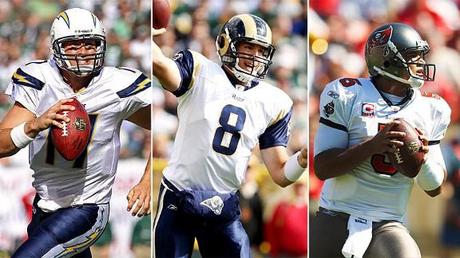 Photo: US Presswire
- Adam Parker
NFL training camps will get underway at the end of this month, and if you're like us, you're wishing it was much, much sooner.
So to settle your appetite (and ours), we decided to break down five players who we believe are primed for a rebound season in 2012.
These players were selected purely based on their individual performance and how that effected their team. No players that were injured the majority of the season, like Peyton Manning or half the Kansas City Chiefs roster were considered. After all, in their cases, simply being on the field for one snap would already be an improvement over last year.
No, instead, we'll be keying in on some other names, beginning with San Diego Chargers quarterback Philip Rivers.
1. Philip Rivers, QB, San Diego Chargers
By no means did "Phil-Riv" have the worst season out of the players on our list, but admittedly, it was bad by his standards. Though he did throw for almost 4,700 yards and 27 touchdowns, Rivers also added a career high 20 interceptions and five fumbles. His quarterback rating of 88.7 and 62.4 completion percentage weren't bad, but it's worth noting that they were Rivers' worst since the 2007 season. Not exactly the sort of consistency and emphasis on ball security you expect from your team's best player and leader.
It didn't help that Chargers defense was so consistently bad that Rivers and company consistently had to play catch-up as well as not having a solid option in the running game until late in the season when Ryan Mathews finally started showing some flashes. An improved defense and the additions of Eddie Royal, Robert Meachem and young rookie tight end Lardarius Green to complement perennial All-Pro Antonio Gates and young wideout Vincent Brown should help Rivers turn things around in 2012 despite the loss of No. 1 target Vincent Jackson.
2. Josh Freeman, QB, Tampa Bay Buccaneers
What a difference a year makes. After nearly leading the Bucs' to the playoffs with a (10-6) mark in 2010, Freeman's stellar play was the hot topic around many a water cooler. While the former Kansas State product's completion percentage was up from 61.4 percent in 2010 to 62.8 percent in 2011, the rest of his numbers were more telling of his struggles.
In 2010, Freeman had the sixth-best quarterback rating in the league with 25 touchdowns to only six interceptions. In 2011, his stats fell across the board with his quarterback rating plummeting from sixth to 25th, his touchdowns dropped off from 25 to 16 and his interception total ballooned up from six to 22. Wow that's ugly.
As a result of Freeman's poor play, Raheem Morris and his staff were shown the door after finishing the season on a 10-game losing streak.
Enter new head coach Greg Schiano, whose no-nonsense approach should be a welcome fit for the still young and improving team. Schiano hopes to continue the recent success of rookie NFL head coaches by following in the footsteps of San Francisco 49ers coach Jim Harbaugh. Schiano has always been a champion of the running game, so no doubt Freeman will be under less pressure to perform while getting to hand the ball off to tanker LeGarrette Blount (whose working on his ball security) and incoming Boise State rookie Doug Martin.
They, along with the free agent additions of new No. 1 wide receiver Vincent Jackson (the first true No.1 Freeman will get to work with) and All-Pro guard Carl Nicks should help a slimmed down Freeman get back into the conversation of the league's top young signal callers.
3. Chris Johnson, RB, Tennessee Titans
Anybody who watched any football last season either saw or heard about CJ2K's struggles. After putting his name in consideration for the top running back in the league following his spectacular 2009 season, Johnson's play has gradually tapered off to the point that people assumed something was physically wrong with him.
In 2011, he ranked 14th in the league in rushing after ranking no lower than eight in any of his previous seasons.  Johnson arrived late to training camp last summer while lobbying for a pay raise, which he eventually received. However, the damage was done. The time Johnson missed proved troublesome for he and the Titans' offense, especially in the first half of the season in which Johnson only surpassed 55 yards in two of those first eight games and eclipsed the century mark only once.
Luckily, it's not the natural decay of time that's slowing down the young running back. He's still only 26 years old, which means there isn't
too much
 tread on those tires as of yet. Hopefully, with a full off-season and training camp under his belt, CJ can return to the CJ2K we know he can be.
4. Brandon Jacobs, RB, San Francisco 49ers
There's no doubting that Brandon Jacobs picked up his play in the postseason en route to the G-Men's second Super Bowl in the last five seasons. However, despite taking home arguably the most coveted jewelry in professional sports, Jacobs departed from the Giants and soon signed on with the team the Giants defeated in the NFC Championship -- the San Francisco 49ers.
After running for 823 yards in 2010 in a complementary role to Ahmad Bradshaw, Jacobs finished 2011 with only 571 yards in the same role. That's a drop off of 252 yards despite having five more carries in 2011 (152) than he did in 2010 (147).
There could have been many reasons for Jacobs' struggling numbers, whether it was a rift with head coach Tom Coughlin (there always seems to be at least one in that Giants' locker room these days) or just that fact that Jacobs has hit the pivotal age of 30 in the life of an NFL running back. That, along with his downhill, bruising running style could be why he struggled.
But Jacobs' days with the Giants are now a thing of the past, and he's looking to start fresh with his new team  in San Fran. I personally think he'll do a great job spelling Frank Gore, especially in Harbaugh's run-oriented offense.
5. Asante Samuel, CB, Atlanta Falcons
There was a common them in the Philadelphia Eagles' secondary in recent seasons -- so many big names, but so few big plays. Surprising, considering Samuel has spent his career earning millions making those same big plays. Whether it was Samuel moving to the nickel back role in Philly because of the additions of Nnamdi Asomugha and Dominique Rodgers-Cromartie, or simply because he is starting to hear Father Time's footsteps, the player commonly many refer to simply as "Pick-Six" wasn't up to snuff last season.
Hopefully, the change of scenery will do Samuel some good. I for one still believe he has quality seasons left in him, and I think the move from the Eagles to the Falcons will pay big dividends.The Dirty Birds feel got a steal when they essentially robbed Philly of this guy. No doubt Samuel will enter 2012 looking to prove them right.
Plus 1. Sam Bradford, QB, St. Louis Rams
Was anyone else absolutely flabbergasted by how quickly Sam Bradford went from being the Offensive Rookie of the Year in 2010 to a below-average signal caller going through the all-too common sophomore slump in 2011?
We know we were. I mean, sure, every young player has a chance to fall prey to the dreaded dip in their stats in their second season, but for one reason or another, we here at Beard and Stache couldn't believe when it happened to Bradford. A revolving door on the offensive line and no true playmakers in the passing game after Danny Amendola aka 'Baby Wes' [Welker] was lost to injury made 2011 a bad year to be Sam Bradford.
Here's to 2012 being a different story with a healthy offensive line returning and new receiving weapons in the form of veteran Steve Smith from USC and rookies David Givens and Brian Quick.
Be sure to follow Beard And Stache on Twitter 
@BeardAndStache
, and also Adam 
@Adam_Parker43
, Like our Facebook page 
HERE
!