Have you ever used a safety pin to secure your clothes in place?  Well, so did I until I was introduced to Fasheners!  Fasheners are the fashion-forward, modern replacement to safety pins.   Mina a.k.a. Classy Chica is the creative mind behind Fasheners.  Fasheners was inspired by Mina's personal battles with garment glitches.  "Working in a corporate office environment requires me to look professionally polished", says Mina.  So one day after battling with trying to make a safety pin work, Mina had an "ah-ha!" moment.  She used her imagination and created a classy and stylish way to secure her clothes and maintain her Fashionista status.   Fasheners offer a sophisticated and modern solution to resolve wardrobe malfunctions.  Featuring embellished industrial strength magnets and pins, Fasheners will fasten your fashion with style!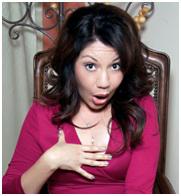 Introducing an exciting fashion-forward concept for all of you Fashionista Career Girls are MAGNETIC Fasheners. Fasheners are not only a fashion fix-it but also a FAB embellishment! The magnetic Fasheners eliminate having to pierce delicate fabrics. You can also use magnetic Fasheners to:  accentuate your waistline on a shapeless blouse, secure delicate scarves, embellish lapels, hats and even shoes!
Now for the GIVEWAY!  I am sure that each and everyone one of you have suffered from a wardrobe malfunction.  Fasheners by Classy Chica is offering one lucky winner a Classy Career Girl's Fasheners Collection!  This collection is so versatile, chic and Fashion-Forward.  It includes: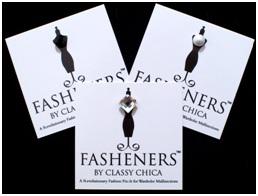 Jet Black round Swarovski Crystal Fashener Pin – Fabulous for using on your Little Black Dress!
Blingin' Clear Square Swarovski Crystal Magnetic Fashener – this super industrial strength magnetic-based Fashener has a pull force of 7 lbs.!
Off-White round Swarovski Pearl Fashener Pin – Excellent for button down blouses!
Small Black Organza Pouch – to safely store your Fasheners
This is an amazing fashion fix-it collection for any Classy Career Girl to fasten her fashion, and at the same time, add a bit of embellishment to any outfit!
ENTER GIVEAWAY
Wanna Win? Here's how:
Leave a comment below with your email address.
Become a fan of Classy Chica on Facebook AND Post on Classy Chica's FB page that Classy Career Girl sent you.
This giveaway is open to all U.S. residents.  It begins NOW and ends October 31, 2011 at 9 p.m. (PST). One lucky winner will be chosen by random draw and will be notified by email.
Can't wait?!  Well, how exciting is this!! Fasheners by Classy Chica is offering Classy Career Girl fans 20% off her entire online shop now thru October 31, 2011.  Check out the 2011 Fall/Pre-Winter Fasheners Collection featuring:  natural stones, bright jewel-toned Swarovski Crystals and vintage-inspired Cameos!  Be sure to use coupon code:  CLASSYCAREERGIRL at checkout to receive this amazing deal!
 Visit www.fasheners.com for more information about Fasheners by Classy Chica.
Disclosure: Classy Career Girl was provided with a Fasheners collection for review and charges a fee to coordinate giveaways.
Photo Source