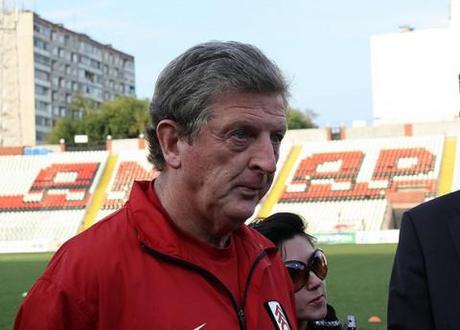 Football manager Roy Hodgson. Photo credit: ajlisss http://flic.kr/p/8amkTf
The background
England kick off their Euro 2012 campaign tonight versus France at the Donbass Arena, Donetsk, Ukraine. Manager Roy Hodgson has had his fair share of problems with injury and controversy in the run-up to the tournament but he has insisted his Three Lions are ready to give a very good account of themselves.
Pretty much all of the keys sports commentators have weighed in with eleventh-hour advice for Hodgson. Here's the pick of the pointers
Pressurise Rami and Mexes
Writing at The Guardian, football tactics expert Michael Cox insisted that France are weak at the back: "France's main area of weakness is at centre-back, where Adil Rami and Philippe Mexès have endured a difficult few months at club level for Valencia and Milan respectively." Cox suggested that Ashley Young, who has scored or assisted for 11 of England last 20 goals, could really bother the positionally erratic Rami and Mexes. Cox also argued that French left-back Patrice Evra is vulnerable. "Whether it is Walcott, James Milner or Alex Oxlade-Chamberlain on England's right, attacking the space behind Evra seems a wise tactic." Early starting lineup reports strongly suggest that Hodgson will start Arsenal's young gun Oxlade-Chamberlain.
Terry has to justify his selection
Alan Hansen on The Telegraph argued that the pressure is really on experienced defender John Terry to deliver the goods. Hansen said he "goes into the game with more questions than answers about his place in the team." "Five or six years ago, Terry was head and shoulders above the rest of his defensive rivals, but that is no longer the case and he goes into the tournament with question marks completely unrelated to the Rio Ferdinand issue," argued Hansen, who said his performances for Chelsea have been "up-and-down" this season. Oliver Kay of The Times (£) concurred: "The challenge for John Terry, as he takes the field at the Donbass Arena this evening, is to prove that he is worth it — worth the hassle, worth the trouble, worth the adverse publicity he has brought on the England team over the past few years." Kay said Terry must convince the doubters by "throwing his body in the way of shots and defending with the grit for which he is known" and also "performing with the assurance expected of a defender who will be playing in his fourth leading tournament."
Captain Gerrard must lead from the front
Steven Gerrard "is under more pressure than at any point since his erratic World Cup leadership," argued James Lawton of The Independent, who urged the Liverpool player to produce the "captain's performance of his life … Even at this late hour, he remains the great enigma of the English game – a player of extraordinary power and inspiration, from time to time he can also suffer terrible betrayals of judgment."
Benitez: Play 4-2-3-1
Writing at The Independent, Ex-Liverpool manager Rafa Benitez was upbeat about England's prospects but insisted that Hodgson must play the right formation. He said that for the first two games, when England are without Rooney, "4-2-3-1 formation will be best and would give England more mobility … The 4-2-3-1 set-up has the advantage of giving you plenty of numbers in midfield to contain the French who are a fast, technically gifted side. England certainly need to be strong in the middle against Laurent Blanc's team. But I also believe that 4-2-3-1 will play to the strength England have in the wide areas."