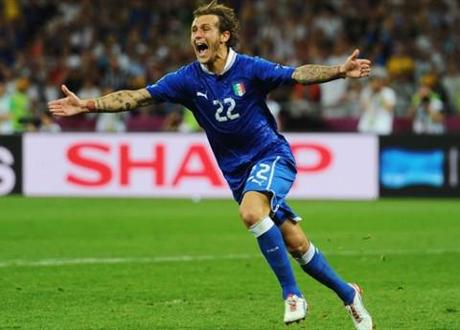 Alessandro Diamanti scores penalty kick for Italy in Euro 2012 quarterfinal against England. Photo credit: AFP/Getty, UEFA.com
England was knocked out of Euro 2012 on Sunday night after what journalists and fans are calling a poor performance against Italy in the quarterfinal match in Kiev, Ukraine.
After 120 goal-less minutes, Italy took the game 4-2 in a penalty shootout, when England's Ashley Young and Ashley Cole missed two consecutive shots, paving the way for Italy's Alessandro Diamanti, a substitute, to lead Italy to victory. Italy now goes on to play Germany in the semifinal on Thursday.
"It's obviously a hard way to go out and it's happened too many times now," England striker Wayne Rooney told reporters later. "Hopefully there's going to come a time when we win one."
It was the sixth time out of seven bouts that England lost a shootout at a European Championship or World Cup, and it ended a run that Arsenal manager Arsene Wenger, amongst others, called miraculous. The loss came under manager Roy Hodgson, who had just five weeks to prepare his team after former manager Fabio Capello quit following a disagreement with the Football Association over its decision to take John Terry's captaincy as punishment for racially abusing another player. So, did Hodgson make the best of a bad job?
Italy deserved its win; England rightly knocked out
Though the game took a familiar turn for England, "this time there must be no hard luck stories," wrote Phil McNulty, on the BBC's football blog. "In the past England have understandably felt a sense of injustice, a belief that an exit on penalties was scant reward for their efforts. Here in Kiev, a gripping quarter-final got the winners it fully deserved." England was justly thrashed by a "vastly superior" Italy, and even the "iron tactical discipline, togetherness and resilience injected by Hodgson in his brief time in charge could only take them so far". Said McNulty, "England landed at their correct level by losing at the quarter-final stage."
Hodgson getting off light
Fabio Capello was roundly pilloried for achieving pretty much the same result with roughly the same team when England was knocked out of the 2012 World Cup by a German team arguably better than Italy, Paul Brennan wrote to The Guardian. "Fast forward two years, and practically the same group of players has almost paradoxically seen the current manager absolved of any blame for England's woes…. being hopelessly outplayed by the first decent team they came across is now viewed as a source of pride, rather than a stick with which to beat the manager," he observed. "May I be so bold as to voice my opinion that, had it been nasty foreign Capello, rather than wily cerebral Englishman Mr Roy that presided over the two-banks-of-four banality at the Euros, the reaction would have been altogether more caustic?"
The most painful fashion party ever? Watching England lose to Italy at a party hosted by Dolce & Gabbana: "It is never fun being taunted about football by an Italian transvestite."
Hodgson defends team, fans still disappointed
Hodgson told reporters after the match that England did all they could to keep Italy at bay: "I've watched all these players smashing in penalties during training but you can't reproduce the occasion, the tension and the nervousness," he said. "We tried our very best to win, we worked as hard as we could and we survived the cramps and physical problems we suffered." Hodgson added, "The players gave their all but we have to accept that we weren't quite good enough to win it in 120 minutes and, when it went to penalties, we went down the same route as so many times before…. Our defending was very resolute and we did very well to resist the strong pressure we came under in the second half….  I wouldn't begrudge Italy their victory but there were chances missed at both ends and it was an interesting tactical battle." But whether the fan agree is another story all together: On The Sun article quoting Hodgson, one commenter sighed, "crap as usual. nothing ever changes with our england team. over paid and over rated [sic]."
Watch the penalty kicks below

More on Euro 2012

 England beat Ukraine, head to Euro 2012 quarterfinals
Euro 2012: What England must do
Euro 2012: The most magic moments
England can win Euro 2012