Pace. Flair. Tenacity. A low centre of gravity. An eye for a pass. Imagine those attributes in a diminutive attacker. Lionel Messi? No. Franck Ribery? Again, no. Another hint – He's Belgian. Are you thinking of Eden Hazard? Wrong answer. The player in question is Dries Mertens, who, at the age of 25(turns 26 this year), has now reached the point in his career where he is ready to step up into the big time.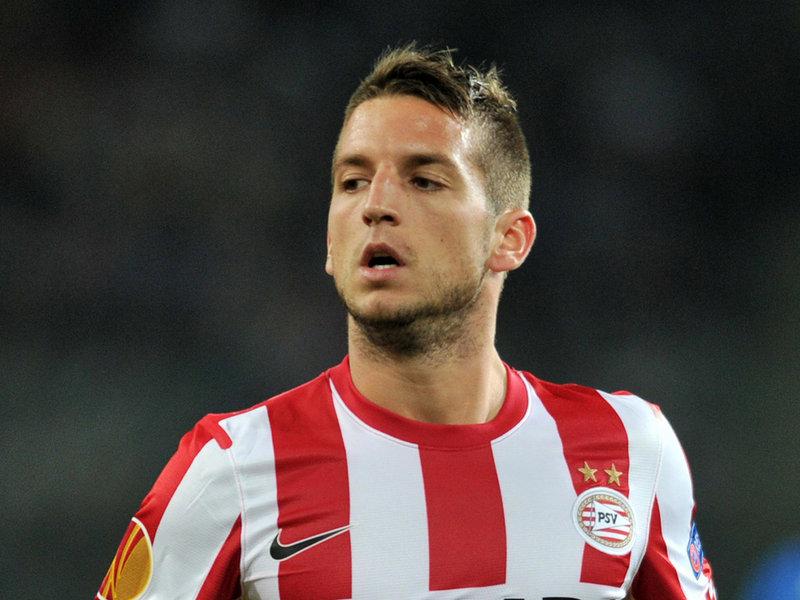 The Football World has been watching in great suspense the imminent rise of a Belgian "Golden Generation", rated to potentially be at least as good as the generation of Jan Ceulemans, Enzo Scifo, Jean-Marie Pfaff & Eric Gerets. Considering that the 1980s' Belgian "Golden Generation" reached the final of the 1980 European Championships and the last four of the 1986 World Cup, it has naturally been the case that many of the current Belgian internationals have been much talked about, especially those that currently play in the EnglishPremier League. With his performances in recent years, it is about time that Dries Mertens steps out of the shadows of some of his more talked-about compatriots – Marouane Fellaini, Romelu Lukaku, Eden Hazard, Axel Witsel et al. Dries Mertens is much more than just yet another Belgian in the transfer rumour mill.
Statistics and progress over the years: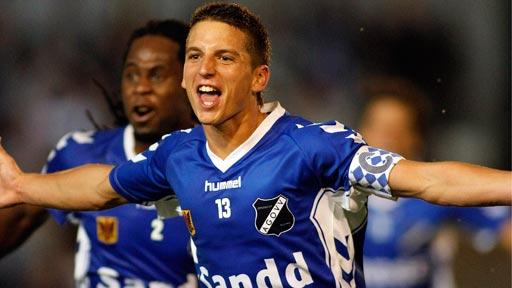 Dries Mertens celebrating after scoring for AGOVV Apeldoorn.
Since making his debut, aged 20, for AGOVV Apeldoorn in Dutch Football's 2nd tier on the 10th of August in 2007, Dries Mertens has come a long way in his career. Doing well enough in the Jupiler League to earn an upward move to FC Utrecht, it has only ever been onwards and upwards in this Belgian livewire's career thus far. The thing is, that doesn't look like stopping any time soon.
Season
League
Cup
Europe
Apps Goals Assists Apps Goals Assists Apps Goals Assists
2007/08 38 15 6 0 0 0 0 0 0
2008/09 35 13 7 2 1 1 0 0 0
2009/10 38 7 10 1 0 0 0 0 0
2010/11 31 10 17 4 1 2 12 3 5
2011/12 33 21 16 5 3 1 11 3 7
2012/13 18 10 13 2 1 1 6 1 3
Season
Total
Apps Goals Assists
2007/08 38 15 6
2008/09 37 14 8
2009/10 39 7 10
2010/11 47 14 24
2011/12 49 27 24
2012/13 26 12 17
*correct as of 8th February 2013. "League" includes – Jupiler League(2007/08 & 2008/09) + Eredivisie playoffs(qualification for UEFA competitions). "Cup" = KNVB Beker + Johan Cruyff Schaal. "Europe" includes – UCL & UEL qualifiers(qualification playoffs).
As seen in the statistics tables above, Dries Mertens has been a consistent performer thus far in his career, scoring at least 10 goals in 4 of his last 5.5 seasons and providing a minimum of 10 assists per season since the start of the 2009/10 campaign. Perhaps you're questioning that and pointing out Mertens' 2009/10 stats. The 2009/10 campaign was Mertens' debut season in Dutch Football's top flight, hence a transition year is to be expected. Mertens has proven himself to be more than just a team player, but an effective one at that. 24 assists across all competitions for the 2010/11 is no mean feat, even if a portion of Football fans consider his platform to be "only" the Eredivisie. In his last season at FC Utrecht, Mertens arguably did enough to prove himself in continental competitions, making 8 contributions(goals + assists) in that stellar 2010/11 campaign.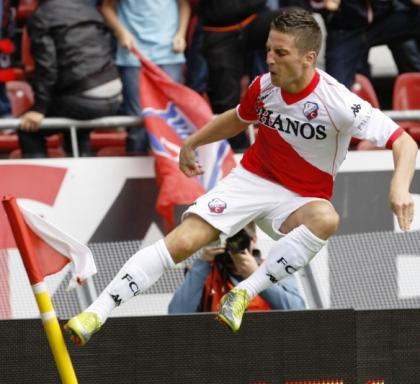 Dries Mertens after scoring for FC Utrecht.
Step up to the international stage:
Season
Total
 INTERNATIONAL Apps Goals Assists
2007/08 - - -
2008/09 - - -
2009/10 - - -
2010/11 5 0 2
2011/12 5 0 1
2012/13 7 2 4
*Correct as of 8th February 2013
Unsurprisingly, Mertens' senior debut for Belgium came after he proved that he had indeed successfully made the step up from the Jupiler League to the Eredivisie – in February 2011. Granted, he does not have impressive stats at international level – save for his 2012/13 thus far, with him scoring 2 and assisting 4 in 7 appearances. This is to be expected, as this emerging crop of brilliant Belgians have to be moulded into a well-oiled Football machine before we can expect any fireworks from any of the players on the international scene. Marc Wilmots needs time to form a successful system in which Belgium's talents can shine.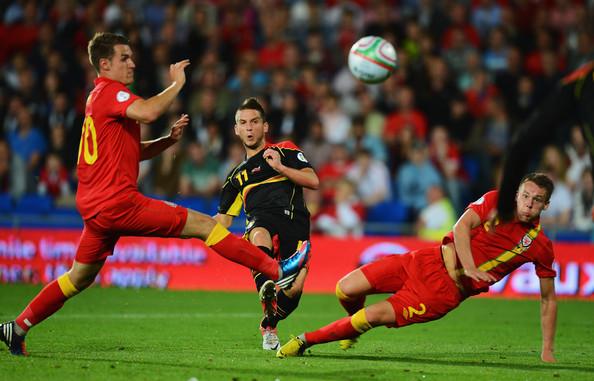 Dries Mertens taking a shot against Wales in a qualifier for the 2014 FIFA World Cup.
Mertens' step up:
While some players could be daunted by a move from Utrecht to PSV Eindhoven, Mertens has simply stepped up and thrived under the increased demands and pressure of the Philips Stadion. The Belgian attacker not only matched his aforementioned 24 assists in his debut season at PSV, but also scored 27 goals across all competitions – which is almost double his tally the year before. Astoundingly, Mertens is not done yet.
At the time of writing, he is on course to smash his current personal best of 24 assists. With 12 goals and 17 assists in 26 appearances across all competitions at the time of writing, Mertens would, hypothetically, finish the season with 23 goals and 32 assists if he makes as many as his 49 appearances in 2011/12.
Overview: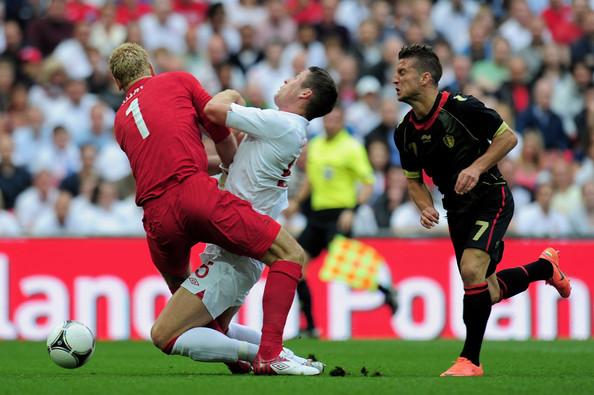 The Dries Mertens-Gary Cahill incident.
Considering his stats, versatility and skill set, Mertens is a player that can be expected to fit well into the playing systems of the top European clubs. Having been previously linked with Bayern Munich, I could very well see him shining under the bright lights of the Allianz Arena. The tenacity that Mertens possesses will also stand him in good stead for a move to a club that uses a high pressing system – FC Barcelona and Andre Villas-Boas' Spurs side come to mind.
A look to the future:
With Transfermarkt rating him at €12 million at the time of writing, that would probably be the amount that interested clubs would have to spend to acquire this Belgian star's signature. However, with PSV being somewhat difficult negotiators – see their hefty demands in unsuccessful negotiations over Ola Toivonen's potential sale), and Mertens' contract expiring in the summer of 2016, he'd probably cost more than that €12 million – perhaps closer to €15 million.
Considering this Belgian's development thus far, he would be worth the price, even at €15 million.
With Dries Mertens, it has only ever been onwards and upwards.