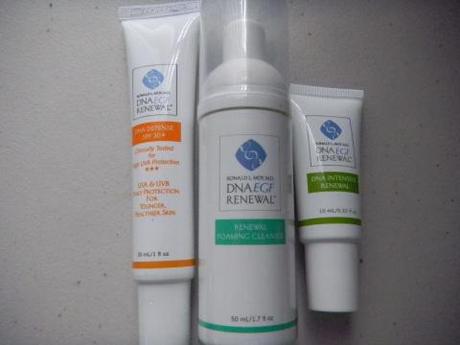 If you are a magazine junkie you'll find the names and opinions of top dermatologists and cosmetic surgeons in the articles about skincare and cosmetic procedures. Among those names is always Dr. Ronald L. Moy, an LA surgeon/dermatologist. The list of his specialties is too long to post but they are very impressive. He's always asked for information for articles in magazines like Elle, Marie Claire, and Allure. He's created his own line since he didn't find what he was looking for in the products that were available to the public and I was able to test out three of them after taking part in a webinar to learn about Dr. Moy and DNA EGF RENEWAL.
What Dr. Moy has discovered is that ultra violet rays damage DNA enzymes so his line has been created to help repair them. He uses a trio of 3 powerful enzymes to target the natural decline in the skin's response to damage.
EGF is the abbreviation for Epidermal Growth Factor and is the ingredient that's the mainstay of this line. EGF contains a stable, plant-based, non bacterial growth factor. It starts with barley grown in volcanic pumice with pure Icelandic water. Barley EGF is the first and only plant based Epidermal Growth Factor available.
There are 7 products in the line which use his discoveries. I have been testing DNA EGF Renewal Foaming Cleanser, DNA EGF Intensive Renewal and DNA EGF Defense SPF 30+. In addition the line has DNA EGF Scar Therapy, DNA EGF Growth Factor Serum, DNA EGF Eye Renewal and DNA EGF Night Renewal.
To be honest, sometimes when I read all this scientific information my head spins. I am intelligent enough to understand what they are telling me but in my mind the proof is in the pudding – or in this case the products. The 3 products that I'm using from DNA EGF Renewal make up a delicious tasting pudding!
Everything about the line is gentle and soothing yet it's delivering ingredients that are important to my aging skin. Often when you use a foaming cleanser it's harsher than other cleansers but the opposite is true of the Renewal Foaming Cleanser. It's extremely gentle while at the same time it's an effective cleanser. The DNA EGF Renewal Foaming Cleanser contains unique amino acids and glycolic acids. Using the cleanser along with other products in the line helps maximize the results you'll see.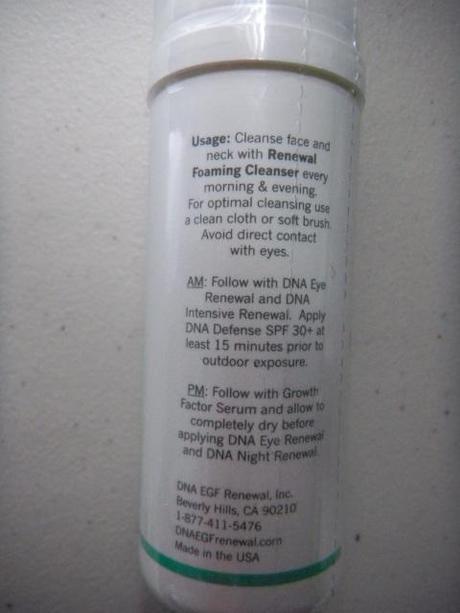 DNA EGF INTENSIVE RENEWAL contains all the DNA Repair Enzymes of this line. It does not have sunscreen in it keeping it purer so if you use this during the day it's recommended that you use the DNA EGF Defense SPF 30+.
DNA EGF Intensive Renewal is a great moisturizer for me. First of all there is absolutely no fragrance at all. There is no greasy feeling which is perfect for me in the warmer months yet when I started using it in cooler weather it provided the right amount of daytime moisturization. It's lotion-like in texture and is recommended for all skin types.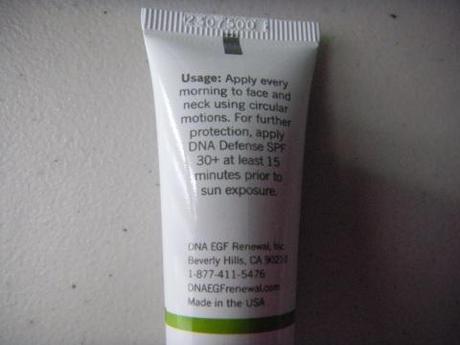 The SPF product (DNA EGF DEFENSE SPF 30+) is wonderful and one of the best SPF products I've tried. It blends into my skin without leaving any whiteness. It contains Zinc Oxide to reflect and scatter harmful UV rays yet all I notice is that my skin is protected without heavy lotions and without any scent. When you are lily-white like moi you want something this gentle to keep it that way. The sunscreen provides exceptional defense against UVA and UVB damage. It creates skin matrix protection while providing you with the anti-oxidant protection of Vitamins A and E. We need this protection to counter the photo-aging our skin is exposed to on a daily basis.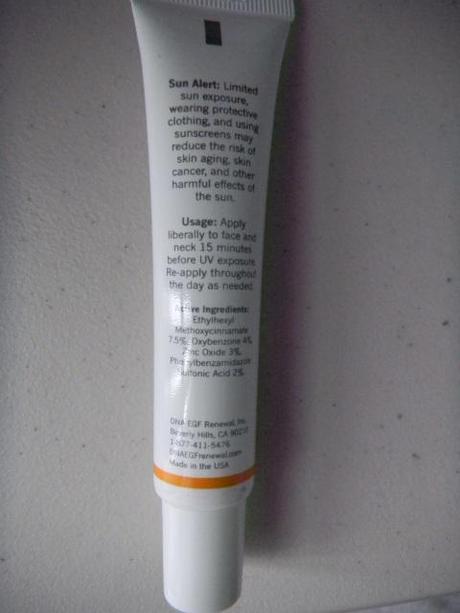 All in all I like the products and the philosophy. After all who wouldn't want younger, healthier skin once the years start piling up on you?  — Marcia
p.s. I like my pudding in chocolate or banana please.