I have a love-hate relationship with mud masks.
On one hand, a mud mask makes me really feel like I am pampering myself.  I can walk around with quite obvious proof that I am taking time out for myself…my family knows that if they see me coming looking like this: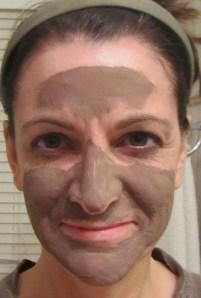 they better get out of my way, cause I am in 'me time' mode.  Of course, they also usually do a very dramatic mock scream and run fast.  Sometimes I catch them, other times I refuse to take part in their childish games (usually cause I am just too tired to chase!).
But I digress.  That was the love part – the hate part is that mud masks can be very drying and irritating.  It's definitely trial and error to find one that truly works, that unclogs blocked pores, exfoliates dull skin, and leaves one looking refreshed and glowy.
A mask that I absolutely adore is the Mineral Mudd Masque ($26) by Pur Minerals.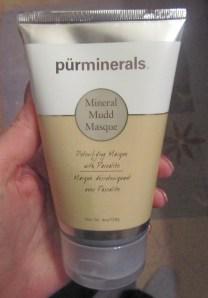 I have used this regularly for several months now and it's terrific.  It's a very thick, cream brown mask that spreads easily without much mess and dries quickly.  Love the hygienic packaging, it's a squeeze tube so the product stays fresh for a long time.  I use this once a week, and it keeps my skin looking bright.  What I love about it is that it doesn't dry my face out, no matter how long I leave it on.  It does tingle a bit, and the mask itself dries super hard – so much fun to then smile and watch it crack and fall off.  Come on, admit it, you know you love to do that too!!  I will say it's a bit of a chore to wash this off, it really sticks to your skin.  But boy, after it's washed off my skin just glows and is super, super soft.
If you have very oily, blackhead prone skin you can use this as a spot mask, and it's gentle enough to use more often than once a week.  It does a great job of regulating the skin.  I actually put this on newly erupting blemishes and then sleep with it on, and the next morning the problem is gone with no ill effects.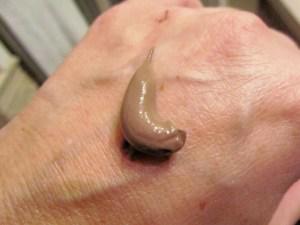 The unusual ingredient in this clay mask is the pascalite.  According to Pur Minerals, "Pascalite was formed 30 million years ago at the base of the Big Horn Mountains in Wyoming. Utilized for centuries by Native Americans for medicinal purposes, pascalite remains a popular folk remedy for insect bites and stings, including that of the brown recluse spider."  It's in the mask to help draw out impurities from the skin.  Does it work?  I certainly find it does, I love it.  I think this is one of the best mud masks on the market. It's easily found at Ulta stores as well as online.  – Lisa
Ingredients:  Water, Montmorillonite, Bentonite, Titanium Dioxide Cl #77891, Propylene Glycol, Calcium Bentonite, Iron Oxides Cl #77492, Cl #77491, Cl#77499, Calcium Silicate, Xanthan Gum , Fragrance, Imidazolidinyl Urea, Methylparaben, Alcohol, Echinacea Purpurea Extract, Oyster Shell Extract, Sea Silt Extract, Cucumis Sativus (Cucumber) Fruit Extract, Papain, Salicylic Acid