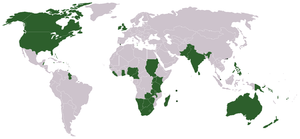 Image via Wikipedia
English is one language people is compelled to learn. Though technically there is really no law that commands people to learn this language, the invisible force of world language standards seems to make English a-must language to acquire.
Care to think at how English becomes useful in various ways. Not to debase other foreign languages, but the essence of English as the most useful medium of communication obligates the people around the world learn English. And in able to become more sufficient, they choose to learn English abroad.
Yes, yes; there are numerous ways and methods a learner could think in acquiring English. Aside from the fact that most schools all over the world are teaching English already, media and Internet has become very influential and informative with the language. That's why it is way too impossible for people to learn English in the easiest manner.
But when we talk about learning English in an English language school abroad, it does not only pertain to "knowing the language", then that's it. Since we talked about the great influence of English, you don't just learn English and that's it. You and I completely understand that the language has so much to our advantage than just having knowledge of it. English has so much to offer us and you know that.
Employment reasons alone are a big thing for students especially when they look forward for a job after studying. When they choose to learn English abroad, aside from the degree they finished on college, their great knowledge in English will be profitable especially when they look forward to be employed in a prestigious company somewhere in the United States, Europe, or Australia.
We are all globally perceptive nowadays, ladies and gentlemen. I know you won't settle for just an employment in your own local country. The more experiences you have when you are working abroad, the more credible you will become due to the experiences you will acquire.
And of course, nothing beats the people's personal reasons to see the beauty of English-speaking countries. United States, Europe, or Australia; these are countries that are obviously successful in terms of economy and tourism. Who would not want to go here? And obviously, these are places you can greatly practice and master English that you have been improvising since the basic learning. With the constant usage of this idiom, your English will definitely be sharpened and you will become fluent.