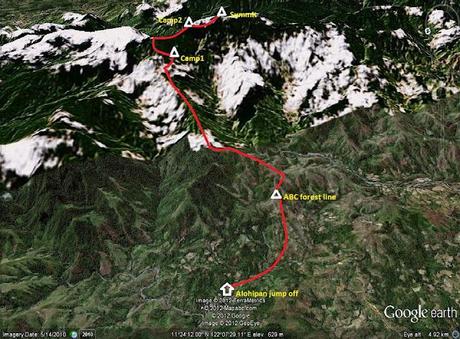 Mt. Madjaas, Culasi, Antique
Major jumpoff: Brgy. Alojipan, Culasi
Elevation: 2177m
Days required to summit: 3-4 days
Specs: Major climb, Difficulty 8/9, Trail class 1-4
Features: Open slopes, Mossy forest, Waterfalls, Highest Point
DAY 0 (April 4, Wednesday) 1700H - Assembly at Pier 4 (Trans Asia Terminal)
1800H - ETD Cebu City
DAY 1 (April 5, MaundayThursday)
0700H - ETA Iloilo City
0730H - ETD Iloilo City Van/Bus Terminal
1030H - ETA Culasi, Antique (Last Minute Shopping and Buy Food for Lunch)
1100H - Drop by Culasi Municipal Hall and Secure Permit from Mayor's Office (Login at PNP Station)
1130H - ETD Culasi Town Proper (Via Habal-habal)
1200H - ETA Brgy. Alojipan Jumpoff (Lunch and Meet Up with Guides and Barangay Officials and Gear Check)
1300H - Start Trek to Hangud Tubi Campsite
1900H - ETA Hangud Tubi Campsite (Dinner)
2100H - Socials
2130H - Lights Off!
DAY 2 (April 6, Good Friday)
0400H - Wake Up Call! (Prepare Breakfast and Packed Lunch)
0500H - Breakfast
0600H - Break Camp and Water Refill
0630H - Start Trek to Boundary Campsite
1230H - ETA Boundary Campsite (Lunch and Rest)
1400H - Start Ascend to Summit
1500H - ETA Mt. Madjaas Summit (Explore and Take Pictures)
1600H - Start Descend Back to Boundary Campsite
1700H - ETA Boundary Campsite (Prepare Dinner)
1800H - Dinner, Socials and Mountain Juice
2000H - Lights Off!
DAY 3 (April 7, Black Saturday)
0400H - Wake Up Call! (Prepare Breakfast and Packed Lunch)
0500H - Breakfast
0600H - Break Camp and Water Refill
0630H - Start Descend Back to Hangud Tubi Campsite
1200H - Lunch, Rest and Water Refill
1300H - Start Descend Back to Brgy. Alojipan Jumpoff
1900H - ETA Brgy. Alojipan Jumpoff
1930H - ETD Brgy. Alojipan (Via Habal-habal)
2000H - ETA Culasi Town Proper and Logout (PNP Station) 
Options
Spend the night at the town plaza and travel back to Iloilo City the following morning
 Spend the night at Malalison Island which is 15-minute boatride away from the plaza (Depends on pumpboat availability) and travel back back to Iloilo City afternoon the following day 
 Ride a bus going to Caticlan and spend the rest of the trip in Boracay (Estimated travel time is 1 hour) 
Expenses
 Boat Fare (Trans Asia Economy Accomodation) - PhP 810.00 (One Way)
 Bus/Van Fare - PhP 200.00 (One Way)
 Habal-habal Fare - PhP 150.00/head (One Way)
 Guide Fee - PhP 350.00/guide/day (2 Guides)
 Entry/Permit Fee - PhP 150.00/head/day
 Barangay Fee - PhP 20.00/head
Contact Person
Mr. John John Sumanting (Tourism Officer) - (036) 277-8077/09163245068 Adonis (Guide) - 09286878128
Check out my other adventures in Antique:
*
Mt. Madja-as : Holy Week Climb
*
Culasi, Antique : Exploring Malalison Island